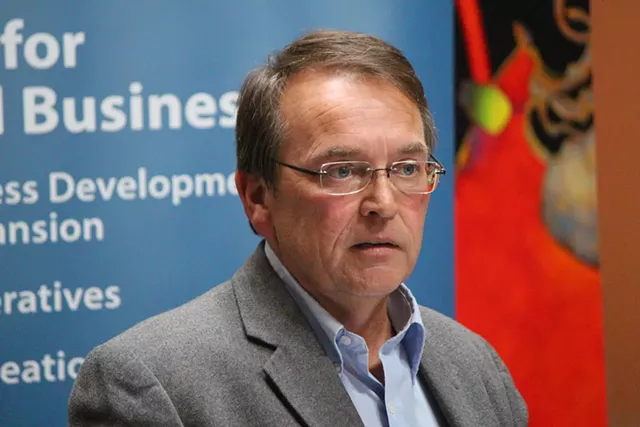 File: Paul Heintz
Barre Mayor Thom Lauzon
Vermont's 2018 campaign season may turn out to be a dud. Republican Gov. Phil Scott is widely seen as unbeatable, so top Democrats and Progressives may well take a pass. The only question about Sen. Bernie Sanders' (I-Vt.) reelection is whether he chooses to run. And Congressman Peter Welch (D-Vt.), as usual, is likely to face merely token opposition.
But there'a a whiff of intrigue around the sleepy office of lieutenant governor. The occupant presides over the Vermont Senate but has very little pull in the upper chamber. Otherwise, it's a potential springboard to higher office — or a political parking space.
So what's exciting? Incumbent David Zuckerman, whose name is rarely invoked without the descriptor "ponytailed organic farmer," is one of the more colorful characters in state politics; and now a guy who's even more colorful is seriously considering the race.
That would be Thom Lauzon, the Republican mayor of Barre and — small world — Scott's childhood buddy.
"I am thinking about it," Lauzon says. "Folks have talked to me about it."
He's put quite a bit of thought into the idea — enough to have mapped out a campaign strategy. Which would involve clinging, ever so tightly, to the governor's coattails.
"I think Phil Scott is right [on the issues]," Lauzon says. "I'm not as nice a guy, but I have the same ideas."
During his 11 years as mayor, Lauzon says, he has "worked with anyone who could help Barre," — from Democratic former governor Peter Shumlin, whose reelection campaigns he endorsed, to Republican Scott.
File: Jeb Wallace-Brodeur
Lieutenant Governor David Zuckerman
Zuckerman himself refuses to engage in speculation. "I'm not in campaign mode yet," he insists. "For now, I'm focused on being lieutenant governor and farming."
Even so, a potential Zuckerman/Lauzon matchup excites the imaginations of Vermont political junkies.
"I don't think that one could dream up a more clear-cut contest," says Brandon Batham, a Barre city councilor who's also political director and assistant treasurer of the Vermont Democratic Party.
"It is a race between the organic farmer Progressive/Democrat versus the Chamber of Commerce developer Republican," says Batham, emphasizing that he is speaking for himself, not the party. "This may be the hot ticket of the year."
There's also a stark personality contrast. Zuckerman has a low-key manner. Lauzon is a fireball known for, among other things, tackling Santa Claus and personally confronting a hit-and-run driver.
(OK, details: At Montpelier's 2008 Fourth of July parade, a young man in a Santa suit tossed a pie at then-governor Jim Douglas. Lauzon chased the miscreant and, as they say, subdued him. In 2011, the mayor saw a truck slam into a parked car and drive on. He pursued on foot and managed to get in front of the truck. The driver tried to run him down. Lauzon barely escaped. Police caught the driver shortly thereafter.)
Grain of salt: This isn't the first time Lauzon has floated statewide aspirations. He talked of running for governor or lieutenant governor back in 2009. Two years later he pondered a run against Sanders. Nothing came of it on either occasion.
But Lauzon, with his close ties to Scott and his work on Barre's rebirth, remains an enticing name in a weak Republican field. Batham, the staunch Democrat, ranks him as a "formidable" candidate who could defeat Zuckerman.
And then there's this: A Lieutenant Governor Lauzon would be the obvious successor to Scott, whenever the Auto Racing Chief Executive decides to drive off into the sunset.
Or so goes the Republican fever dream.
Bean Counter
Vermont's finance commissioner may be the person with the highest ratio of importance to visibility of anyone in the government. The office bestows a lot of responsibility and very little glory. The commissioner has to know the state budget inside and out, has to make sure the dollars are spent according to plan, and — one other thing — "You're the person who has to say no" at budget-writing time.
So says the new occupant of the office, former state representative Adam Greshin, a Warren independent. As if that weren't pressure enough, his two immediate predecessors, Andy Pallito and Jim Reardon, were considered masters of their craft.
"It's a large pair of shoes to fill," Greshin acknowledges. "I recognize that this is a challenge, but I enjoy being involved, and this will be a critical year in our fiscal fortunes."
Greshin says the Scott administration approached him about the job. After a few days pondering the offer with his wife, he accepted.
"As a legislator, I've frequently been focused on fiscal issues," he explains. "And the budget is a key policy document, if not the key policy document, of an administration. So I've always wanted to be part of that dialogue."
It's hard to find anyone with a bad word to say about Greshin, who spent seven years in the legislature. For most of that time, he served on the tax-writing House Ways and Means Committee. This year he was a member of the House Education Committee.
"Adam and I probably don't agree on an awful lot, but I have the utmost respect for his integrity and his abilities," says Rep. Johanna Leddy Donovan (D-Burlington), who served with Greshin on Ways and Means. "It's the perfect job for him."
Rep. David Sharpe (D-Bristol), Education Committee chair, says he specifically asked for Greshin when committee assignments were doled out in January. "He's one of the few people in the legislature who really understands education finance," Sharpe says. "I valued Adam's expertise, since the committee was doing more and more work on education finance."
Greshin is co-owner of Sugarbush Resort in the Mad River Valley. He will retain his ownership stake, although he will step aside from active work at the resort. But in the past, on more than one occasion, Greshin has openly taken the ski industry's side in legislative debates, leading to accusations of conflicts of interest.
"It is something that I am very aware of," Greshin says when asked about potential conflicts. "I am going to do my best to provide transparency whenever possible and make sure there is no conflict. I fully expect that you in the press will make sure that I'm doing that."
Seems like a safe bet.
Brown Rivers
The three-day period of June 29 to July 1 was marked by very heavy rainfalls around Vermont. Examples, per Weather Underground: Burlington got 2.28 inches, Rutland weighed in with 2.68 and Montpelier got 3.6.
After heavy rainfalls, community treatment systems that combine sewer water with stormwater are often overwhelmed, sending untreated wastewater into rivers and streams. So the question arises: How did we do this time?
"Business as usual, nothing unique," says James Ehlers of Lake Champlain International, a water quality advocacy group. And just to be clear, business as usual is a bad thing.
According to the group's tally of official state overflow figures, at least 935,200 gallons of untreated water — sewer water and stormwater combined — were released during that three-day period.
Please note the "at least." There's a huge amount of wiggle room in the state figures. Most communities can't accurately measure overflows; they report broad estimates based on quantity of rainfall and past experience. The top end of the overflow range: a whopping 1,866,800 gallons.
In three days.
That's a hefty chunk of "business as usual." So far this year, we've dumped nearly 6 million gallons of untreated sewage/stormwater overflow into our waterways. Nearly 2 million in a three-day period is quite unusual.
Things are getting better, but slowly. Upgrading water systems is a costly process. According to Jessica Bulova, wastewater program section supervisor for the Agency of Natural Resources, the state has replaced combined sewer/stormwater systems with "greener" upgrades in 111 communities. There are still roughly 65 to 70 of the old systems left.
"To eliminate the remaining combined systems would take about $126 million," Bulova says.
And this problem has little to do with the phosphorus pollution bedeviling our waterways; the state is under a federal mandate to remediate that issue at a cost in the hundreds of millions. The issue here is untreated wastewater that may contain viruses and toxins. Bulova is hopeful the state can eliminate all the old combined systems in "20 to 30 years."
In the meantime, "We're dumping feces into public waterways," notes the unsubtle Ehlers. "Some pathogens can survive for weeks. In a state where we celebrate the outdoor economy and all these rivers have canoeing, kayaking, tubing and fishing, we're not making the investment to make sure people are safe."
Yeah, but the water still looks nice in an Instagram snap.
Media Notes
One of Vermont's best television reporters is on the move. Kyle Midura, a fixture at WCAX-TV for almost six years, is about to take a new job in Washington, D.C., with the station's new corporate parent, Gray Television.
But he'll continue to make regular appearances on Channel 3.
How so?
"Gray Television has a D.C. bureau that caters to all their stations," Midura explains. "I'll be working for WCAX and at least six or seven others, following legislation and developments that affect people in those markets and tracking their congression-al delegations as well."
Midura was born and raised in Bennington County. After going away to college and working at a TV station in Billings, Mont., he was hired on at WCAX. He believed he was here to stay.
"Vermont has always been my home," he says. "I get to play in the mountains, my family is close by. But after the corporate purchase, the D.C. bureau chief contacted me. It was an offer I couldn't refuse."
Midura plans to depart WCAX sometime in late August. His first day on the new job is September 5.
When VTDigger.org makes a new hire, it's usually a young reporter just entering the field. But this time Digger went the other way, hiring veteran journalist Dave Gram as a copy editor and occasional reporter. Gram's 31 years with the Associated Press' Montpelier bureau ended in a nationwide round of layoffs in January.
"It's a pretty nifty outfit," says Gram of his new employer. "Lots of good energy there, lots of scrappy journalism going on. I'm enjoying it."
"He's a fabulous fellow," says Digger's founder and editor, Anne Galloway. "He knows an awful lot about Vermont, knows the history like no one else."
Gram joins a small core of veteran journalists including Galloway, senior reporter Mark Johnson and editor Ruth Hare. "This is a training ground for young reporters," Galloway explains. "We need people who can guide and support them. Dave's great at that."
For now, it's a part-time job. Galloway and Gram say they will revisit the situation this fall and decide whether he becomes a full-time Digger.
Gram also cites one key advantage of his new post: the commute.
"It's walking distance from my house," he says. "My two vehicles are my right foot and my left foot."
Talk about reducing your carbon footprint.