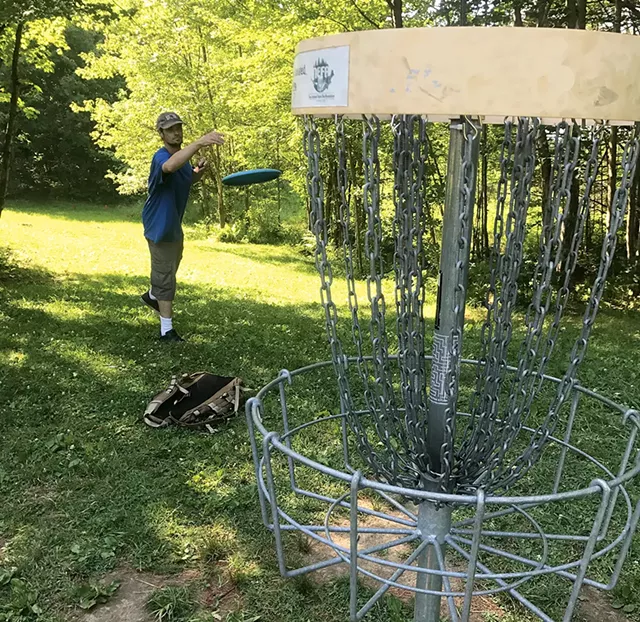 JOHN JAMES
Center Chains Disc Golf Course
Center Chains Disc Golf Course
116 Maple St., Waterbury Center
Disc golf courses are popping up all over Vermont, but the links at Center Chains are the gold standard. This 18-hole spread was one of the first courses in the state, and it remains one of the most popular and best maintained. The mountain views are hard to beat, and there's a nearby stream that's perfect for a post-round dip. Best of all, you don't have to wear dorky golf attire. Go early to beat the bottlenecks of eager disc duffers that inevitably form, especially on picture-perfect summer weekends.
Andy A_Dog Williams Skatepark
Hit up Burlington's world-class skate park, dedicated to late local DJ and skateboarder Andy "A_Dog" Williams. Located just off the waterfront bike path, it's got rails, ramps, boxes, a half-bowl and a half-pipe. You might even catch local pros like Collin Hale.
Bristol Falls
Lincoln Rd., Bristol
When Lake Champlain inevitably sprouts an algae bloom, head to Bristol Falls — one of the state's more scenic and safe spots to cool off. Its 15-foot waterfall empties into a deep, chilly pool.
Burlington Surf Club
Enjoy standup paddleboarding, windsurfing and Hobie Cat sailing at this semiprivate beach club. Members get access to a serene lakeside spread and weekly group events — like SUP yoga, which, apparently, exists. Nonmembers can pay a day-use fee.
Community Sailing Center
No boat buddies? No problem. This recently remodeled community center has anchored Burlington Bay for decades with affordable sailboat rentals — in fact, they're free on weekends in September and October 2019. And for landlubbers who don't know the difference between a mainsheet and a mainsail, it also offers lessons.
Island Line Rail Trail
This 14-mile bike trail runs along Lake Champlain from Oakledge Park all the way to the Colchester causeway — a narrow old railbed that extends three miles into the lake. A bike ferry connects you to the Champlain Islands in summer.
Oakledge Park
Tennis, volleyball and bocce courts — and the occasional hipster kickball league — are draws at this beautiful South End park. The picnic pavilions, hidden tree house, sandy beach and secluded rocks are nice, too.