Don Whipple
Jojo Williams-Keane, Grace Nadeau and Sam Newland with plates ready to go out
The hottest lunch spot in St. Johnsbury is a high school classroom.
Before you think chips and Snapple, cramped student desks and an adolescent atmosphere, picture this: spiced sea scallops crowned with orange-olive salad, chicken and shellfish paella made with saffron rice and chorizo, and portabella cannelloni drizzled with ricotta-basil cream sauce. Think fresh flowers, water goblets, cloth napkins — folded to stand — and soft jazz.
But the kids are still there. They run the place.
Students in the culinary arts program at St. Johnsbury Academy are the prep cooks, chefs, hosts and waitstaff at the Hilltopper Restaurant at 1216 Main Street. Open to the public for lunch three days a week during the school year, the menu is extensive, the service is increasingly professional as the year progresses, and a table is hard to come by.
"It's by far the best restaurant in St. Johnsbury," says Mary-Em Saar. She and her husband, Fred, longtime fans of Academy cuisine, drive seven miles from their home in Waterford to eat there every week. The food is "fabulous" and the prices "ridiculously low," Saar says. Current entrees sell for between $7.50 and $11.50, bargains because the restaurant is nonprofit, the staff unpaid and the objective to keep the tables full to give students optimal real-world experience.
The menu changes every six weeks, and Saar knows the rotation by heart. The students kick off the year with a harvest menu, which celebrates local products; followed by the American bistro menu, an eclectic mix of dishes from around the country; the Mediterranean menu, featuring entrees from five countries; and finally, in the spring, the signature menu. "That one is really special," Saar says. That's when each senior develops an entrée, which appears on the menu along with the student's biography.
By that time, restaurant regulars feel like they know the kids. Saar's been popping into the kitchen to compliment the chefs and to wish them a relaxing school break. "These guys," chef instructor David Hale says of the regulars, "they're part of the program." They cheer on his students, he says. "They cry at the end of the year."
Students leave ready for professional kitchens and top-notch culinary schools. Several have won full scholarships to Johnson & Wales University, the Culinary Institute of America and New England Culinary Institute.
Don Whipple
Max Frechette with chef instructor Paula Bystrzycki
Students typically start the St. Johnsbury program by taking Introduction to Culinary Arts, a one-semester class. They can continue to Culinary 1 — two periods per day — where students spend one semester at the Hilltopper and one semester in the school's bakeshop, and to Culinary 2, two class periods each day at the Hilltopper all year long.
About half of the students who complete Culinary 1 and 2 enter the hospitality industry, Hale says. But all, via instruction in professional food service techniques and vocabulary, acquire the ability to function in any professional setting. "It's the learning to work in a team," he says. "It's learning to be ready to go every single day no matter what."
Students working at the Hilltopper have to call in if they're sick — the students, not their parents, unless it's absolutely necessary. That's not the norm in a high school class, Hale says, but he's trying to instill professional responsibility. An absence doesn't affect the other kids in a math class. But, "when you're in the sauté station here and you don't call in, and you're no-call, no-show, somebody's got to pick up that work because we still have to open the restaurant," he says.
Step into the kitchen on a Tuesday morning and Hale will welcome you aboard the "moving train." It's not yet 9 a.m., and two giant rectangles of focaccia are proofing under dish towels; veal stock, on its four-day journey to becoming demi-glace, is bubbling in a 40-quart pan on a back burner and the soup of the day is coming together in a smaller saucepan up front. "It's broccoli-fontina," junior Matthew Rice says. He and the other 19 Culinary 1 students arrive at 8:20. They prep everything on the menu, then turn the kitchen over to the 13 Culinary 2 students who cook, plate and serve.
St. Johnsbury Academy is the career and technical education center for all of Caledonia County. Just getting students to the Hilltopper is a logistical challenge. And once they arrive, they prepare an average of 25 menu items and serve 45 to 60 customers a day. "There's a lot going on, right?" Hale says in the midst of morning prep. But the atmosphere is orderly, more like a symphony than Grand Central Terminal.
The kitchen is divided into stations, and the daily duties for each are spelled out on a prep list. Students are assigned to a new station each week, moving clockwise around the line. If they have a question, they can turn to the person next to them, who worked the station the week before. They also rotate through the "front of the house," where they take reservations, seat customers, wait tables and run the beverage station. There, instructor Sue Libbey teaches them how many times to go to a table, how to work as a team and how to be efficient. "It's really a lot of the social graces ..." she says, "and just working with a nice rhythm."
On this day, Danville School junior Matthew Rice is assigned to the veg/starch station. He periodically turns the red pepper he's roasting in the oven as he makes the orange and olive salad for the scallops. "The sweet and the salt really balance each other well," he says as he suprêmes oranges — peels them and removes whole sections — and quarters green olives. "There's a name," he says of the cut. "It's French." A couple of minutes later, he says, "It's fermière!"
At the salad station, St. Johnsbury Academy junior Ty Avery wields a 10-inch French knife, dicing onion for risotto. He makes thin, horizontal slices first, then vertical cuts. "Chef gets very upset if you're not using proper knife skills," he says. Lyndon Institute senior Adrian Langmaid lights the fryer and shares the rookie mistake he made the first time he tried the task. Instead of pushing the button to ignite the pilot light, "I pulled this blue valve, which pours all the oil from the inside out," he says. "That was a mess."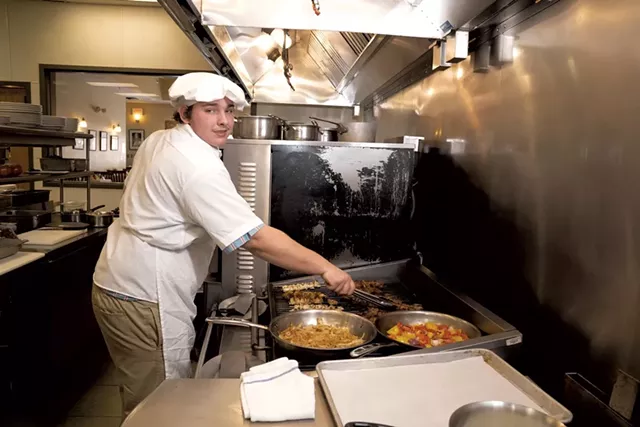 Don Whipple
Adrian Langmaid on the grill
All morning and through lunch service, students sporting white chef coats and hats julienne, juice, simmer, sauté, whip, braise, roast, plate and serve as Hale pinballs between their stations, instructing all the while.
"You want to cook those onions and that garlic until it's soft and tender. It goes from smelling raw — right? — to smelling soft and sweet."
"Let it come to a simmer and reduce it. And when it starts to get tight, then you add more liquid ... You're working the starch off the individual grains of rice. That's what makes risotto creamy."
"Make sure it's hot. I don't want 'em steaming. I want 'em sautéeing. Sautéeing implies ssssizzling, right? It should be making an ssss sound when it's cooking."
There is decorum here. Students respond to Hale with Yes, Chef and No, Chef. They announce their movements: Oven open! ... Right behind ... Hot pan! Hot pan! And Hale peppers them with the same question, over and over: Why do we do that?
This is Hale's 10th year teaching in St. Johnsbury. He was executive chef at Napa Valley's acclaimed Auberge du Soleil in the early 1990s, then worked for 14 years at New England Culinary Institute in Montpelier, his alma mater. He worked as campus executive chef, supervising the school's five food-service outlets and all of its chef instructors, and as director of career services, overseeing internships.
He is one of four chef instructors at St. Johnsbury Academy, which is both the town's public school and an independent day and boarding school with students from 25 countries. Its culinary arts program started in 1971. Since then, it has operated cafés in different venues around town, moving to its current location in 2006. In addition to the flagship Hilltopper, the program operates a full-scale, on-campus bakeshop, which provides breads and desserts served at the Hilltopper, but no retail sales, and a kitchen at South Congregational Church, where Intro students serve a weekly free community lunch.
Students also cater. Nearby St. Johnsbury Athenæum has been hiring them for its major spring fundraiser, the Athenæum Gala, for about 10 years. "The kids are totally pro," Athenæum director Bob Joly says. The Gala has evolved from a stand-up affair, where students passed hors d'oeuvres, to a formal sit-down dinner for 80. Six or seven years ago, the students surprised everyone at the event with an ice sculpture of the Athenæum founder. "In comes this carved bust of Horace Fairbanks in ice," Joly says. Near the end of the evening, Joly often invites all of the students to the front of the room so his guests can thank them. "They get a standing O," Joly says, "because everybody says, We can't believe these are high school students doing this work."
On this Tuesday in January, when blackened snowbanks encroach upon Main Street, it's possible to walk in and get a table at the Hilltopper. But, Hale says, "Come springtime, if you don't make a reservation at least a week out, you're probably not going to get in."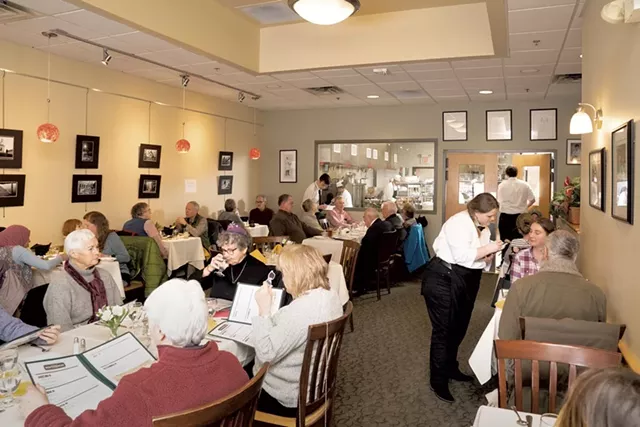 Don Whipple
Lunchtime at the Hilltopper
Two Danville couples book weeks of reservations at a time. Jeff and Ellen Gold and Dan and Donna Schmiech sit next to the front window, gushing about the students, the vibe, and the food, oh, the food. "We actually don't need any more people coming here to eat," Donna interjects as the four of them rave, but they keep talking.
"And they have great desserts," says Ellen.
"And they have the best hamburger in town," says Dan.
"You can tell everyone is really happy here," Donna says.
Some kids sign up for Intro class — 100 are enrolled this year — because they think it will be a fun elective. But those who continue through the program and end up in Culinary 2 are more serious. They move with purpose, Hale notes.
Academy senior Emma Smith wants to open her own vegan restaurant. She plans to attend Johnson & Wales next year. "I'm kind of having an internal debate on being pastry or culinary arts," she says. Drawn to the food industry since she was a child, she had a "Cupcake Wars" themed birthday party when she was in middle school .
Academy senior Ethan Biggie, bound for the Culinary Institute of America, wants to work on a cruise ship. His classmate, Grace Nadeau, has been accepted by the Culinary Institute of America and Johnson & Wales. She'd like to open a bakery in Waterford, her hometown. "I would like to go to college, you know, learn more skills, and then come back here and just impress everyone," she says.
But today, she's on the grill, and she's got orders to fill.
"Order, please!" says teaching assistant Sharon Hunter. "Two shrimp!"
"Two shrimp!" answers Nadeau.
"One swordfish!"
"One swordfish!" answers Nadeau.
"One spanakopita!"
"One spanakopita!"
This Mediterranean menu is designed to give diners a taste of the world, Hale says. But, more importantly, it is designed to expand students' horizons. "We could run this restaurant six days a week, and people would be thrilled," Hale says. "But it's less education at that point. We're very protective that education is first, and operations is second."
Baking siblings take top honors in national competition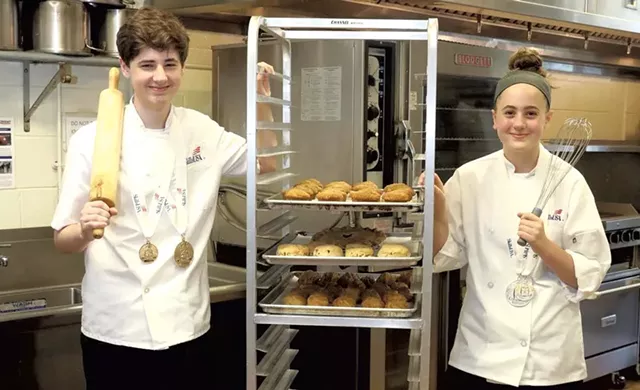 courtesy of Paula Bystrzycki
Max and Gwen Frechette
When St. Johnsbury Academy sophomore Max Frechette was named top high school baker in the nation last year, he not only retained the honor for his school, he kept it in his family. Max's sister Gwen won the year before.
The siblings were gold medalists in the commercial baking division at the national SkillsUSA Championships, competitions for career and technical education students. Siblings have occasionally won national titles, SkillsUSA public relations manager Karen Kitzel said in an email. "But, I would say it is very rare!"
The Frechettes may be the first sibling winners in commercial baking, said Vickie Fuller, who chairs that competition. "I don't know of any other brother-sister [pairs] who have won that," she said.
At first, it didn't appear that the Frechettes would do it, either. Gwen started taking culinary arts classes as a sophomore. Intent on a baking career, she was caramelizing onions when she was 11 and selling whoopie pies and macarons to teachers when she was in high school. Max, meanwhile, was less enthusiastic. His baking education was Gwen's idea. "She kind of brought him right to the door, and she said, There you go; you're going in there..." said baking instructor Paula Bystrzycki. "I don't think he really wanted to be here. You could see it on his face."
That's how it happened, Max confirmed. He was intimidated. He was a sophomore Intro to Culinary Arts student starting Chef B's hard-core, after-school baking practices for kids aiming to compete at SkillsUSA. "There were lots of others going, and they were all Culinary 1 students, better than me," Max said.
But as the year went on, kids started dropping out. Many express interest in the fall, Bystrzycki said, "then they realize how much work it is, and they decide it's not for them." At national competition, students — one from each state or territory — take a written exam and make products in seven categories in seven hours and 45 minutes, taking a mandatory 30-minute break. Qualifying requires winning a gold medal at the Vermont competition, where students make four types of products in three hours and 45 minutes. Nationals last year required cookies, scones, pie, pâte à choux, Danishes, bread (three types) and a decorated cake. As the April state contest nears, Bystrzycki's one- to three-hour after-school sessions are supplemented by several three-hour-and-45-minute Saturday run-throughs.
By mid January, two students were left. One would go to states, where competition is capped at 12 because the site — New England Culinary Institute's La Brioche Bakery & Café in Montpelier — can't accommodate more. Bystrzycki picked the other student. Because the 12 slots didn't fill, Max got to go, too.
He won by one point.
"We were shocked," said his mom, Dawn. "He wasn't even supposed to go." And then he went to nationals, held in the Kentucky Exposition Center in Louisville, a space the size of 20 football fields. "And again, we said, There's no way; he's a sophomore competing against juniors and seniors. We were surprised when Gwen won as a junior. When he won as a sophomore, we were blown away."
She attributes his success to "hard work and Chef B."
This is Bystrzycki's 19th year teaching at St. Johnsbury Academy, her alma mater. Her students have won the state's gold medal in commercial baking every year for the last 13 years and the silver medal in 10 of the last 11. They have won a medal — gold, silver or bronze — in national competition in 10 of the last 12 years. Four of those medals are gold.
"She is super dedicated and committed to doing the best she can for those students," said Jane Donahue Davis, executive director at SkillsUSA Vermont. Said Gwen, "She's the best at what she does."
At the start of his national competition, Max tried to attach his prep list to a cart, but "my hands were shaking so much I couldn't use a binder clip." The girl behind him left about 20 minutes into the competition, he said. Another was in tears. But the tension didn't get to him. "Once I got started, I didn't really think about it. I just kind of did my thing."
"It's a very stressful seven hours," Gwen said, "but it goes by quickly." When she won, she cried. When Max won, "Max didn't cry," she said. "Chef B and I cried."
A gold medal at nationals comes with full tuition to one of the nation's top culinary schools. Gwen got to pick from four; she's currently a first-year student at the Culinary Institute of America in Hyde Park, N.Y., working toward an associate's degree in baking and pastry and a bachelor's in business management. Max, a high school junior this year, expects to choose CIA, as well.
Gwen would love to go into business with her siblings. There's a third, Mari, who is 21. She's an artist. Gwen wants her in the business, too. Maybe she will design the menus and the signage. "She doesn't really cook at all," Max said.
Added Gwen, "She definitely cannot cook."