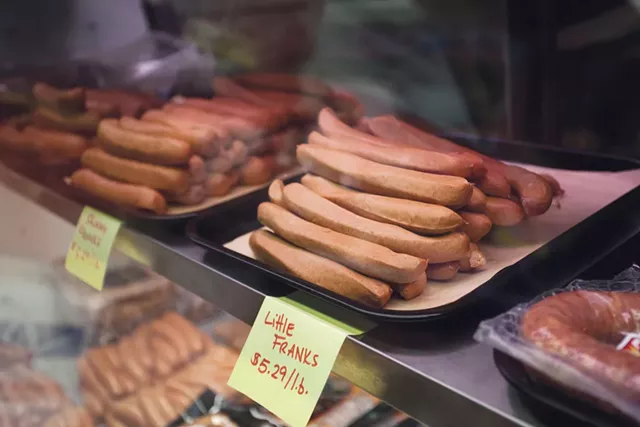 Tom McNeill
Fat Franks
There are folks who take their hot dogs seriously, and then there's the staff at Fat Franks. At "the wurst place in Bellows Falls," each table is equipped with a primer on "hot dog etiquette" — 12 rules for eating "America's sacred food."
For example: Applying ketchup to a hot dog is strictly verboten to those over 18, as is finishing one off in more than five bites. Licking condiments from fingers and eating the sausage on paper plates, by contrast, are both heartily encouraged.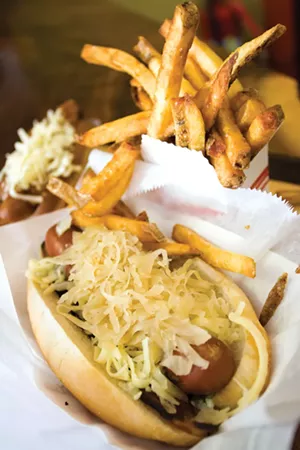 Tom McNeill
Fat Franks
It's worth noting that none of these rules came from Fat Frank, who doesn't exist ... in human form. "He" is the juicy, quarter-pound all-beef wieners that, along with the larger-than-average "Skinny Franks," serve as the foundation for a range of combinations. Options include the "Fall Mountain Dog," a grilled frank with cheddar, blue cheese, provolone and bacon, and the "Town Hall Dog," topped with chili and a Thai hot sauce known as sriracha.
While it may sound basic, Fat Franks' bacon chili cheese dog is anything but. This chili isn't for weenies; it packs a serious punch, mitigated only by the distractions of bacon and cheddar that melts as you eat. Bratwurst and knockwurst are steamed in Long Trail Ale, which imparts a boozy richness, before they hit the grill. Tangy sauerkraut is always an option, but the meal would not be complete without Raye's Mustard, nine varieties of which are available at each table, along with celery salt, ketchup and Sriracha.
The local beef burgers are worth a separate trip. The Gruyère burger is laden with herbes-de-Provence-seasoned caramelized onions and garlic mayo. Pair the flame-licked local patty with hand-cut, twice-fried russet potatoes so crisp they stand up to liberal sprays of malt vinegar.
Whatever you choose at Fat Franks, it'll be worth relishing.