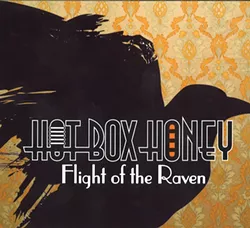 (Self-released, CD, digital download)
If there's one thing the local music scene has been lacking in recent years, it's a jazzy mini-orchestra. I mean, how else are local hepcats and flappers supposed to get their Lindy hop on if Pink Martini don't happen to be swinging through town? Thanks to Hot Box Honey, that's no longer a problem. On its scintillating debut album, Flight of the Raven, the group serves up a delectably groovy, jazz-inflected mix of lounge, hot jazz, swing and exotica made for shaking dance floors, whether said floor is a dimly lit nightclub or your living room.
Given their elite pedigree, Hot Box Honey are something of a local jazz supergroup. The band centers on the husband-and-wife combo of vocalist Jane Evans (Mint Julep) and guitarist Greg Evans — the latter an accomplished gypsy-jazz player with his eponymous trio, the Liptak/Evans Duo and the Bohemian Blues Quartet. Rounding out the core band are keyboardist Peter Krag, drummer Todd Watkins and bassist Justin Dunn. The record's guest list is impressive, too. It features saxophonist Dan Liptak, violinist Doug Reid, trumpeters Josh Pauly, Brian Chipman and Kevin Avery, trombonist Matt Avery, bassist Brent Thomas, and the late, great DJ A-Dog.
That's an impressive roster of talent, and Jane and Greg Evans deploy it with veteran savvy. From start to finish, the album brims with a buoyant, vintage sauciness that should appeal to fans of Pink Martini, Squirrel Nut Zippers and Caro Emerald. Or anyone with the ability to feel rhythm, really.
The band's retro energy is most obviously represented by Jane Evans. Formerly the vocalist for Cincinnati's Swingtime Big Band, she's a dynamic singer and well suited to jazzier numbers, such as the bluesy, woozy "One Man Woman" and the jumpy "Champlain Club." But she's equally comfortable on more exotic fare. "Girl With a Green Vespa" winks slyly — and sashays a hip — at Stan Getz and Astrud Gilberto. "Run Lola" adopts a breezy samba vibe that would make Carmen Miranda feel right at home.
While Jane Evans is impressively versatile, no small credit is due to her top-notch backing band for matching her aplomb with skill and tact of their own. Greg Evans' arrangements are often pitch-perfect homages to style. But each bears subtle twists that serve to elevate above rote recitation. The smoky lounge feel of "Raven" is appropriately moody and mysterious. "Papaya Lover" is an early ska tune with perfectly chippy horn parts. Album closer "Dark and Stormy" injects a hint of woozy psychedelia amid a fusion of reggae and Latin jazz.
If Flight of the Raven has a flaw, it might be that the record is too eclectic. But given how often Hot Box Honey hit the mark and how well these tunes transition despite their sometimes-disparate grooves, that gleeful genre hopping could just as easily be the record's greatest strength.