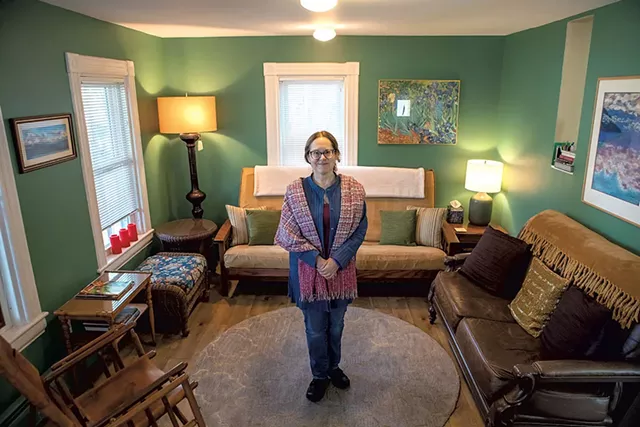 Luke Awtry
Deb Lyons in her Airbnb
Everything is spotless in Deb Lyons' three-bedroom Airbnb on Burlington's Archibald Street, where guests arrive to find homemade peanut butter chocolate cookies in the fridge. Her own landscape paintings grace the walls, and on a tour, she pointed to a handsome bureau. "That was my nana's dresser," she said.
Lyons wants her guests to feel at home — and they pay between $175 and $250 a night for the experience. But now the roughly $29,000 in annual revenue Lyons makes from hosting could be in jeopardy. The city is weighing zoning restrictions on short-term rentals amid growing concerns that Airbnb and other DIY accommodations are diminishing Burlington's supply of long-term rental properties. Officials fear that the hundreds of units listed on various platforms are exacerbating an affordable housing problem in a community where the rental vacancy rate hovers around 2 percent, according to a calculation from South Burlington real estate advisory firm Allen, Brooks & Minor.
Calls for a crackdown — in the form of a suite of proposals — have emerged as a result of two Burlington Housing Summits organized last year by Mayor Miro Weinberger.
One proposal under consideration would require that property owners who convert units from long-term to short-term rentals pay a "housing replacement fee." The one-time charge would be $1,700 for a studio, $7,930 for a one-bedroom, $19,015 for a two-bedroom and $42,950 for a three-bedroom.
"Ouch!" Lyons responded. The 63-year-old converted her three-bedroom rental property to an Airbnb about four years ago and works two additional part-time jobs to make ends meet.
Worse for her: The city also wants to enforce a widely ignored existing rule that property owners must live on the site of their short-term rentals — a law that already applies to Burlington's 17 licensed bed-and-breakfast operators. Even though she lives next door, Lyons would not qualify.
"It's going to shackle me," Lyons said about the proposed zoning, which would force her to go back to long-term renting, which she does not want to do. "Why are they burdening little people like me?"
Lyons joined other hosts at a meeting in Burlington City Hall last month to protest the proposed changes. Kent Cassella, who would face a $7,930 conversion fee for Airbnbing one-half of his South End duplex, called them "draconian." Cassella said he got out of the long-term landlord business a few years ago because it was difficult to recover financially after a problem tenant stopped paying rent. "I said, 'I'm done with long-term renting,'" he huffed.
City officials say the vast majority of short-term rentals in Burlington need a bed-and-breakfast permit but are operating without one.
Their owners are paying taxes, though, if they are listed on Airbnb. Since October 2016, the company has collected and remitted Vermont taxes on behalf of hosts. The state gets a 9 percent rooms and meals tax; in Burlington, the city takes another 2 percent.
But Burlington still struggles to track and regulate the listings, whether they are spare bedrooms, lakefront homes or entire apartments. To keep up, last year the city contracted with a private company called Host Compliance that found 410 rentals on multiple platforms, including Airbnb, HomeAway and Vrbo.
Many of those accommodations would likely shut down if the proposals pass. For example, even with the landlord living on-site, no one residence could have more than three short-term rental units. Otherwise, it would have to seek zoning as a hotel, and those are not allowed where many Airbnbs now operate.
The joint meeting of the Burlington Planning Commission and the City Council Ordinance Committee on January 28 lasted for more than two hours. Most speakers, such as Julia Marks, went to the microphone to complain about the restrictions.
"You are kind of putting me out of a job," said Marks, who lives in Jericho and Airbnbs one unit of a three-unit building her family owns on Elmwood Avenue. She rents out the other two long-term.
But a few attendees were supportive. Caryn Long, a longtime Burlington resident, said she doesn't want out-of-town landlords profiting from Airbnbs and using Burlington as a "cash cow."
Maggie Sherman, a Lakeview Terrace resident who lists a private suite in her house and a converted garage in her backyard on Airbnb, has operated as a licensed bed-and-breakfast since 2004. Now she competes with multiple unlicensed short-term rentals: at least 12, by her count, on her side of the street, which has spectacular views of Lake Champlain.
That's not a level playing field, said Sherman, adding that income from her One of a Kind B&B has dropped 20 percent in the past year. In a later interview with Seven Days, Sherman made the point that the city's failure to enforce current rules has contributed to a "tsunami" of unlicensed short-term rentals. "And now the city's like, 'OK, I guess we should do something,'" Sherman complained.
The public officials at the meeting had mixed reactions to the proposals. The crowd erupted into applause when planning commissioner Emily Lee questioned the need for action, suggesting instead that the city start with a "light touch." Require all hosts to register, let the city gather data, and then review the situation, Lee offered. Two other commissioners were also sympathetic to critics of the proposals.
Many hosts said Airbnb helps them afford the city's accelerating taxes. More hikes could be coming: The Burlington school tax rate would rise 7.3 percent and the municipal tax rate would rise about 4.8 percent if voters approve spending proposals on the Town Meeting Day ballot in March. Burlington is also in the midst of a citywide property reappraisal that could increase assessments.
City Councilor Sharon Bushor (I-Ward 1), who serves on the ordinance committee, suggested the city might consider a graduated payment plan for hosts who would owe large housing replacement fees. But she expressed support for the fees, which would go into the city's Housing Trust Fund, a pot of money intended for the creation and retention of affordable housing in the city.
"We hear from people ... that there isn't enough housing, and we're not talking about people who come to visit," Bushor said at the meeting. "We are talking about people who are trying to live in this community."
That's the message Charles Winkleman has tried to convey since he cofounded the Burlington Tenants Union in 2018. Taking any units off the market for short-term rentals when so many people struggle to find housing is wrong, he believes.
"If we, as a community, care about everyone ... we need to be focusing development on low-income housing, not hotels, not Airbnbs," Winkleman told Seven Days.
He acknowledged that some renters put portions, or sometimes all, of their apartments up on Airbnb. He also acknowledged that the platform is used by seniors on fixed incomes who rent rooms to get by.
But if Burlington allows its housing market to be geared toward tourists, it will never be affordable for local workers who "should not have to work two jobs, 80 hours a week" just to have a place to live, Winkleman said.
Yet another proposal from the housing summit would ameliorate that situation, according to Mayor Weinberger. It incentivizes construction of accessory dwelling units on existing single-family properties, be they detached cottages in a backyard, additions on a house, or apartments in converted attics or basements.
Portland, Ore., and other cities have added many new housing units by lifting zoning restrictions on such outbuildings; as of July 2019, Burlington had only 48, according to the city Department of Planning and Zoning.
The proposed changes in Burlington would eliminate the current requirement that the units have off-street parking. They could also be larger, in some cases, than is currently allowed, and squeezed into tighter lots.
While the units are intended to increase the city's housing stock, the regulations would also allow property owners to use them as short-term rentals. That could prove more enticing to potential landlords.
Weinberger, who strongly supports the accessory dwelling unit proposals, isn't concerned. With at least three new hotels proposed in the city, market conditions could change — read: hotel prices could drop — and some new accessory dwelling units used initially as short-term rental listings might shift to long-term rentals down the road, he said.
The bottom line: Any increase in housing stock would be progress, he said.
"We have, for some time, been attempting to eliminate barriers to the creation of new homes, because we think we have a supply problem," Weinberger said.
When it comes to regulating short-term rentals, Weinberger is still mulling the details. He wants to prevent entire apartment buildings from shifting to short-term rentals, he said. But he isn't sure he supports the requirement that hosts live on the property or that they pay the proposed housing replacement fee. "I am still listening and taking the public feedback," Weinberger said.
The Burlington City Council will hold a public hearing on the proposed accessory dwelling unit zoning on Tuesday, February 18. No date has been set for a council vote on the short-term rental regulations.
Meanwhile, Lyons is taking reservations. Last year she booked 144 nights, mostly during the busy summer and fall months. She also works as a standardized patient at the University of Vermont's Larner College of Medicine and gives anti-bullying and wellness presentations in schools.
"I need my Airbnb to be able to pay my mortgage, pay my taxes," Lyons said, "and to stay in my house."