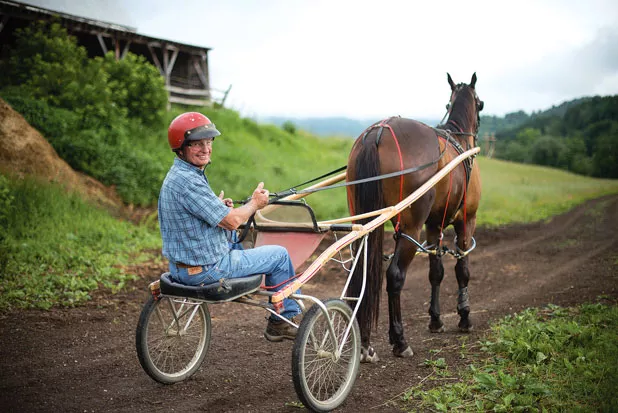 On a recent morning, Jim Harvey steps out of the barn at his Duxbury farm, which his family has owned and operated for the last 100 years — first as a dairy farm and now as a training ground for standardbred racehorses. It's 8:30 a.m. and the mercury is already edging toward 90 degrees. Harvey's 6-year-old gelding, Kelly's Noah — who's already won $368,093 and was named Horse of the Year at Saratoga Casino and Raceway in 2010 — is cooling off in the barn. His younger two horses, Mountain Rock and Mountain Star, are headed to his track for their morning jog.
Harvey's land, which abuts the Winooski River about three miles from the Bolton Falls gorge, was badly flooded when Tropical Storm Irene tore through the region last summer. He spent a portion of the last year rebuilding the part of his racing track that was destroyed.
Now 81, Harvey has been training standardbreds to race in Saratoga and Montréal since 1968. Before that, he was a dairy farmer. And until 1993, he also delivered mail for the U.S. Postal Service. On his farm, Harvey and his wife raised eight children, two of whom are helping out with the horses this morning.
While daughters Ann and Patti Harvey drive the horses around the track, Harvey describes the two animals as if he were referring to his children. Mountain Rock, or "Moose," is enormous — about 17 hands tall — but a bit uncoordinated. He's a "big baby," Harvey says with affection. Today Moose is afraid of a large piece of farm equipment parked by the track. Every time he passes it, he rears up his massive head and bugs out his eyes.
Mountain Star, or "Socks," is much smaller and really fast, but he lacks focus, Harvey says.
At their young age — both horses are about 3 — it's too soon to tell if they'll make the cut as racers. If they don't, Harvey says, he'll likely find them homes as saddle horses.
"My dad won't sell them, so usually we just give them away," says Patti. "He wants to make sure whoever gets them can take care of them. It doesn't mean that much to him to get money for them. It's more important that they have a decent place to go."
It's clear Harvey loves his horses.
"Oh, yeah," says his daughter with a smile. "For racehorses, these are pretty spoiled."
Seven Days caught up with Jim Harvey on the track with his horses to talk training regimen, prize money and the competitive spirit.
SEVEN DAYS: Did you grow up with horses?
JIM HARVEY: My father bought and sold draft horses from the time we could walk. But the Second World War put the draft-horse business out. As soon as the tractors started coming back from the war, there was no more horse business.
SD: What's their training regimen?
JH: Today they'll only jog seven times around, three and a half miles. Every other day they go counter-clockwise, they go for speed, and you work them down, down, down. The younger horses are down to about 2:20. But to do any good in Saratoga, you have to race under two minutes. These horses, when they get there, will be entry-level horses. And then, if they're any good, they'll work their way up the ladder.
What about the other one?
JH: [Kelly's Noah] is in the very top level. His best winning time is about 1:51. The best track record ever at Saratoga is 1:50. So he's been pretty close.
SD: Where did he get that name?
JH: The month he was born it rained every day but two.
SD: So how much of the prize money do you get if he wins?
JH: He'll race Saturday night for a purse of $18,500. And it's divided five ways. The winner gets half the purse. Last three get hot and dirty.
SD: Hot and dirty?
JH: [Laughs] They don't get any money.
SD: Is it a bit of a gamble, then, to make a living off of racing horses?
JH: It can very well be, but this horse I have up here now has done very well. He was Horse of the Year in 2010. Eleven wins. Last year he had eight. So he's done really well.
SD: How long are most horses' racing careers?
JH: They can race all the way to 14 [years old], but not very many do. That's a long haul.
SD: So what are the qualities that make a great racehorse?
JH: They have to have speed and they've got to want to do it. They've got to have heart. If they don't, you're wasting your time. And then they've gotta be determined. This horse up here, if another horse gets near him, he just digs and digs and digs. Unless they're tougher than he is, he wins.
SD: Does a bigger horse have a better chance?
JH: Well, he's got huge strides, but, then again, he might not be so handy doing some things the smaller ones can.
SD: How old were these horses when you got them?
JH: They were raised here. Their mothers are across the road there. But these are the last two that I'm getting involved in. There's a three-year process involved. And you can have the best mother and father in the world as far as racehorses are concerned, but with genetics you never know what you're going to get. You may get a champion, you may get a dud.
SD: What do you do if you get a dud?
JH: Well, the Amish people buy a lot of them. They're good saddle horses because they're well mannered, most of them.
SD: How do you train a horse to win? Is it all just dependent on its natural ability?
JH: The biggest thing is patience. If you try to take them where they can't go before they're ready to go there, you can ruin them. A lot of the young horses don't ever make it because somebody gets impatient. It's like sending a kid to high school when he should be in the eighth grade.
SD: When a horse wins, do you think he knows it?
JH: Yeah. You take a horse that's not very competitive, and you can see they get discouraged. It's like a kid in a running race. After you get whomped about 10 times, you get a little discouraged.
SD: Do racehorses have any kind of special diet?
JH: Kelly's Noah is on a special diet because we found out he has allergies. He's allergic to wheat and, the worst thing, wool. We used to put wool blankets on him. He kept having respiratory problems.
SD: How long before you figured it out?
JH: When he was at the racetrack, they have a vet there who puts a tiny camera on a tube right up their nose and down their throat, and you could see everything in there. It looked like mayonnaise. The vet said, "I don't think he's sick — he has no temperature, no nothing. I think he has allergies." So we did a blood test, and sure enough.
SD: So what does he eat?
JH: Rolled oats and a protein-pellet supplement. Usually racehorses are on a pretty high-protein feed.
SD: When did you retire from the postal service?
JH: I retired in '93. The first day I could leave, I left.
SD: I'm sure this beats delivering the mail.
JH: It wasn't a bad job, but it was a job: 54 miles a day, 550 stops, six days a week. I was in Waterbury, Duxbury, off into Moretown. It was nine hours a day. We used to jog [the horses] at night then. It was a full day.
SD: What's the best part of training racehorses?
JH: Oh, when you develop a nice horse like that [gestures to Noah]. And also when you win serious money. Let's face it: You don't do all this for nothing.
SD: Do you still get excited or anxious before a race?
JH: [Pauses] Your whole week is wrapped up in a minute and 52 seconds, and then it's all over.