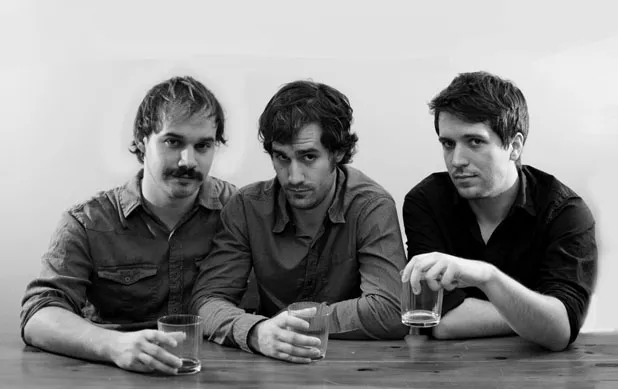 As I believe I've mentioned in every Art Hop-week column since I took over this gig five-plus years ago, opening night of the Art Hop is on my short list of favorite annual Burlington events, alongside such staples as the opening night of the Burlington Discover Jazz Festival, anything related to Halloween and that first glorious night after all the students have gone home for the summer. Er, I mean … welcome back, kiddos!
Anyway, even if you're only peripherally in tune with the local arts scene, it's hard not to love the Art Hop. Obviously, it's a unique opportunity to get acquainted with the embarrassment of artistic riches the city has to offer. It's one-stop shopping for people who like to walk around stroking their chins, gazing knowingly at photos, paintings and sculptures, and saying things like "Hmm…"
But more germane to our purposes here — music — the Art Hop has become a diverse and bountiful showcase for the bustling local music scene. Every year, the number and variety of musical options escalates. Looking at the slate this year bears that out. Particularly on Friday, September 7, as with the visual art, more music is available than you could hope to see.
At last year's the Art Hop, Signal Kitchen threw its unofficial grand opening with a well-attended bash featuring some of the city's rockingest indie bands. In the 12 months since, the space has been almost completely renovated and is now one of Burlington's most exciting venues, regularly drawing national and local acts and filling a niche that exists somewhere between the hipness of the Monkey House and the marquee value of Higher Ground. In short, Signal Kitchen has become an excellent complement to an already vibrant scene.
Fittingly, SK has excellent lineups on tap for both nights of the Art Hop. Friday's slate includes songwriters Zack duPont and Lowell Thompson, indie favorites Hello Shark, Parmaga and Villanelles, and disco rock diva Heloise Williams, with DJs Disco Phantom and Two Sev spinning until the wee hours. Saturday, September 8, looks equally swell, with early sets from lo-fi electro-pop auteur tooth ache. and indie-folk ingenues Alpenglow, followed by Kinky Creature, raucous rockers Dr. Ruckus, surf-noir ripcurls from Barbacoa, stoner metal from Black Norse and late-night sets from DJs Thelonious X and Snake Foot. Got all that?
For the last six years, the opening-night party at Speaking Volumes on Pine Street has been the Hop's unofficial main event, musically speaking. You could argue that Signal Kitchen is giving SV a run for its money this year, but that doesn't take away from the impressive roster of bands set to rock the secondhand shop's outdoor stage on Friday. Highlights include headliners the Wee Folkestra, apocalypse rockers Wave of the Future, Errands, Dino Bravo and the return of Blowtorch, to name but a few. As usual, the Human Canvas will be on hand for all your body-painting needs, while local EDM crews 2K Deep, Mushpost and Montréal's Construct keep the party jumping into the night.
Moving south on Pine Street, a joint venture between SEABA and Big Heavy World, Hopapalooza, is a solid complement to your hopping on Friday. Sponsored by Burlington College, the showcase is a benefit for BHW and features rockers Cameo Harlot, R&B diva Kat Wright & the Indomitable Soul Band, singer-songwriter Suzanne Friedman, gnarly pop-punk trio Trapper Keeper and local wagon o' funk, Funkwagon.
(As an aside, this party looks great. It really does. But can we please retire the "palooza" thing in reference to anything festival-like? I'd even be cool with "Hop-aroo" or "Hop-chella" if we really need to go there. Thanks.)
So yeah. It's a big weekend for local music. But what I've laid out here barely scratches the surface of what you'll find at the Art Hop this year. Wander just a little, and you'll no doubt discover even more great music stashed away in various nooks, crannies, galleries and shops all over Pine Street.
Did I mention how much I love this weekend?
BiteTorrent
The Lynguistic Civilians are about to set sail, literally. The local hip-hop crew is set to host its third annual Cruise-A-Palooza — seriously? — aboard the Lake Champlain Ferry on Saturday, September 8. The cruise, which also features Kat Wright & the Indomitable Soul Band, the Aztext, the Human Canvas and UnKommon, departs from the King Street ferry dock at 8 p.m. sharp. For ticket info, check out thelynguisticcivilians.com.
Saint Michael's College unveils a new international music series this week, Internation-A-Palooza — OK, I made that one up — with superstar Tuareg guitarist and Cumbancha recording artist Bombino on Saturday at the McCarthy Arts Center. Bombino is a rising star in both world and Western music, praised for his groundbreaking fusion of African rhythms and rock-influenced chops. And he's been winning over some impressive fans of late, including the Black Keys' Dan Auerbach, who is producing the guitarist's next record. Bombino will play a rare mostly acoustic set at the free show. Future installments of the series include local Somali band Walinja (October 19) and Grup Anwar (November 10).
Happy trails to Kit Rivers. The local comedian, who for my money is the most talented young female comic in town, is moving to London later this month. But before she hops across the pond, the local comedy scene has a pair of farewell shows slated to send her off good and improper. The first is a showcase at Levity Café in Burlington on Friday, September 7, featuring Dan Russell, Chad Cosby, Ryan Kriger, Jason Lorber and Rivers herself. The second is a Friar's Club-style roast of Rivers, slated for the Monkey House on Sunday, September 9. As of press time, the full lineup for that show is still in the works. But in talking to a few comics who plan to perform, Rivers can expect some, ahem, chin music. Best of luck, Kit.
If you hang around Burlington bar Finnigan's — and I've been known to on occasion — you may have noticed some recent changes: a fresh coat of paint, a new bar top, etc. But the biggest change is that the Irish pub is set to begin hosting live music on a regular basis. Owner Terry Suskin has built a small stage along the east wall and hopes to present bands a few times per week, including this Saturday, September 8, when local rockers Jangover set up shop.
Last but not least, the Burlington jazz community was saddened last week by the passing of Ed Bemis. Bemis, 84, was an unofficial ambassador for Burlington jazz: He started the state's first jazz radio show on WRUV and served on the Burlington Discover Jazz Festival advisory board for several years. He was also a walking encyclopedia of jazz history. I had the pleasure of speaking with Bemis on just a few occasions. One of them was when I was a rookie music hack trying to tackle a cover story on the notoriously difficult sax legend Ornette Coleman. Correctly sensing that I was in way over my head, Ed graciously agreed to meet with me and fill me in on pretty much everything I could possibly want to know about Coleman — some not found in jazz histories. That piece is still among my favorites I've written, not because it was particularly good, but because of how much I learned — about jazz, Coleman, writing and, most importantly, humility. You never really know as much as you think you do. Thanks, Ed. A jazz tribute is scheduled for October 13 at Burlington City Hall. We'll have more details as they become available.
Listening In
Once again, this week's totally self-indulgent column segment, in which I share a random sampling of what was on my iPod, turntable, CD player, eight-track player, etc., this week.
Dan Deacon, America
Wild Nothing, Nocturne
Four Tet, Pink
Sandro Perri, Impossible Spaces
The Slackers, The Question