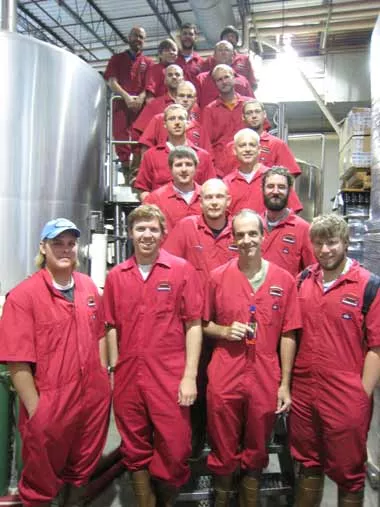 American Brewers Guild Class
Master Brewer Steve Parkes moves through the Otter Creek Brewing Company like a big fish in a pond. On a recent hot and humid day, the brewery is bustling with tourists, and Parkes is in his element.
"You get up every morning and you get to go to work and make beer. It's as simple as that," he says with a smile. "Even on a bad day, what could be better?"
British-born Parkes, 47, is living the dream of many brewers - he's doing what he loves, crafting quality beer. Fittingly enough, "Live the Dream" is also the slogan he uses to promote his other passion, the American Brewers Guild (ABG). The premier brewing school in the country, the ABG is based near Parkes' home in Salisbury, just south of Middlebury. Look up a brewer at a U.S. microbrewery, and chances are that he or she will mention Parkes as a mentor.
In the past 20 years, home brewing has grown from a quirky fad to a billion-dollar cottage industry that has spawned countless brewing guides, magazines, websites, chat rooms and entire retail chains. Specialty, or "craft," brewing is a $3.8-billion-a-year industry, with more than 1300 microbreweries and brewpubs operating in the United States, according to the Vermont Brewers Association.
Vermont is a logical place for the ABG. According to the 2005 census, the state boasts 623,050 people and 19 breweries. That works out to one microbrewery per 32,792 inhabitants - the highest per capita in the nation. The ABG is one of just three brewing schools in the U.S. recognized by the American Brewers Association.
Parkes got his own learnin' at Heriot-Watt University, home of the International Centre for Brewing and Distilling in Edinburgh, Scotland - the only brewing school in the United Kingdom. He was working for Humboldt Brewery in Arcata, California, in 1999 when he and his wife, Christine McKeever, bought the ABG, then located in nearby Davis. After Parkes got his job at Otter Creek, the couple - who have two kids, aged 8 and 11 - brought the school east with them. Today, the guild is a family affair: Christine handles all aspects of ABG admissions and is Steve's right hand.
More than a few undergraduates would hop at the chance to earn a degree in beer. But before you sign up for the path to brewing nirvana, take note: You'll need to be prepared to face microbiology, biochemistry and engineering principles. Not to mention a long waiting list.
The February 2008 class at ABG is already full, and the July class isn't far behind. (Those months open its two "semesters.") Prospective students must have at least some home-brewing experience, plus college-level algebra and chemistry.
Most of the ABG's courses don't take place on-site. Its CraftBrewers Apprenticeship course, priced at $7950, is a 27-week distance-learning program using videos, textbooks, the ABG website and online correspondence. Students can spend their required five-week internship at any Guild-approved brewery, with options in every state but Oklahoma. A 21-week distance-learning program, called the Intensive Brewing Science and Engineering course (IBS&E), runs $5750 and may include a five-week residential program.
The Guild currently has 20 students living and studying in Vermont - 17 from all over the U.S. and three Canadians. It has no campus aside from an administrative office in Salisbury, and no dorms: Most students rent houses and rooms in East Middlebury, Lincoln, Bristol and New Haven. One is camping; another is living out of his truck.
The ABG's main classroom is a hall at the Courtyard by Marriott in Middlebury, where daily lectures by local brew masters and beer experts immerse students in the science and engineering of brewing. Sample topics include fermentation technology, heat transfer and thermal insulation, fluid mechanics, fermentation and flavor biochemistry, and chemical and microbiological beer analysis.
Feel like a cold one yet? The students do get a hands-on experience when they attend labs at the Otter Creek Brewery and an all-day Brewers of Burlington field trip, with stops at Magic Hat Brewing Co., Switchback Brewery and Vermont Pub & Brewery.
Science and technology aside, the budding brewers agree: It's about the love of beer and sharing it with others. Parkes says there's no way he could choose between Otter Creek and the Guild - he has to do both. "I need to brew," he says. "I need to make beer and share it with people."
Parkes says this passion - which also unites his students - is what makes the difference between home brewing and professional brewing. For someone with the proper motivation, "the jump is not so great from the kitchen to the commercial brewery, and that is why they are here," he explains. "To elevate beer to something more than washing down pizza with."
****************
Bryce Troy, 52, is the oldest student in this year's group. In order to attend the ABG residency, he and his wife Sue sold their house in Tucson, Arizona, and Troy took a leave of absence from his job as a bassoonist in the Tucson Symphony.
"You've got to follow your dreams," he says. "Live like there's no tomorrow. Don't look back and wish you'd done something different. Do something different."
Andy Coates hails from Denver and plans to settle in Chicago when the ABG program ends. The 25-year-old is cutting costs by living in his truck for the five-week program. "We all had real jobs, and at the end of the day, you want to do something with tangible results," Coates says. He adds, with classic understatement, "and everyone likes what we make."
Conversations with current students and alumni suggest that the ABG is a guild in every sense of the word. Brewers share a bond that is almost cultish, but they also have an intense desire to share their craft and its product. Their gatherings have a free and easy quality, a sense that they are in it for the love of craft brewing.
While some students soak up knowledge and fly home, others use that dedication to enrich some mighty fine local brewpubs. Case in point: Ron Cotti, 42, master brewer at the Bobcat Café in Bristol and a 2004 graduate of the ABG program. Cotti started home brewing while working as a software developer in Boston. Within weeks of completing the ABG program, he landed the job at the Bobcat.
Cotti says that when he moved to Vermont intent on becoming a professional brewer, he was tired of the corporate drudgery and wanted a change. Though his software career gave him the financial stability he needed to embark on a new one, he cautions others against seeking big bucks in brews: "You don't get rich doing this. It's the love of beer and the creative outlet. I brew what I want. It's fulfilling that way."
The success of upscale brewpubs like the Bobcat has reminded foodies that fine cuisine goes down well with more than just wine: For beer and food, this could be the beginning of the proverbial beautiful friendship.
Garrett Oliver, master brewer at Brooklyn Brewery, is one of the foremost industry experts on that topic. He authored the bestselling The Brewmaster's Table and is also, as it happens, an ABG lecturer. At his recent lecture, Oliver said only 400 of the 1400 breweries in the U.S. are stand-alones - the rest are brewpubs. "If you don't know how your beer interacts with food," he told the class, "you likely don't know what your beer tastes like."
Oliver is impressed by Parkes' work with the Guild. "What Steve has done is provide a practical education for people at a reasonable price," he says, adding that the apprenticeship component is key to producing "real-world" brewers.
"There are so many people who come out of prestigious brew schools who don't know how to think about flavor," Oliver goes on. "They know the technical aspects, but they don't know what people want. They're not in touch with the consumer."
Judging by the success of Greg Noonan's Burlington establishment, he's one hophead who's very much in touch. Noonan's Vermont Pub & Brewery was the first brewpub to open in Vermont, in 1988, and its owner and brewer is a pioneer in the industry. Noonan's 1986 book Brewing Lager Beer is considered a textbook by both amateur and professional brewers, and he lectures regularly during the ABG summer residency program.
"I was a self-educated brewer," Noonan recalls. "It's a huge thing having the ability to get a good brewing education now. The Guild is obviously a leader in that field."
Like Cotti, Noonan had a lucrative day job he despised before he made the jump to brewing full-time. "Money is not the most important thing in life," he says. "Some people may have all the trappings of success, but are they happy?"
Noonan believes the artistic aspect of brewing is the difference between a capable brewer and a truly great brewer - so brewing education has its limits. "You can't teach people artistry," he says. "You either have it or you don't."
Julie Felske, 37, is another ABG lecturer and a rarity on the "campus" - most students are male. But the bigger world of Vermont brewing is no boys' club. The Alchemist Pub & Brewery, Trout River Brewing Company and the Rock Art Brewery all boast women as presidents or co-owners. At Otter Creek, one of the brewers is a woman, as are the CFO, the packing manager, the distribution manager and the labeler.
Felske received a B.S. degree in zoology with a minor in microbiology, then became certified in medical technology before discovering brewing science and landing at Magic Hat, where she works in quality control. "The lab seems to be where women end up," she says. "I wonder if we have a better attention to detail."
Parkes might agree; when women do come through the ABG, he says, they always have the highest test scores.
For all the potential jokes about "Beer U.," Felske sees the success of the Guild as a testament to community values. "People are more passionate about being in their communities," she explains. "I think people who go into brewing are saying, 'I want to do this for myself and then bring this back to my community.'"
Back in Salisbury, as the Guild class winds down from a long day of study over fresh pints, Parkes fields a last question: Does "the dream" apply to his life? "It does," he answers. "I never take anything for granted, and I've worked for great people who allowed me to do what I love . . . but it does just all come down to the beer."