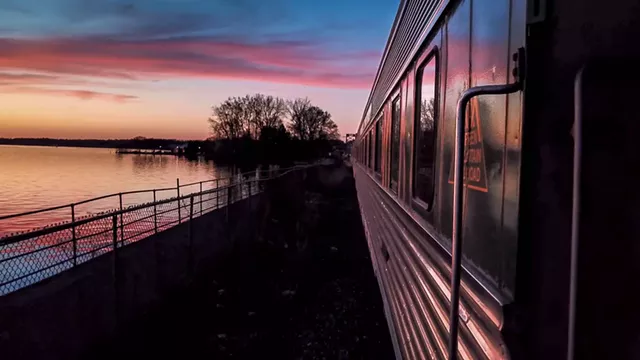 Eva Sollberger, James Buck
View of Lake Champlain from the Champlain Valley Dinner Train
It's late afternoon on the Union Station platform on Burlington's scenic waterfront when a black-capped train conductor cries "All aboard!" The evening's passengers climbing into the silver and green 1930s-era passenger cars of the Green Mountain Railroad are about to embark on the Champlain Valley Dinner Train, a three-hour round-trip excursion from Burlington to Middlebury.
Now in its second year of departing from Burlington — the train previously operated with limited service in southern Vermont — the Champlain Valley Dinner Train offers travelers unique sunset views of the northern Vermont countryside, Lake Champlain and the Adirondack Mountains, along with a delectable three-course meal, all in the classic style of early 20th-century rail travel.
"Even if you're from Vermont, the landscape is so different from what you're used to seeing that you can get lost in your own state," says Nicole Carlson, manager of passenger services for the Green Mountain Railroad.
Eva Sollberger, James Buck
The Champlain Valley Dinner Train
To help passengers orient themselves, the Green Mountain Railroad provides them with a mile-by-mile guidebook of all the towns and villages the train passes through. It features a history of the area, regional attractions and — of particular interest to railroad enthusiasts — details about the locomotive, train cars and other equipment.
"But the meals are really what sets us apart from a lot of other dinner trains in the region," Carlson adds.
Indeed, several years ago the Green Mountain Railroad acquired an 80-foot commercial kitchen car from a now-defunct circus train, which enabled chef Paul Seal to greatly expand his dinner offerings as well as the number of passengers — 175 — he can serve on each trip. Diners choose from a menu of five entrées — beef, seafood, chicken, pork and a vegan option — all of which are prepared and served fresh during the journey. Unlike some dinner trains that require meals to be preordered, the Champlain Valley Dinner Train allows diners to select their fare on the train. And passengers who wish to dine at a private table may do so at no extra charge, Carlson notes.
Carlson isn't just the company's spokesperson. She's also the granddaughter of Jay Wulfson, who bought the company in 1964 and eventually consolidated five regional short lines, including Green Mountain Railroad, into a single entity, called Vermont Rail System. Today, the vast majority of its business is still in freight, hauling many of Vermont's most essential products, including livestock feed, timber, road salt, gasoline, propane and home heating oil.
Courtesy Photos: Greeen Mountain Railroad
Roast prime New York sirloin
More than half a century after its founding, Vermont Rail System still operates as a small, family-owned business. Company president David Wulfson, Carlson's father, grew up around the trains and has worked there for more than 45 years. As Carlson points out, he'll never ask an employee to do a job that he can't do himself.
In fact, during the Great Ice Storm of January 1998, which wreaked havoc across Vermont and most of New England, Wulfson was up before dawn to drive the trains himself to ensure that deliveries of home heating fuels weren't interrupted. In 2012, a year after Tropical Storm Irene tore through Vermont as the state's worst-ever natural disaster, Vermont Rail System earned the national Short Line of the Year award by Railway Age magazine for its efforts helping with the state's recovery.
Though Green Mountain Railroad's passenger service remains a modest portion of the company's overall business, it's been growing by leaps and bounds every year. During the winter holiday season, the railroad provides the trains and crews to host Burlington's annual Polar Express trip for children.
Courtesy Of James Buck
The Champlain Valley Dinner Train
Come spring, the Green Mountain Railroad offers family-friendly dinner excursions on Mother's Day and Father's Day. And during Kids Day, an annual event on the Burlington waterfront, children 12 and under ride free.
"Everyone is fascinated with trains," Carlson says. "It's great to be able to share that with families and be the first train ride for so many kids."
New this year to the Green Mountain Railroad is the Murder Mystery Dinner Train. Upstage Productions, an experienced railroad theater troupe from Duluth, Minn., creates an interactive experience of solving a homicide, à la Murder on the Orient Express.
All Green Mountain Railroad dinner trains incorporate Vermont-made products such as maple candies, cheeses, wines and locally grown lavender, the last of which is used in the train's specialty cocktails as well as in its onboard soaps and lotions.
These days, railroad enthusiasts travel from around the world to ride the Champlain Valley Dinner Train. Among them was David Rudey, who visited Burlington last summer from Sylvania, Ohio.
"Let's put it this way," Rudey said. "You never grow up when you're playing with trains, and you're never too old to be around them."
Ride the Rails
Champlain Valley Dinner Train's summer season runs through September 14; tours continue into the fall. Call 1-800-707-3530 or visit rails-vt.com/dinnertrain for details and reservations.
---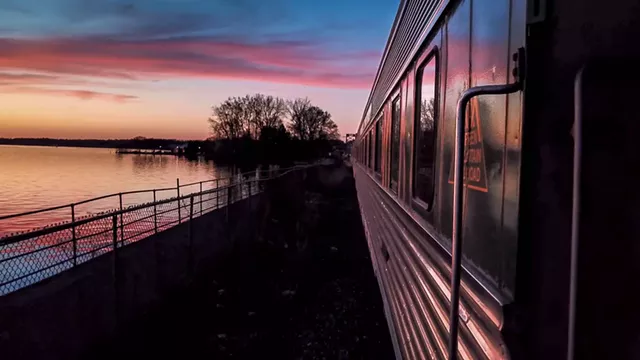 Eva Sollberger, James Buck
View of Lake Champlain from the Champlain Valley Dinner Train
Nous sommes en fin d'après-midi sur la plateforme de l'Union Station, sur le magnifique front d'eau de Burlington, lorsque le chef de train coiffé d'une casquette noire crie « Tout le monde à bord! ». Les passagers du soir qui montent dans les voitures argent et vert des années 1930 de la Green Mountain Railroad s'apprêtent à faire l'expérience du Champlain Valley Dinner Train, une excursion aller-retour de trois heures entre Burlington et Middlebury.
Et cette deuxième année du trajet au départ de Burlington – précédemment, le train offrait un service limité dans le sud du Vermont –, le Champlain Valley Dinner Train offre aux passagers un panorama unique, au coucher du soleil, de la campagne du nord de l'État, du lac Champlain et des Adirondacks, le temps d'un délicieux repas trois services dans le style classique des voyages en train du début du 20e siècle.
« Même si on est du Vermont, le paysage est tellement différent de ce qu'on est habitué de voir qu'on peut se perdre dans son propre État », dit Nicole Carlson, directrice des services aux passagers pour la Green Mountain Railroad.
Eva Sollberger, James Buck
The Champlain Valley Dinner Train
Pour aider les voyageurs à s'orienter, la compagnie leur fournit un guide étape par étape de toutes les villes et de tous les villages que traverse le train. On y trouve une histoire de la région, les principales attractions et – avis aux amateurs de chemin de fer – des détails sur la locomotive, les voitures et les autres équipements ferroviaires.
« Mais ce sont les repas qui nous distinguent vraiment des autres circuits de train dans la région », ajoute Nicole.
En effet, il y a plusieurs années, la Green Mountain Railroad a fait l'acquisition d'une voiture-cuisine de près de 25 mètres auprès d'un cirque qui n'existe plus aujourd'hui, ce qui a permis au chef Paul Seal de bonifier considérablement son offre de repas ainsi que le nombre de passagers – 175 – qu'il peut servir lors de chaque trajet. Les convives peuvent choisir parmi cinq plats principaux – bœuf, fruits de mer, poulet, porc et une option végane –, tous préparés et servis frais durant le trajet. Contrairement à certaines compagnies qui demandent que les repas soient précommandés, le Champlain Valley Dinner Train permet aux passagers de faire leur choix à bord. Et tous les voyageurs qui souhaitent prendre leur repas à une table privée peuvent le faire sans frais supplémentaires.
Nicole n'est pas que la porte-parole de la compagnie. Elle est également la petite-fille de Jay Wulfson, qui a acheté l'entreprise en 1964 pour ensuite fusionner cinq chemins de fer d'intérêt local, dont la Green Mountain Railroad, en une seule entité appelée Vermont Rail System. De nos jours, l'entreprise s'occupe surtout de transport de marchandises, acheminant de nombreux produits essentiels du Vermont, notamment des aliments pour le bétail, du bois d'œuvre, du sel de voirie, de l'essence, du propane ainsi que du mazout domestique.
Courtesy Photos: Greeen Mountain Railroad
Roast prime New York sirloin
Plus d'un demi-siècle après sa fondation, la Vermont Rail System s'apparente toujours à une petite entreprise familiale. Le président de la compagnie, David Wulfson, le père de Nicole, a grandi autour des trains et il œuvre dans le domaine depuis plus de 45 ans. Comme le dit Nicole, il ne demanderait jamais à un employé de faire quelque chose qu'il ne ferait pas lui-même.
De fait, durant la crise du verglas de janvier 1998, qui a fait des ravages partout au Vermont et dans la plus grande partie de la Nouvelle-Angleterre, M. Wulfson était debout avant l'aube pour conduire les trains lui-même et veiller à ce que l'approvisionnement en mazout domestique ne soit pas interrompu. En 2012, un an après la dévastation causée par l'ouragan Irène – la catastrophe naturelle la plus importante de l'histoire de l'État – la Vermont Rail System a remporté le prix du « Chemin de fer d'intérêt local de l'année », remis par le magazine Railway Age, pour ses efforts visant à aider l'État à se relever.
Même si la part que représente le transport de passagers dans l'activité globale de l'entreprise demeure modeste, elle augmente considérablement d'année en année. Durant les mois d'hiver, la compagnie fournit les trains et les équipes nécessaires à l'organisation du circuit annuel du Polar Express pour les enfants à Burlington.
Au printemps, la Green Mountain Railroad propose des excursions-repas pour toute la famille à l'occasion de la fête des Mères et de la fête des Pères. Et lors de la Journée des enfants, un événement annuel dans le secteur riverain de Burlington, les enfants de 12 ans et moins peuvent voyager gratuitement.
« Tout le monde est fasciné par les trains, souligne Nicole. C'est formidable de pouvoir partager cela avec les familles et de permettre à beaucoup d'enfants de monter pour la première fois à bord d'un train. »
Courtesy Of James Buck
The Champlain Valley Dinner Train
Le circuit-repas « meurtre et mystère » constitue une nouveauté de la Green Mountain Railroad cette année. Upstage Productions, une troupe de théâtre chevronnée de Duluth, au Minnesota, crée une expérience interactive qui consiste à élucider un meurtre, comme dans Le Crime de l'Orient-Express.
Tous les circuits-repas de la Green Mountain Railroad font la part belle aux produits du Vermont, comme les bonbons à l'érable, les fromages, les vins ainsi que la lavande cultivée localement qu'on utilise dans les cocktails de spécialité ainsi que dans les savons et les lotions à bord du train.
Des amateurs de chemin de fer du monde entier viennent faire l'expérience du Champlain Valley Dinner Train, dont David Rudey, de Sylvania, dans l'Ohio, qui s'est rendu à Burlington l'été dernier.
« On ne grandit jamais quand on joue avec des trains, dit David, et on n'est jamais trop vieux pour le faire. Disons-le simplement comme ça! »
Tout le monde à bord
La saison d'été de Champlain Valley Dinner Train prend fin le 14 septembre; les circuits se poursuivent jusque dans l'automne. Composez le 1-800-707-3530 ou visitez rails-vt.com/dinnertrain pour obtenir des détails et faire une réservation.