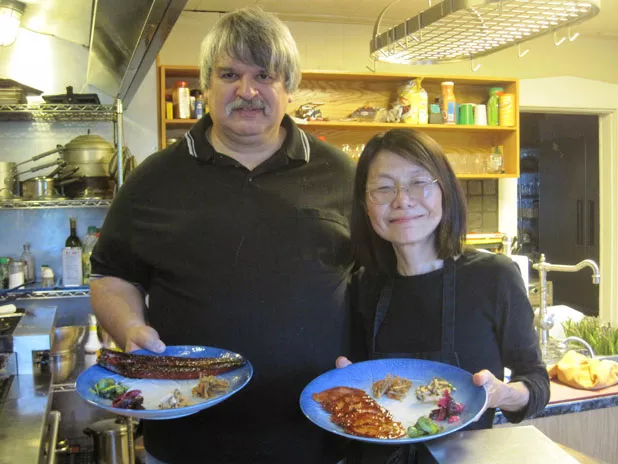 Aleks Hunter and Michiko Yoshida-Hunter
Toward the north of Honshū, Japan's largest island, lies a tiny town called Tome. The former samurai garrison is filled with narrow, twisting roads designed to help warriors evade enemy fire. Near the center of town is a restaurant by the name of ToKai-Tei. The Yoshida family opened it in 1879 when they realized they could make more money selling the eels they had caught if they cooked them first.
Michiko Yoshida-Hunter is a sixth-generation descendant of those Yoshidas. Ten years ago this month, she brought a second incarnation of the restaurant to small-town Vermont. It's located in the Old Town Farm Inn on Route 10 in Chester.
But you wouldn't know that from the outside of the 1861 building, which has no sign indicating that here, in the heart of rural Vermont, visitors can find authentic tastes of the Japanese coast.
Yoshida-Hunter grew up in Yokohama. She spent her summer breaks during high school and college in Tome, learning the ropes at the original ToKai-Tei. "For the first six months, all they let you do is wash rice," explains Yoshida-Hunter's husband, Aleks Hunter — who's also co-owner and sous-chef in Vermont.
Eventually, Yoshida-Hunter's aunts and cousins allowed her to join them in preparing their famous broiled eel, a favorite of emperors Yoshihito and Hirohito. Before long, she was certified as a chef in her home country.
Though she enjoyed cooking, in 1989 Yoshida-Hunter came to the U.S., where she studied at a series of colleges. "I was very curious," she says in barely accented English. She laughs easily and wrinkles her nose when tickled by one of her husband's funny comments.
Yoshida-Hunter started out at a community college in the Adirondacks, where she met Hunter, an assistant physics professor. She studied interior design at the Fashion Institute of Technology in New York City, then got a master's degree in lighting design at Rensselaer Polytechnic Institute.
By then, she and Hunter were married and settled in Brooklyn with their daughter, Kuniko. Though New York was ideal for a pair of engineers, it was less so for their small child. "She was in an elementary school that had bars [on the windows]," says Yoshida-Hunter. "Policemen were at the gate in the morning."
In 1999, Hunter noticed a banner ad on his computer screen. "It was for someone selling a ski area in Taos, New Mexico," he says. "I mentioned it to her, and a light went [on] for both of us." The couple began to research other ski areas. Vermont stood out as a perfect place to raise their daughter.
In December of that year, the family moved into the Old Town Farm Inn, just a stone's throw from Okemo Mountain Resort. Though the couple knew they wanted to refurbish the kitchen in the 1861 home and serve food to guests, they chose not to advertise that they were serving only classic Japanese food, fearing they would alienate traditional locals. Hence the lack of signage. "We didn't come to Vermont to stick out like a sore thumb," says Hunter.
He and Yoshida-Hunter had a few parties to introduce area business owners to their offerings. Soon, locals and tourists alike were trickling in. The demographics of the restaurant's most frequent customers were a surprise to the newcomers. "We thought sushi was a younger market," says Hunter. Instead, most regulars turned out to be Vermonters who had been stationed in Japan between World War II and the Korean War, and were eager to enjoy the dishes they had not tasted for more than half a century.
The owners did their best to preserve a Vermont farmhouse feel in the small dining room of ToKai-Tei, which discloses no Asian influence at first glance. First-place certificates from the Vermont State Zucchini Festival, signed by the "Duke of Zuke," cover one wall papered with a red and yellow floral pattern. Sophie, a tan cocker spaniel, darts in and out of the dining room on three legs, her tail wagging feverishly.
A closer look reveals some not-so-Yankee touches. A shelf holds a Maneki Neko, the beckoning lucky cat that appears in many Japanese homes and businesses, along with other traditional Edo-style sculpture. Several walls hold plaques awarded to Yoshida-Hunter's father, Tsunal, a top golfer in the 1960s.
The setting may blend cultures, but there's nothing Western about the cuisine. Hunter recounts stories of tourist families asking for a burger for the kids. "I told them they could go somewhere else for dinner," he says.
What makes the chow uniquely Vermont as well as Japanese is the ingredients. ToKai-Tei is a member of the Vermont Fresh Network, and the owners are friendly with Black River Produce founders Steve Birge and Mark Curran. The company helped the couple connect with local farmers willing to grow shiitake and maitake mushrooms specially for them. Much of their other produce comes from We Are All What We Eat, a market in Gassetts that sells, among other things, the Black Watch Farm beef that Yoshida-Hunter uses in teriyaki steak.
The chef also grows many ingredients herself. Salad greens, heirloom tomatoes and Japanese cucumbers are all nurtured in the Old Town Farm Inn's garden, in view of the postcard-picturesque pond where the inn has hosted many weddings. "It's really nice to see her picking the stuff for the salad, then bringing it in and cleaning it, then serving it," says Hunter, who is especially proud of their deep pink Julia Child tomatoes.
The salad, composed of those homegrown greens and tomatoes as well as peppers and matchsticks of radish, is covered with brightly colored ginger dressing. It comes with every entrée, as does ToKai-Tei's miso-potato soup. The rich umami broth, filled with supple seaweed and tofu, also has cubes of potato. Made from soybean paste and dashi, the soup tastes as much like the earth as the sea.
Diners get their fill of ocean tastes in the jewellike sushi plates. Like many restaurants in Japan, ToKai-Tei serves "superfrozen" bigeye tuna in sashimi, nigiri and rolls. In superfreezing, fish are plucked from the ocean, then immediately butchered and preserved at minus 76 degrees Fahrenheit. The process delays the onset of rigor mortis and prevents any decay beyond cellular death. When the meat is quickly thawed, it emerges in essentially the same state in which the animal died — and tastes good.
The meaty tuna, served with lightly vinegared rice, practically melts in the mouth. It's especially appealing in the spicy tuna roll, a creation that gets a crunchy texture from tempura crumbs mixed with the rice and spicy mayonnaise on the fish.
But ToKai-Tei's pièce de résistance comes not from the sea but from rivers. The restaurant generally gets its eel from Japan, though not from the Yoshidas. The revered fish is filleted backward. According to Hunter, this is because "an eel wouldn't commit seppuku."
To make unagi kabayaki, Hunter runs the broiler and fires up the eel, then steams it to rid it of excess fat. Finally, it's broiled again for a crisp finish. The flesh is brushed with a sweet, red-tinged, soy-based sauce. The result is lusciously fatty, moist fish with a crispy outside — the Japanese version of fish and chips. No wonder Yoshida-Hunter says that her cousin Ken, who now runs the original ToKai-Tei, serves little else.
Unlike its forebear, the Chester ToKai-Tei has plenty of other choices for diners who wriggle at the suggestion of eel. There's the aforementioned local steak, and a popular ginger-pork dish called butaniku no shogayaki. The loin is presented in paper-thin slices with a gingery, sesame-laced sauce, sweetened with mirin.
Both dishes come with colorful sides that make the plates resemble artists' palettes. In winter, when hot pots replace grilled dishes on the menu, the veggies are mostly roots. In late June, they included lightly pickled cucumbers and eggplant, and a soy-and-sesame-flavored slaw of carrots and burdock. Best of all is a warm salad of bamboo shoots, thinly sliced mushrooms and tofu, which tastes both complex and austere.
Beverages include several different teas, most notably matcha. The thick green tea is served in a tall glass with crushed ice, and the sweet concoction brings to mind an elegant Slush Puppy.
For dessert, ToKai-Tei has homemade red bean and green tea ice cream — and it may be the only place in Vermont to get homemade daifuku. The round cakes are made from chewy mochi, then filled with sweet red bean paste. The flavor is not far from that of chocolate, and the combination of creamy and chewy textures makes for a seriously fun end to the meal.
The cuisine is so much fun at ToKai-Tei, in fact, that it has attracted customers from around the world. A few years ago, the restaurant appeared in a feature on Vermont in a Japanese magazine for women. The Old Town Farm Inn's guest book is filled with visitors hailing from such places as Turkey, Brazil and India. One couple from Bournemouth, England, thank the owners for excellent meals, adding, "We're glad to be back."
ToKai-Tei is especially busy one week every summer. When telescope makers meet each year at Stellafane, their annual convention in Springfield, many take time out from the stars to stop at the restaurant. "Lots of people have come here every year since we've opened," says Hunter.
The Yoshida-Hunters aren't sure how much longer they'll remain at the Old Town Farm Inn. Their daughter, Kuniko, now 17, is spending the summer studying at Harvard and will enter her senior year of high school in the fall. Once they're empty nesters, her parents say, they may want to move on.
They realize that if they do, the community will miss their culinary contribution. And new visitors will miss out on the surprise of finding a Japanese restaurant in a classic Vermont inn. As Hunter points out, "There are a lot of Easter eggs in Vermont. We're one of them."