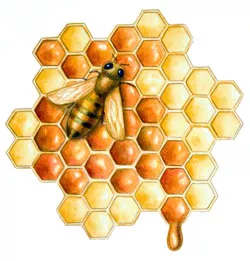 If you've ever wondered about the difference between blueberry and alfalfa honey, or how the sweet stuff changes from spring to fall, here's the chance to educate your palate. Slow Food Vermont has partnered with Lake Champlain Chocolates to sponsor a honey (and chocolate) tasting.
This Saturday in Burlington, Bill Mares and Scott Wilson of the Vermont Beekeepers Association will explain how and where honey is sourced, the reasons behind flavor differences, and how "taste of place" affects them. "The premise of this is to teach people how to taste and differentiate between honeys that may look the same or be a mile or two apart and have a different flavor," says Mares, who keeps bees in a few Burlington locations, including the Intervale. "If you took honey from each of my hives on the same day of the year, they would taste different because of the different flowers that are around."
The instructors will comb liquid, whipped and creamed honeys from around the state, as well as presenting by-products such as propolis and pollen. "Honey is more than just a food, a sweetener or something to throw in tea. It's a wonderful product with all of these by-products," says Mares.
The free tasting happens on January 28, from noon to 4 p.m., at the Lake Champlain Chocolates Factory Store & Café at 750 Pine Street.