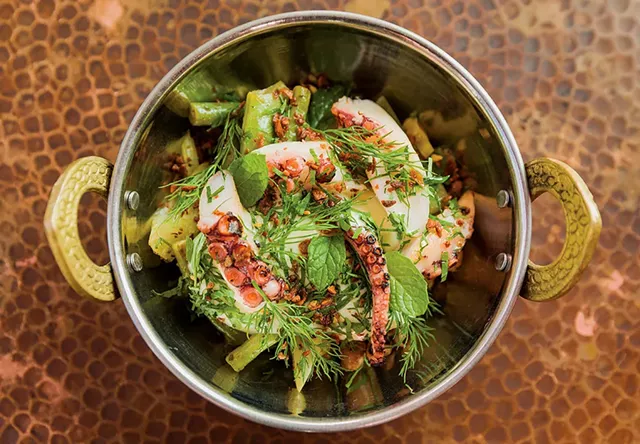 Oliver Parini
Honey Road, Burlington
Burlington's Honey Road restaurant is named for an ancient trade route in Kars, Turkey, where the women took over beekeeping and related agricultural activities when townsmen went to war. Prophetically, there's been a buzz about the place since it opened in 2017. The woman-owned eatery has been up for more prestigious James Beard Awards than the number of years it has been open. In February 2019, chef-owner Cara Chigazola Tobin picked up the third nomination — for best chef in the Northeast.
156 Church St.
Burlington, VT
802-497-2145
Mediterranean and Middle Eastern
Formerly of Cambridge, Mass.'s award-winning Oleana restaurant, Chigazola Tobin describes her current creative cuisine as "Middle Eastern-American fusion, almost." Servers provide more explanation with the one-page menu — divided into dips and mezze — that includes an informative glossary.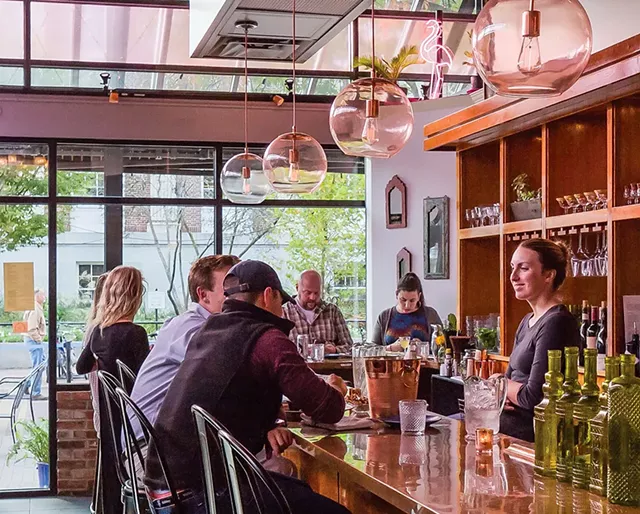 Oliver Parini
Honey Road, Burlington
Any discomfort in pronouncing gozleme or musakhan quickly vanishes with the first tear — and taste — of a piping hot, housemade pita. Dip it in hummus, which never tasted so good. Or try the luscious whipped goat cheese flavored with rose and honey.
About half the mezze dishes are built around meat or fish. The sticky-sweet harissa chicken wings ($1 apiece at cocktail hour) are a good gateway to braised lamb with celery root tzatziki or crispy duck leg musakhan, prepared with caramelized onions and sumac.

Oliver Parini
Honey Road, Burlington
But some of the tastiest options at Honey Road are vegetarian, including new takes on kale — featured in a salad with grilled pears, feta and crunchy quinoa — and king oyster mushrooms, served with spicy tahini and sunflower seeds. During the summer, when Vermont's harvest is in full force, Honey Road expands its meat-free options to highlight local produce.
Co-owner and general manager Allison Gibson oversees the restaurant experience. A neon-pink flamingo in the Church Street window casts a happy glow over the copper-topped bar, where guests celebrate special occasions or stop in after work for a sour brew from Burlington Beer Company or a pour of rosé in vintage glassware.
At meal's end, the latter pairs perfectly with a slice of chocolate-date cake.