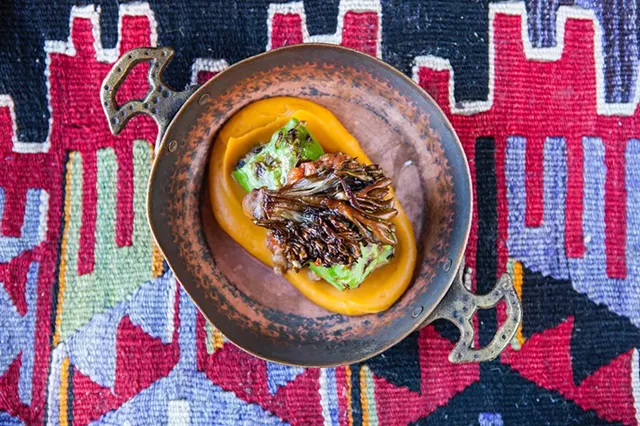 If you crave eastern Mediterranean specialties such as baba ghanoush, braised lamb chops and cocktails spiked with rose water, get ready to visit Honey Road. The restaurant opens on Wednesday, July 5, at 156 Church Street in Burlington, the former home of Church & Main and, before that, Smokejacks.
A partnership between Cara Chigazola-Tobin — who was chef de cuisine at Cambridge, Mass.'s Oleana restaurant — and front-of-the-house expert Allison Gibson, Honey Road will serve dinner and drinks daily. "The style of service will be really fun," said Chigazola-Tobin. "It will be casual but refined ... I want people to be comfortable, do what they want to do and enjoy the food."
One hallmark of the restaurant is that parties will enjoy the food together; all dishes are designed for sharing and are sent from the kitchen as soon as they're prepared. "Two people could easily order six dishes," Chigazola-Tobin suggested. For those who prefer not to share, a few dishes are big enough to be treated as regular entrées.
Among the opening menu options are salmon kibbeh nayeh — raw minced salmon mixed with cracked wheat — stuffed dates, fried cheese and many dips. Each dip, said Chigazola-Tobin, comes with an item chosen as its perfect pair: fried green tomatoes for carrot tzatziki, crisp baby vegetables for whipped feta.
The owners are still working with beverage distributors on sourcing drinks such as raki, an anise liqueur from Turkey. Bar program director Megan Mcginn will incorporate ingredients such as orange blossom water, sumac and apricot into cocktails.
Chigazola-Tobin said the duo has worked hard to keep prices reasonable: Dips cost $6; snacks, between $3 and $7; and mezze plates, $8 to $15. To stay in tune with the local farmers supplying the restaurant, the menu "will probably change 12 times a year," she said.
"We want it to be really different than anything else that's happening in Burlington," Chigazola-Tobin said of Honey Road's locally underrepresented cuisine. "It still feels like you're in Vermont, but it's a different Vermont."