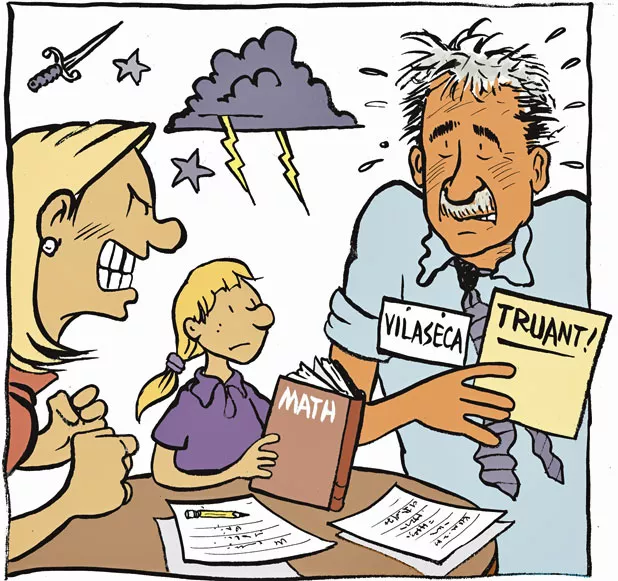 Attorney Kevin Kite put his legal career on hold in 2005 to homeschool his two boys, ages 9 and 13. Kite and his wife, Middlebury College professor Michelle McCauley, say they don't object to public or private education, but came to the realization that their sons would do better outside of school, each learning at his own pace.
The New Haven couple is among a growing number of Vermont parents who are opting to educate their children themselves. And, like many of their fellow stay-at-home teachers, they're up in arms about a July 23 memo from Vermont Education Commissioner Armando Vilaseca that seeks to clarify the rules for the alternative form of education also known as "home study."
Under Vermont's compulsory-attendance statute, all children between the ages of 6 and 16 must be enrolled in a public school, independent school or "home-based, parent-directed education." In his memo, Vilaseca wrote that families who homeschool their kids must file their paperwork with the state between March 1 and Labor Day in order to be enrolled in home study for the following school year. Enrollment notices filed after that date will not be accepted, the memo said. Those not enrolled in public or private school after that date will be considered "legally truant."
Currently, state law does not require parents to obtain permission to homeschool their kids — only to notify the Department of Education of their intention to do so. Nowhere does the statute require parents to meet an enrollment deadline or conform to a state-established school calendar.
The commissioner's memo sparked a firestorm among homeschooling parents, advocates and their attorneys, with some viewing the new deadline as an attempt to limit their right to homeschool.
"That memo changes, in a big way, the standing interpretation we've been operating under for 25 years," says Retta Dunlap of Woodbury, who homeschooled her four children from kindergarten through high school.
An attorney by training, Kite responded to the memo with a 15-page letter saying the DOE deadlines run counter to both the letter and spirit of the state's home-study law, as well as Vermont Supreme Court precedent.
"The home-study statute plainly states that parents may send enrollment notices 'whenever' they intend to enroll a child in home study, and they may send reenrollment notices 'any time' after March 1," Kite wrote to Vilaseca. "The Department does not have the authority to unilaterally preclude any parent from enrolling a child in a home-study program."
To the majority of Vermonters who don't homeschool their kids, this controversy may seem like a petty squabble between a state bureaucracy that seeks standardization and the more libertarian tendencies of parents who eschew public education in favor of an individualized approach to academics.
But to Vermont's homeschoolers, the commissioner's memo threatens their chosen method of educating their children, which has never been more popular. According to DOE statistics, the number of Vermont kids in home-study programs rose from 2064 during the 2002-03 school year to 2363 in 2011-12.
A 300-student increase may not seem like much — especially over 10 years. But it occurred at a time when public-school enrollment was declining precipitously. Between 2002 and 2012, the total number of public-school pupils in Vermont fell from 99,978 to 89,428. Nationally, more than 2 million students in grades K-12 are educated at home — a number that's been growing at a rate of 2 to 8 percent a year, according to estimates published by national homeschool researcher Brian Ray.
Vilaseca did not respond directly to Kite's letter but copied him on his response to a similar letter sent by an attorney with the Home School Legal Defense Association, a Virginia-based nonprofit advocacy group that claims about 150 members in Vermont. Vilaseca stood by his initial memo "as a rational interpretation of Vermont's home-study statute" that balances the interests of the state in ensuring students receive adequate education and the rights of parents to school their kids at home.
About 60 homeschoolers and their kids turned out for the Vermont State Board of Education's August 21 meeting in Stowe in a show of solidarity against the new policy. The homeschool controversy was not on the board's agenda, though chairman Stephan Morse expressed his desire for the commissioner to meet later with concerned parents.
Vilaseca was out of town Tuesday and did not attend the meeting. But in an earlier interview, he admits he was "surprised" and "taken aback" by the uproar his memo caused, especially because he doesn't believe it sets any new policy.
"Everybody's known for a long time that Labor Day, typically, was the demarcation line … for enrolling kids in homeschool," Vilaseca tells Seven Days. "All I did was put it in writing that if you're going to enroll your kid in homeschool, you have to do it between March 1 and Labor Day."
In hindsight, Vilaseca says he should have added a sentence saying that Labor Day is the DOE's deadline for a parent to initiate homeschooling, "unless there's a particular issue" that requires the student to leave school during the academic year.
"If you, as a parent, are having an issue with a school or teacher, your child is being bullied or you're not happy with their education for whatever reason, we would probably say, 'Yes, you can homeschool your child,'" he adds.
That's not good enough for Dunlap, who has followed Vermont's legal wrangling over homeschooling since the current statute was adopted in 1987. For years, she worked as a paid lobbyist in Montpelier on homeschooling issues and still follows the issue closely, even though her four kids have since graduated from college.
"I was shocked. I was reading this and thinking, You're kidding, right?" Dunlap says.
The Vermont Supreme Court has upheld parents' right to homeschool and the state's limited role in governing home education. In the 2000 court case In re T.M., homeschooling parent Karen Maple appealed to the state's high court because the DOE claimed that her child with special needs, referred to only as "T.M.," didn't have an individualized education program and was therefore truant.
The justices disagreed with the DOE and ruled in Maple's favor, writing that parents' responsibility is merely to notify the proper authorities that their child will be homeschooled. By law, the education commissioner has no authority to approve of or reject an enrollment notice, but can only request that an impartial hearing officer review a homeschool plan. As the Supreme Court pointed out, Maple had filed her paperwork with the DOE, which did not call a hearing within 45 days to question her education plan, as required by law.
Dunlap doesn't interpret Vilaseca's memo as reflective of a larger trend, but some other homeschoolers do. Kite, who launched a blog, homeschoolvermont.com, in response to the memo to educate homeschoolers about their rights, sees the new deadlines as part of a "deliberate campaign to limit homeschooling" in Vermont.
Ditto Lorraine Kelm of Milton, who has been homeschooling her sons, Christopher, 17, and Nick, 13, since they started grade school. A former laboratory technician at the University of Vermont, Kelm says the commissioner's memo "flies in the face" of Vermont's current homeschooling law. Like many at Tuesday's meeting, she fears the DOE's latest move puts Vermont on a slippery slope from a "notification" state to a "permission" state.
Kite's family hasn't had any run-ins with the DOE, but parents in his Addison County homeschoolers group have shared tales of the state challenging their curricula.
Some homeschoolers also complain that the DOE's strict mandates can be both time consuming and costly. (Homeschoolers cannot recoup any of the taxes they pay toward public education.) In the education vernacular, homeschoolers are required to "show their work" — by giving their kids standardized exams they pay for, by hiring a state-certified teacher to evaluate their kids' progress or by providing the DOE with a portfolio of their child's work.
"They expect to see at the end of the year what you proposed at the beginning of the year," Kite notes. "It doesn't allow for changes in plan, which often happens and is the hallmark of home study."
Vilaseca did not identify a specific problem his memo seeks to address. While he says the DOE has "concerns" about some homeschoolers, "those are few and far between." The education commissioner, who has thrown his hat in the ring to become Vermont's first cabinet-level education secretary, thinks the vast majority are getting "a great education" and eventually go on to postsecondary education and successful careers.
"In all my years as a teacher, principal, superintendent and commissioner, my experiences with homeschool education has been very positive," Vilaseca said. "I see the homeschool families and the homeschool education and the homeschool kids as a part of Vermont."