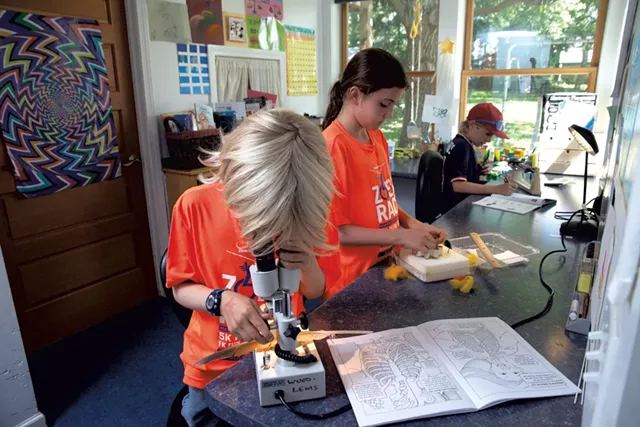 The Wood-Lewis family of Burlington is best known for its front porch — parents Michael and Valerie founded Front Porch Forum, an online community-building service, from their 100-year-old home in Burlington's Five Sisters Neighborhood.
But when it comes to homeschooling their kids, an alcove off of the kitchen is what Valerie, calls "home base." The Wood-Lewises consider themselves "eclectic homeschoolers," says Valerie, meaning there's no typical school day. In addition to working on projects at home, the three youngest kids spend time exploring the outdoors through the Burlington nonprofit Crow's Path and New Village Farm in Shelburne. They make art at the Davis Studio, and learn about robotics and cooking in enrichment classes with other homeschooled kids.
Computers and an iPad are important for the oldest boy, Ben, who has cerebral palsy and attends public school in Burlington. But there's no TV in the Wood-Lewis home.
Books abound, though. A homeschooler library card allows the family to take out an enormous number of volumes at one time — 40 for mom, 20 for each child — so there's often close to 100 library books lying around the house. The kids, says Valerie, love to "curl up in a chair with a book and a guinea pig."
About the space
The alcove space has a built-in, wraparound desk for academic work and hands-on projects such as microscopic investigations and taking apart toys.
A world map is taped to the wall, and the kids use a whiteboard and small buckets of writing and drawing supplies to record ideas.
A closet and wooden bookshelf are filled with books and curriculum materials, some of which are left over from Valerie's days as a classroom teacher at Edmunds Middle School in Burlington. Each child has a planner, in which Valerie writes a to-do list each day.