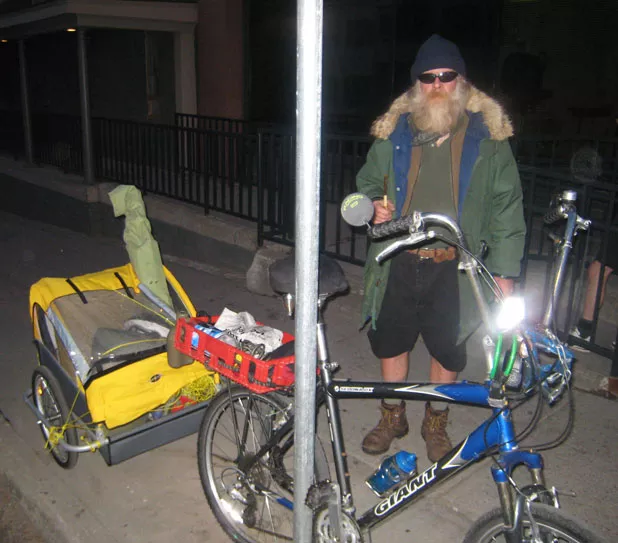 In the fall of 2006, Rusty Gould landed on Church Street and requested a bed at the Committee on Temporary Shelter (COTS) Waystation. When the weather turned, he threw a tent in his bike trailer, pedaled out of town and set up camp in the woods.
Gould was planning to do the same this year - until a Nissan sedan jumped the curb and smashed his rig, which was chained to a fence, outside of COTS' King Street Daystation.
Carrie Baker, a customer service rep who works in a building overlooking the Daystation, glanced out her window around 4 p.m., April 11, and "caught something gold swerve up onto the curb," she recalls. "I looked out, and there was Rusty's wagon. I watched it collapse."
Outraged at the "evil deed," Baker asked the SkiRack on Main Street for help with Gould's trailer. But technicians there said it was too mangled for salvage. So Baker collected $169 from her colleagues and donated it to Local Motion, a nonprofit on the Burlington waterfront that outfits low-income residents with discounted cycling gear.
With the help of volunteers from IBM and Citizens Bank, Local Motion supplied Gould with a brand-new trailer and affixed the salvageable parts from his smashed bike to a new, navy-blue frame. He picked up the new rig last Friday. "Local Motion was great, man," Gould said Sunday evening while smoking a pipe outside the Church Street Waystation.
Gould, 55, is a Vietnam veteran who has lived and biked all over the eastern seaboard. He arrived in Vermont after cycling most of the way from Portland, Maine, by way of New Hampshire, western New York and Maryland. A tree specialist and artist who used to run a nursery, he spends most days "panhandling" for spare change, which he uses to buy soda or tobacco.
On Sunday, Gould's new bike and trailer were parked outside the Waystation. A plastic shopping bag hung from the handlebars, and a milk crate held a 2-liter soda bottle. The yellow trailer was stuffed with an olive-green tent.
As the sun set on the waterfront, Gould recalled that he was having lunch in the Daystation when his bike and trailer were flattened. It's not easy being homeless on a bike, Gould said. If you leave your ride in front of the Waystation, he said, it'll be stolen. If you camp at North Beach, city park officials will confiscate your stuff while you're gone.
"People presume that homeless people are bums, and it's not true," Gould said in between puffs on his pipe. "I'm not a drunken bum. I'm a disabled vet."