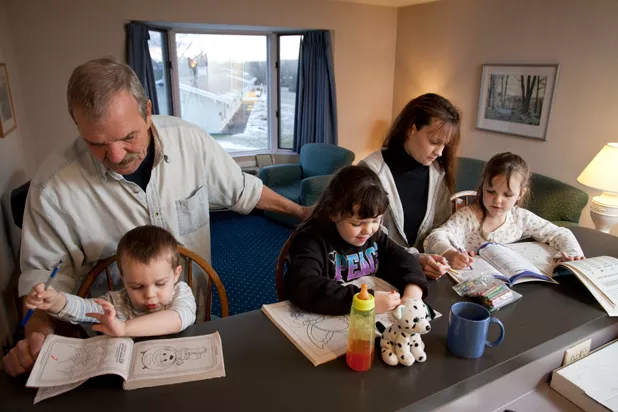 Matthew Thorsen
Michael and Julie Sweeney with their kids Cameron, Campbell and Taylor
Ask Michael Sweeney how he and his family ended up at Harbor Place, a motel-turned-shelter on Shelburne Road, and the jovial 55-year-old sums it up like this: "One brick, and the whole house came tumbling down. It's remarkable how things can snowball."
First there was the rent hike in September 2012: The $500-a-month increase brought rent for the family of five to $1400. Then Michael lost one of his two part-time jobs; he still works as a merchandiser for Kellogg, arranging displays at local grocery stores, but no more than 26 hours a week. A few months later, his wife, 35-year-old Julie, lost her position at Super-Temp Wire & Cable in Winooski.
The couple dipped into savings. They held on for a while. And then, on October 30, they found themselves facing an eviction notice and a ticking clock: They had until 2 p.m. to get out of the home Michael had lived in for 13 years.
"It's the only place the kids ever knew," said Michael Sweeney. Among the items they left behind: the family's Christmas tree.
For five weeks heading into the holidays, home for the family of five was a two-room suite in a former motel. The couple and their three children slept in one bedroom outfitted with two queen-size beds. They cooked pasta and soups atop the small stovetop in the kitchenette. The children occasionally got antsy; 2-year-old Cameron took a crayon to one of the walls — evidence of which has since been scrubbed away. "The adventure of our day is walking over and getting ice," said Michael.
The practice of housing Vermonters in motels, when homeless shelters are full, is a controversial one: The emergency-assistance program has grown steadily more expensive in recent years; in the last fiscal year, it cost the state $4.2 million, prompting officials to tighten eligibility. Advocates for the homeless argue against drastic cuts to the program. Until the state has better safety nets in place, they say, the motels are an important last resort for people who have nowhere else to sleep.
No one is saying it's an ideal solution. But that's where Harbor Place — formerly the Econo Lodge in Shelburne — comes in.
"We thought, 'There's a better way,'" said Chris Donnelly, director of community relations at the Champlain Housing Trust. So in late October, the trust purchased the 59-room motel for $1.85 million, financing the majority of that purchase with a loan through the Vermont Community Loan Fund — the largest in VCLF's history. The building no longer announces itself with a big red awning visible from Route 7 but with a simple green placard planted in the grass alongside the road.
The change is more than cosmetic. Security cameras were installed earlier this month. New placards posted around the motel advertise the facility's rules, including a ban on visitors after 8 p.m. It's quiet, and the Sweeneys like the fact that a guard roams the property until midnight. Neighbors stop by with baked goods, and the former lobby is occasionally stocked with donated clothing and boots.
But arguably the most important change is that Harbor Place brings caseworkers directly to "guests" at the motel. The goal isn't simply to give families and homeless individuals a warm and safe temporary room; it's to connect them with other services and programs that can get them out of the motel and back on their feet.
On a snowy morning in mid-December, Michael Sweeney nursed a cup of coffee in the family's suite at Harbor Place. He wore a faded blue button-down shirt, sleeves rolled up, and simple black pants. Julie was perched on a stool beside him in the suite's spare kitchenette, her petite frame swallowed up by an oversized maroon sweater.
Nearby, Cameron dozed on the couch, sucking on a bottle. On the television, the 700 Club played on low volume. The couple's daughters, 6-year-old Campbell and 5-year-old Taylor, were both at school; the school district had arranged to have them ferried to and from classes by taxi — prior to that, their teachers had stepped in to help.
On that day, Michael was friendly and outgoing; Julie was quieter, her face marked with concern about the family's situation. She was still out of work, and in another stroke of bad luck, the family's Jeep had recently broke down. Michael joked that Julie does all the worrying for the pair, and he balances it out with a hefty dose of optimism.
"It all works out in the end," said Michael Sweeney. "People have cups half full or half empty. My cup is three-quarters full."
Michael said he used to look scornfully on homeless individuals camped outside of the grocery stores in which he worked. His reaction was often, "Get a job, you bum."
"I don't judge those guys anymore," said Sweeney. After all, he said, he has a job — and that didn't keep his family from becoming homeless.
In November, Harbor Place's first month of operation, the shelter housed 128 people — including individuals and families. The State of Vermont guarantees to pay for at least 30 of the motel's 59 rooms every night, but at an average rate of $38 a night, it's a better deal than what the state pays at other motels around Chittenden County. The voucher limits a family's stay to 28 days, but Harbor Place allows guests to extend that if they pay their own way and are actively working with a caseworker. Harbor Place also takes in families or individuals referred by Fletcher Allen Health Care or the HowardCenter.
Department of Children and Families Deputy Commissioner Richard Giddings called the Champlain Housing Trust a "solid partner," with whom the state is making significant strides to address the costs of homelessness.
"They're under a lot of pressure to do things differently," said Donnelly of the state. "But you can't just flip the switch overnight."
Harbor Place worked for the Sweeneys. Though CHT initially rejected them for an apartment because of poor credit scores, Michael and Julie signed up for CHT's Ready, Set, Rent! program, which provides credit counseling. In exchange for completing the program and drafting a plan to improve their credit, the couple qualified for an apartment.
A week after meeting with Seven Days, the family of five moved into an apartment in Winooski. Michael Sweeney says that it was only after he connected with a caseworker that he realized the family might qualify for programs beyond the emergency motel voucher. "I didn't realize the resources that are out there," he says.
They didn't necessarily come easily. Since his Jeep broke down, Michael has relied on public transportation — and sometimes his own two feet — to shuttle back and forth between Shelburne Road and state offices on Pearl Street, where he had to show up, in person, to continue to qualify for state assistance to stay in the motel.
He said it didn't bother him.
"My kids are safe and they're warm," he says. "I don't mind the extra legwork so long as we have a place to live."
Now that they do, "I told her," says Michael, gesturing to his wife, "we've got a lot of paying forward to do."