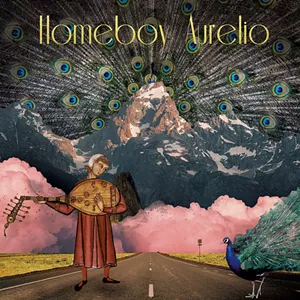 Courtesy
Homeboy Aurelio, Homeboy Aurelio
(Self-released, digital)
When Burlington's Alex Vitzthum, one of the minds behind Homeboy Aurelio, emailed me earlier this year to submit the band's new, self-titled album, I asked him whether he was a real person or some kind of AI. I was only 90 percent joking. Not only had I never met the guy, who'd regularly submitted music to this publication since my tenure began in 2016, I'd also never seen him perform. Considering how different and strange his music has been, can you really blame me for wondering whether he was incorporeal, all ones and zeros, completing tasks inputted by some mad programmer?
Vitzthum, a professional photographer and designer, is a real person and acknowledges his enigmatic profile. He's of the seldom-discussed ilk of Vermont musicians who make records but rarely gig, perpetually bound to the studio. He's made chimerical electronica and Gregorian chanting as Clam, beard-themed tunes as Count Hamilton, and some seriously quirky indie pop as Homeboy Aurelio — the last alongside nonlocals Gabe Allen and Lucas Hamilton. Homeboy Aurelio is the group's latest, a follow-up to 2018's Himself.
On the trio's Bandcamp page, the term "esoterica-infused indie rock" appears, which is more apt and snappy than anything I could come up with. And not only is Homeboy Aurelio's general outlook and execution extra peculiar, their approach to pop is also broadly off-center. It's almost like they're playing at pop as much as they're playing pop. This presents in the form of forehead-wrinkling lyrics; bewildering, sketch-like interstitials; and an incessant flouting of convention, even in their more straightforward songs.
The smoldering, funk-lite first track, "Intro II (The Hands)," winks at radio DJs with sexy voices who play boudoir anthems bumpered with crackling thunder — but, like, in a super-weird, David Lynch way. "I have the hands of a god / I tried to reach down to touch the Earth / But I was frozen in fear," an obviously pitch-bent voice proclaims over porno riffs. Placing this madness up front signals that this ain't your grandpa's indie rock.
Only sometimes it kinda is — and that's not a bad thing. Some of the record recalls the Belle-and-Sebastian-dominated early 2000s sound. "Where She Goes" is light as a feather, a post-folk-pop dream that ponders the same things the La's did with their 1990 hit "There She Goes."
Jangly and wacky, "Shellfish Guy" finds Vitzthum spastic and slaphappy. Its loose beats and largely spoken lyrics synthesize a cartoonish vibe that's darkened only by its defeatist lyrics.
"Better Than Him" recalls '80s new-wave weirdness, culminating in a synth-driven climax and brash guitar solo.
Homeboy Aurelio might not land for everyone, but that's kind of the point. In an increasingly homogenized music landscape, Homeboy Aurelio let their freak flag fly.
The album is available at homeboyaurelio.bandcamp.com.