Friendly visitor... or thief?
Brooke Dooley was fed up with the porch pirates.
In only a few months last year, thieves had pilfered packages three times from the front step of her apartment in Burlington's Old North End. When the culprits struck days before Christmas — making off with a box of gifts for her niece and nephew — Dooley bought a Blink XT, a motion-activated camera brand owned by Amazon.
Then it happened again, right under the camera's watching eye.
Finally sick of their shit, Dooley decided to give it right back to them — litter-ally. Dooley wrapped up a few scoops of poo from her Siamese cat, Petunia K. Mittenscruff, and placed it on her porch. Within hours, Dooley's camera caught an unknowing turd burglar in the act. She got an encore two days later, when a couple of crooks stole a litter-filled box in broad daylight. Dooley posted the footage on Facebook, mocking the "shitstealers" for their stupidity. She handed the footage over to police but never heard whether the criminals were caught. Either way, Dooley hasn't had a package stolen since.
While Operation Excrement was a good laugh, Dooley recognizes there's a serious side to this surveillance technology. The increasing popularity of inexpensive and unobtrusive cameras in residential areas means that taking your dog for a walk or simply knocking on the wrong door can put you on candid camera, without any control over what happens to the footage.
"What need is there to subject ourselves, our neighbors and neighborhood, our visitors and guests to this intrusive surveillance?" asked Lia Ernst, a staff attorney with the American Civil Liberties Union of Vermont. "I would just ask people to consider very carefully whether it's worth the cost."
One of the more popular surveillance system brands is Ring, a company best known for its video doorbells. Amazon purchased the firm in 2018 for $1 billion.
Ringing a Ring doorbell sends a cellphone alert to the householder, who can click to see, hear and speak to the visitor in real time. Ring's wide-angle lens can also detect motion up to 30 feet away; in some cases, even passing cars can activate the camera, according to the company's website. The base model costs just $100.
For a $3 monthly fee, Ring subscribers can save videos to their accounts for 60 days or download clips to their computers. All users can post footage to the companion app, Neighbors, and label clips with tags such as "crime" or "suspicious." Cellphone users can download the app and view the content, even if they don't own a Ring product. Recent posts from the Burlington area document all sorts of activity: break-ins and bike thefts, purloined pot plants and a smattering of lost cats.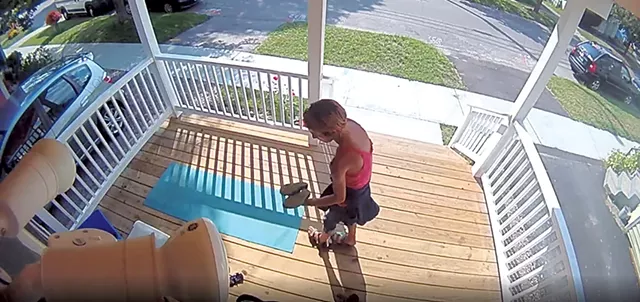 Plenty of Vermonters own doorbell cams, but Ring positions itself as a crime-fighting tool, not merely a security camera. The company has partnered with more than 400 law enforcement agencies across the country, including the Essex Police Department. The agency raffled off two of the devices earlier this summer. To enter, Essex residents had to download Neighbors and "like" the Essex PD on Facebook.
"This is Neighborhood Watch 2.0!" the department proclaimed in a Facebook post announcing the contest. Police use the app to issue crime and safety alerts and can comment on users' posts. They can also request video from subscribers by asking Ring to generate an email to certain users, urging them to share any relevant footage.
"We can still go out and ask any citizen for videos or photos or anything they might have," Essex Capt. Ron Hoague told the Essex Reporter in July. "All this does is change the ease of access." Hoague did not respond to multiple interview requests from Seven Days.
Ring's website says the Neighbors app is designed with privacy in mind. Cops can't tap into the cameras or see users' real names or addresses. They can only see footage if a user elects to share it. Ring did not respond to specific emailed questions, instead sending a generic response about its product and privacy.
"We believe that when communities work together, safer neighborhoods become a reality," a company spokesperson wrote. "Ultimately Neighbors app users can choose how they want to interact with their community."
Sure, subscribers can ignore the asks, but "it can be very hard to say no" to police, Ernst said. In promoting Ring, cops act as a de facto Amazon sales force. If police really want neighborhood surveillance, they should propose it in a budget where it could be subject to public scrutiny, Ernst said.
"Here, police are asking the public to basically self-surveil and bear the financial burden ... for the benefit of law enforcement, without going through that community process," she said.
Randall Harp, a member of the Burlington Police Commission, agreed there's cause for concern, particularly if facial recognition technology is integrated into these doorbell products. Last fall, Amazon applied for a patent to do just that.
Harp broached the topic at last month's police commission meeting and was pleased when Police Chief Brandon del Pozo said his department has no plans to partner with Ring and wouldn't without commission oversight and guidance. Facial recognition technology is useful, del Pozo continued, but is unreliable in identifying people of color, who are already disproportionately targeted by law enforcement. Indeed, a 2018 Massachusetts Institute of Technology Media Lab study revealed that the software was near perfect in identifying white men but correctly recognized darker-skinned women only 65 percent of the time, the New York Times reported last year.
Harp, who is black, worries about implicit bias when residents are encouraged to share footage of "people that don't belong." Last year, a Ring user uploaded a video showing a young black man ringing the doorbell at a home in Burlington's New North End. The man explains that he and his friends are offering to perform "chores or work" around the neighborhood. The resident declines, and the man walks away.
"Not sure if this is an issue," the homeowner wrote on Neighbors. "Be wary."
The practice of stockpiling these clips — whether it's done by Amazon or the police — is problematic, Harp said: "I think people haven't thought as much about the implications of it."
Milton police Det. Nick Hendry, however, said asking residents for footage is similar to requesting it from a local business that was burglarized. Police could feasibly seek a subpoena if someone doesn't turn over critical evidence, Hendry said, but most people are happy to comply.
"What's your reason for putting cameras on your house if you're not going to use that footage to solve a crime?" he said. "To me, it goes hand in hand."
Earlier this summer, Milton police started the Community Camera Program, which asks residents to register their home security cameras with the department. Like Ring's Neighbors, the program makes for more efficient detective work and builds community engagement, Hendry said.
Even if people don't register, the abundance of systems such as Ring is immensely helpful, Hendry said. Just a few weeks ago, someone provided Milton police with footage showing a suspect steal a Black Lives Matter flag from a neighbor's home. The camera wasn't on the registry and the culprit hasn't yet been caught, but if criminals know neighbors are watching — and that cops are taking note of where cameras are placed — they might stay away.
"I only see good things coming from it and more crime being solved," Hendry said. "I can't see the negative [to our program]."
Milton resident John FitzGerald registered both his Ring doorbell and Blink XT2 camera with local cops. While he recognizes the privacy concerns, he said, "the police department is using your security footage for the greater good.
"It may not help you, but it may help a neighbor," FitzGerald added. "That's how I look at it — the positives definitely outweigh the negatives."
There's been strong pushback elsewhere. Just last week, 30 civil rights groups published an open letter calling on elected officials to end police partnerships with Ring over fears that the footage could be paired with Amazon's fledgling facial recognition program and target people of color, among other concerns.
"What is this private company that already knows so much about what we do and watch and buy ... going to do with all this extra-sensitive data?" Ernst said. "How can we trust they won't turn video footage over to police absent a warrant?"
Crime victims who seek support through Burlington's Parallel Justice program often request home cameras. The service, which helps victims even in cases when a crime has not been solved, or even reported to police, maintains a fund to reimburse victims for purchases they've made to feel safer at home, said Kim Jordan, a staffer there.
Dooley, the kitty litter-using crime fighter, said she bought her camera with a Parallel Justice payment. As a woman who lives alone, she feels safer with it. She can be at work a mile away and click a button to see who's at her door in real time. But Dooley also realizes that her comfort could come at a price if she shares the videos with the cops or uploads them to Amazon servers.
"Are you catching a local thief but empowering a data thief?" Dooley asked. And are doorbell owners making their neighborhood safer, she continued, or just creating fear?
"I don't know," Dooley admitted. "I don't know where the line is."