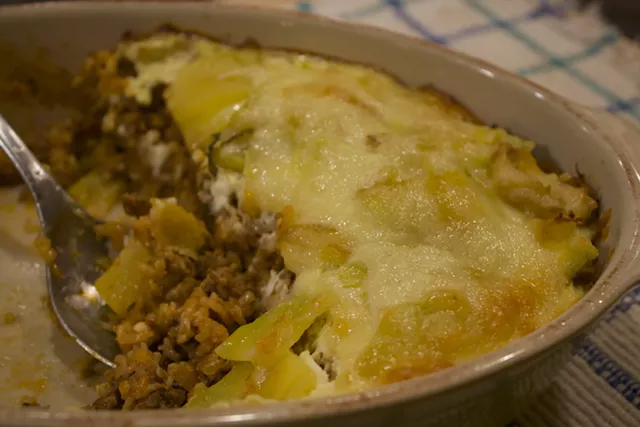 Melissa Pasanen ©️ Seven Days
Zucchini hot dish
I have reluctantly started to clean up my vegetable and herb gardens. It's not like putting off cleanup will deter the steady march towards winter, but I have been procrastinating to prolong the growing season as long as possible.
This past weekend, I finally pulled out all my tomato plants and have tons of green cherry tomatoes. I plan to pickle some and make another batch of
green tomato salsa.
In my main garden, a few broccoli heads remain standing and the squash vine that completely took over during late summer is still doing its Jack and the Beanstalk thing.
Melissa Pasanen ©️ Seven Days
Trombetta di Albenga growing in the garden
The variety is Trombetta di Albenga, described on the seed packet as an "heirloom climbing summer squash." It is both amazingly prolific and smile-provoking with long, tubular curvy squash that end in a bulbous swelling.
The fruits look more like balloon creatures gone wild than trumpets, the musical instrument for which they were named.
In the kitchen, it is the best kind of summer squash: mild, a little nutty, not seedy and never watery. I've cubed and roasted it, cut it into matchsticks and stir-fried it, sliced and ribboned it into raw salads, and diced it to fold into omelettes and bake into frittatas.
Melissa Pasanen ©️ Seven Days
Trombetta di Albenga in the kitchen
I have given away many of these squash and still have a bunch on the vine that I need to bring in. I understand it can be stored like a winter squash, so we will see how that goes.
Most recently, I used some of my mother lode in a recipe for Zucchini Hot Dish sent to me by a reader, Patty Thomas of Colchester.
She had me at
hot dish
. I was further enamored by the use of
hamburg
to describe ground beef, a classic New England term my mother-in-law introduced me to years ago.
It's all the things a late-fall, one-dish supper should be: homey and comforting and easily made with staples on hand. Plus, it used up a good chunk of a monster trombetta squash.
Zucchini Hot Dish
Serves 4 to 6
The original recipe calls for boiling the zucchini, but I opted to sauté the slices to bump up their flavor with caramelization.
Ingredients
1 tablespoon olive oil, plus more to coat casserole dish

4 cups thinly sliced zucchini

1 teaspoon coarse salt, plus more to taste

Freshly ground black pepper

1 pound hamburg aka ground beef (sub: ground turkey or cooked lentils)

1 cup finely chopped onion

1 clove garlic, crushed

1 teaspoon dried basil (sub: 1 tablespoon minced fresh basil)

½ teaspoon dried oregano (sub: 2 teaspoons minced fresh oregano)

2 cups cooked rice

1 (8-ounce) can tomato sauce (sub: 1½ cups diced fresh tomato)

1 egg

1 cup cottage cheese

1 cup shredded cheddar cheese
Directions
Preheat the oven to 350 degrees and lightly oil or butter a 2 to 3-quart casserole dish.




Set a large sauté pan over medium heat with the tablespoon oil. When the oil is warm, add the zucchini slices with ½ teaspoon salt and several grinds of pepper. Cook, stirring occasionally, until lightly browned and just tender, about 6-8 minutes.




Remove the zucchini to a plate and set the sauté pan back over medium-high heat. Add the meat to the pan along with the onion, garlic, basil, oregano and remaining ½ teaspoon salt, plus more grinds of pepper. Cook, stirring occasionally to break up meat, until onion is softened and meat is browned, about 8-10 minutes.




Stir in tomato sauce and rice. Taste and add salt and pepper as desired. Pull pan off heat.




While the meat is cooking, in a small bowl, beat the egg and then stir in the cottage cheese.




Arrange half of the cooked zucchini slices in the bottom of the prepared casserole dish. Spread the meat and rice mixture evenly over the zucchini. Spread the egg and cottage cheese mixture evenly over the meat and rice. Top with the remaining zucchini and sprinkle with the shredded cheese.




Bake 25-30 minutes until golden and bubbly. Cool a few minutes before serving.