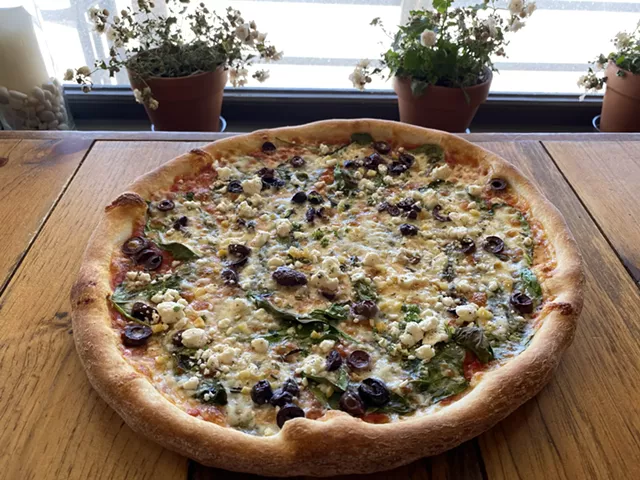 Courtesy of Stone's Throw Pizza
Homesteader Pizza
At
Stone's Throw Pizza
in Richmond, the restaurateurs are starting to work on the garden out front, where they'll grow vegetables and herbs for pizza toppings and salads.
To correspond with this sign of spring, the pizzeria is sharing a recipe that suits the season. The Homesteader pie, a house special, "reminds me of spring," chef-co-owner Silas Pollitt said. "It's a very warm flavor. The feta is bright and tangy. It just screams spring to me."
Pollitt and his longtime friend, Tyler Stratton, launched the original Stone's Throw in their hometown of Fairfax in the fall of 2018. In January, along with Stratton's wife, Allison, they opened a location in Richmond next to Volunteers Green.
The transition has been a smooth one for Stone's Throw, Pollitt said. He noted that takeout orders have always been a majority of the business.
"The community is still really supporting us," he said. "We're still able to pay all our employees."
Each restaurant has a protected outdoor spot for pizza pickups: under an awning in Fairfax and a tent in Richmond. But for people who want to make their own pizza, Stone's Throw is sharing its recipe for the Homesteader, a house pie topped by feta cheese, olives and spinach and touched off by the zing of preserved lemon. (Start preserving now — it takes a month!)
"People are really leaning on comfort food right now," Pollitt said. "And pizza is communal. Making pizza is a fun thing to do with your family, especially if you have nothing else to do and you've been locked in your house."
Homesteader Pizza
"It's salty and briny and pungent and vegetal, as it lights up the taste buds heading into the warmer months." — Silas Pollitt
Ingredients:
1 pound pizza dough
6 ounces crushed tomato
Grated Parmesan or Pecorino Romano
1 cup baby spinach
4 ounces shredded whole milk mozzarella (or 1/3 ounce dollops of fresh mozzarella)
2 ounces sliced Greek or kalamata olives
2 ounces crumbled feta
1 tablespoon preserved lemon
Chopped fresh herbs (parsley, oregano, rosemary)
Extra virgin olive oil
Directions:
Preheat the oven to 500 degrees. If you have pizza stones, let them slowly come up to temperature. If you don't have a set of pizza stones, just flip a cookie sheet upside down.
Buy a pound of your favorite pizza dough (most pizza restaurants will sell it, and it's available frozen) and let proof for 20 minutes at room temperature. If you're feeling lucky, throw the dough out to a 16(ish)-inch disk yourself. Using a rolling pin or wine bottle to roll out the dough is also perfectly acceptable for home pizza-making, but the crust won't be as defined.
Place the stretched dough onto a floured wooden pizza peel or cutting board.
Evenly distribute crushed tomato over the dough, leaving a 1-inch border around the outside for the crust. Sprinkle the Parmesan/Romano and spinach over the tomato, then sprinkle the mozzarella, olives, feta and preserved lemon.
Slide the pizza onto the heated pizza stone or cookie sheet and cook for 8-10 minutes. As all ovens are slightly different, use your best judgement and remove at your preferred doneness.
Once the pizza is done, remove and let cool for two minutes. Cut and dress with fresh herbs, and then drizzle with olive oil. The smell of singed flour, toasted cheese, briny lemon and fresh herbs will fill the house and wow your family and other quarantine-mates.
Feel free to make two while the oven is hot. No harm in leftovers.
Source: Silas Pollitt, chef/co-owner of Stone's Throw Pizza
Homemade Dough
Makes three 12-ounce balls or two 18-ounce balls
Ingredients:
1 1/2 cups cold water
1.8 ounces extra virgin olive oil
1/10 ounce (2.85 grams) fresh/brick yeast
2 ounces poolish (pre-fermented flour mixture)
1 1/3 pounds all-purpose flour
0.12 ounce (3.3 grams) kosher salt

(For poolish, mix 1 ounce water, 1 ounce flour and 1 gram yeast and let sit overnight.)
Directions:
Mix yeast, water, poolish and olive oil well. Mix in flour mechanically for five minutes or by hand for 10 minutes, turning and stretching the dough to develop gluten until it resembles pizza dough.
Cut individual doughs after mixing and let sit in refrigerator overnight if possible.
Preserved Lemon
Cut lemons into quarters (rind and all), cover in kosher salt and place in a jar, leaving at room temperature for about a month. Add peppercorns, coriander or spices of your choice.
When ready to use, rinse and pat dry, slice away the flesh and pith, and finely mince the rind. The purely distilled citrus flavors add a tremendously refreshing punch to a wide array of dishes.

(Preserved lemon can also be purchased at some stores.)
Source: Silas Pollitt, chef/co-owner of Stone's Throw Pizza
Editor's note: Because it's important to limit trips to the grocery store, you can use toppings of choice that you have at home, and then stock up on Homesteader ingredients on your next trip to the store.