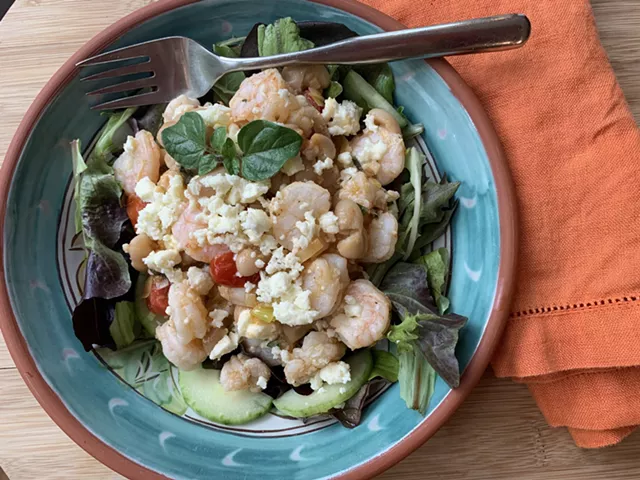 Melissa Pasanen
Shrimp with tomatoes and white beans served over greens
This easy, speedy meal has been a staple in my cooking repertoire for longer than I can recall. Thanks to quick-thawing frozen shrimp, canned diced tomatoes and white beans, and the Vermont feta I almost always have in my cheese drawer, it takes fewer than 45 minutes and one pan.
Occasionally, I plan ahead and even cook my own white beans, which are definitely more delicious than canned. But usually I'm just proud of myself if I can remember to thaw the shrimp in the fridge overnight. That shaves total dinner prep time down to about 30 minutes.
I make the recipe through every season. In the cooler months, I toss it with pasta, mound it on quinoa, or spoon it warm over baby kale that wilts just enough from the heat of the shrimp's garlicky-lemony juices.
In warmer weather, I often use fresh tomatoes in place of canned and serve it at room temperature over a green salad with crusty bread.
Normally, I try to search out wild-caught American shrimp from the Gulf. An unexpected pandemic development is that reduced restaurant demand has made
farm-raised Vermont shrimp
from
Sweet Sound Aquaculture
currently available direct to consumers for pickup at the Charlotte operation.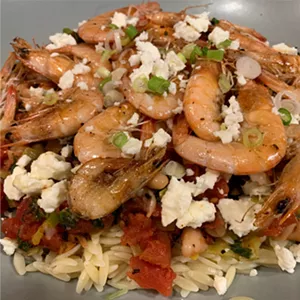 Melissa Pasanen
Vermont farm-raised shrimp with tomatoes and white beans
In April, I drove to Charlotte and picked up a couple pounds of sweet, juicy, shell-on locavore shrimp. When I used some in my standby recipe, I left the shells and heads on to save time and get it on the table fast.
A few nights ago, I made it again with shelled Gulf shrimp.
Both were delicious, though the latter was a bit neater to eat.
Shrimp With Tomatoes and White Beans
Serves 3 to 4

Ingredients
1 tablespoon plus 1 teaspoon freshly squeezed lemon juice, divided

2 tablespoons olive oil, divided

2 fat cloves garlic, minced

1 teaspoon coarse salt, divided, plus more to taste

Good pinch crushed red pepper or Aleppo pepper flakes

1 pound small to medium shrimp, preferably shelled (see thawing tip below if frozen)

About ¾ cup sliced leeks (sub: sliced scallions, diced onion, sliced shallots)

1 pint cherry or grape tomatoes, halved (sub: 1 (14.5-ounce) can diced tomatoes)

1 teaspoon dried oregano (sub: 1 tablespoon chopped fresh oregano leaves, plus. more to garnish if desired)

1 (15.5-ounce) can white beans, drained and rinsed (sub: Cook beans from scratch; it's worth it, but takes planning.)

Directions
In a medium bowl, stir together 1 tablespoon lemon juice, 1 tablespoon olive oil, minced garlic, ½ teaspoon salt and crushed red pepper. Add shrimp and stir to coat well.




In a medium sauté pan or skillet set over medium heat, heat remaining tablespoon olive oil and add leeks. Cook, stirring once, until softened, about 3 to 5 minutes.




Stir in cherry tomatoes, oregano and remaining ½ teaspoon salt and cook, stirring occasionally, until tomatoes have collapsed and given up some of their juices, about 5 to 7 minutes. Gently fold in white beans and cook for a couple minutes just until warmed through. Taste and add salt as desired. Scrape tomato and bean mixture into a serving bowl.




Put sauté pan back on stove over medium-high heat. When a drop of water skitters on the surface of the pan, add shrimp with all the marinade and spread evenly around pan's surface. Cook, tossing once, just until shrimp is cooked through, about 4 to 7 minutes depending on size.




Pour shrimp and cooking juices over white bean mixture. Sprinkle with remaining teaspoon lemon juice and serve over greens, pasta or quinoa as desired.



Tip:
To speedily thaw frozen shrimp, take them out of the bag and submerge them in a bowl of cold water set in the sink and keep the faucet running. Depending on size, they should thaw in about 15 minutes. Dry them as well as you can with paper towel before proceeding with the recipe.