Melissa Pasanen
Sheet pan chicken with roasted vegetables
My most recent virtual
cooking lesson
with my brother-in-law, Conor, was supposed to prove how easy it is to make delicious roasted chicken and vegetables in just a single sheet pan.
One of our versions turned out delicious, but the other — not so much.
Conor's parents have recently moved from their city home to join him and my sister, Julia, who's about a month out from having a baby. Julia had joked that they would be much easier graders of her husband's culinary endeavors than she has been.
Case in point: Conor texted me after we each sat down to eat: "My mom gave it a B. Julia gave it a 'See me after class.'"
This was not a huge surprise, given that throughout the process of cooking, Conor's chicken and vegetables had stubbornly refused to brown — to the point that I was throwing shade at their oven.
We will have to claw our way back to honor-student status in our next cooking foray. For now, I did come up with some learning from this failing grade.
The basic recipe is flexible, but not as much as I'd hoped, apparently.
Russet potatoes (the only kind Conor had) really don't get crispy and delicious when roasted the way all-purpose, waxier potatoes do. I used a mix of fresh broccoli and radishes; Conor used frozen broccoli. I recently learned the latter can be roasted, but in this case the water in the broccoli turned the oven into a steam bath, preventing crisp chicken. And finally, the smoked paprika I used is much more flavorful than the regular paprika that Conor used.
It's also pretty widely understood that roasting or baking two densely filled pans of something in an oven, versus a single tray, will likely take a bit more time. We allowed for that, but it couldn't compensate for the other issues. (I did use a second tray for my vegetables to avoid overcrowding, but that didn't prove to be a problem.)
Please don't let Conor's challenges impact your interest in this recipe, which really is a lovely, easy way to make a one-pan meal with relatively little fuss and mess. The caramelized lemon slices are an especially nice touch.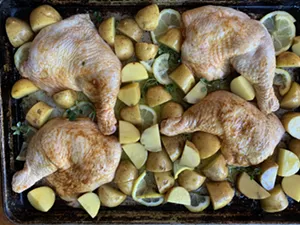 Melissa Pasanen
Sheet pan chicken heading into the oven
Sheet Pan Roasted Chicken with Vegetables
Serves 4
Ingredients
4 bone-in, skin-on chicken thighs, or full legs (2-3 pounds)

1 1/2 teaspoons coarse salt, divided, plus more to taste

1 teaspoon smoked paprika

Small handful fresh herbs, such as thyme or rosemary, divided

Several generous grinds fresh black pepper

1 1/2 pounds unpeeled white, red or yellow potatoes, washed well and cut into 1-inch chunks

1 lemon, washed well, sliced thinly into rings, seeds removed and ends discarded

3 tablespoons olive oil, divided

1 medium leek, white and light green part thinly sliced and washed well (sub: one medium onion sliced into 8 wedges, or 6 shallots sliced lengthwise in thirds)

2 to 3 cups raw vegetables cut into bite-size pieces, such as broccoli or cauliflower florets, radishes or fennel bulb
Directions
Ideally, at least 30 minutes before cooking and up to 24 hours ahead, put the chicken in a resealable bag with 1 teaspoon of the salt, the smoked paprika, about half the fresh herbs, and several grinds of fresh pepper. Seal the bag and massage the seasonings and chicken together to combine. Refrigerate if more than 30 minutes before cooking.




Heat the oven to 425 degrees. On a large sheet pan or shallow broiler pan, toss the potatoes with the lemon slices, remaining herbs, 1 1/2 tablespoons of the olive oil and the remaining 1/2 teaspoon salt. Spread the potatoes out and add the seasoned chicken, skin side up, keeping everything in one layer to ensure even cooking. Put the chicken and potatoes in the oven and set the timer for 20 minutes.




While the chicken starts roasting, toss the leeks and other vegetables in a bowl with the remaining

1 1/2

tablespoons olive oil, a pinch of salt and a few more grinds of pepper.




After 20 minutes

, turn the potatoes to get as much crispy surface as possible and, if there's room, tuck the vegetables around the chicken and potatoes. If the pan is too crowded, use another sheet pan for the vegetables. Roast another 25 to 30 minutes until the chicken and vegetables are all nicely browned and crispy. (Chicken should register 165 degrees on an instant-read thermometer if you have one.)



Source
: Adapted from
My Kitchen Chalkboard: Seasonal Menus for Modern New England Families
by Leigh Belanger (Union Park Press, 2018)
Got cooking questions? Feel free to email them to pasanen@sevendaysvt.com.