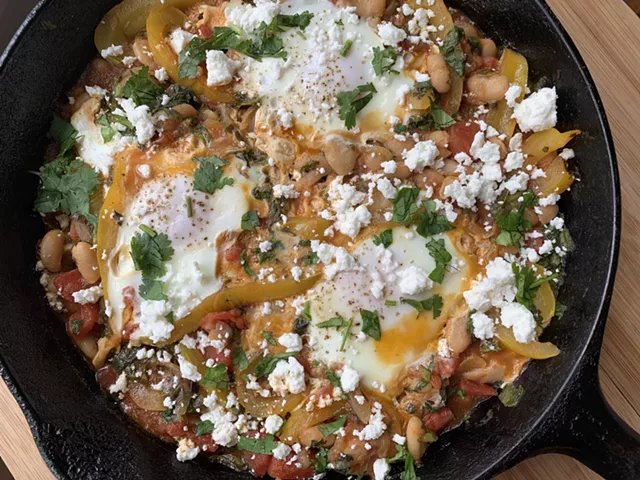 Melissa Pasanen
Shakshuka of tomatoes, yellow pepper and radish greens with poached eggs
We started this cooking column less than a month ago to help everyone cook their way through the pandemic, and already I am sharing a second recipe featuring eggs. I will admit that, while I have not hoarded toilet paper, I could be accused of hoarding eggs.
Eggs are a must-have for me, as they are apparently for several local chefs and food pros interviewed about their
pandemic pantries
. Even in normal times, I need at least a dozen eggs in my fridge or I feel bereft. Since I'm shopping less frequently, I now start to get anxious when there are fewer than two cartons. (And there are only two of us in the house.) Luckily, I have had no trouble finding local eggs at farmstands, stores and even delivered to my door.
Beyond their critical contributions to baked goods, eggs are an incredibly versatile, high-quality protein source, relatively inexpensive and comforting for many people. They also keep a long time. From spaghetti carbonara to
fried rice
to huevos rancheros, eggs turn basic pantry staples or leftovers into a meal the world over. There's a reason #Putaneggonit has more than 120,000 posts on Instagram.
Melissa Pasanen
Eggs from Sobremesa in Charlotte bought at Last Resort Farm in Monkton
This egg recipe takes us to North Africa. Shakshuka, which is often translated to "all mixed up," is a popular dish in Libya, Tunisia and Israel. Essentially, it's a chunky, spiced tomato and bell pepper sauce with eggs poached in it.
There are a zillion variations out there. Chef and cookbook author Einat Admony calls it "Cinderella in a skillet" in her cookbook
Shuk: From Market to Table, the Heart of Israeli Home Cooking
(Artisan, 2019). She offers three recipes for it: a classic tomato made with red pepper and eggplant; a Yemenite version with coconut milk and preserved lemon; and a green shakshuka with chard, kale, spinach and feta.
My shakshuka varies with whatever I have on hand. I always start with onion, bell pepper and tomatoes before throwing in any leftover cooked vegetables (from diced roasted squash to mushrooms) and whatever leafy green I have on hand. It's a great way to use up limp greens after refreshing them in cool water. (See photos below of radish greens before and after a 30-minute soak.)
Melissa Pasanen
Radish greens before (left) and after a cool soak
If making shakshuka for supper, I often add a can of chickpeas or white beans for more substance. To finish, I sprinkle the hot skillet with some cheese — ideally feta, but shredded Vermont cheddar works well, too.
Shakshuka was one of the first recipes our younger son, Alex, cooked for himself (not counting Annie's mac and cheese). When I asked for his tips, he texted me, "The longer you cook it, the more tasty it is."
Shakshuka
Makes 4 servings
Ingredients
⅓ cup olive oil

1 medium onion, halved and sliced

1 large red, orange or yellow bell pepper, cored and sliced into thin strips

2 teaspoons light brown sugar

1 teaspoon cumin, or sweet or smoked paprika

½ cup chopped parsley, cilantro or scallion greens, plus more to garnish, optional

1 (15-ounce) can diced tomatoes

1 teaspoon coarse salt, plus more to taste

Pinch cayenne, plus more to taste

Small bunch chard, kale, spinach or other greens, sliced into ribbons

1½ cups cooked chickpeas or white beans, or diced, cooked sweet potato or winter squash, optional

4 to 8 eggs

½ cup crumbled feta, fresh goat cheese or shredded cheddar

Directions

In a medium (or large if using all 8 eggs) skillet set over medium-high heat, add oil, onion and pepper. Sauté for 7 to 9 minutes until softened and peppers are starting to color.

Reduce heat to medium. Add sugar, cumin or paprika, and herbs, if using. Stir to combine. Cook for a couple minutes.

Stir in tomatoes and a ½ cup or so of water swirled in the empty tomato can to get all the tomato goodness out. Add 1 teaspoon salt and pinch of cayenne. Stir in greens. Reduce heat to low and simmer, about 12 to 15 minutes, stirring a couple times. Taste and add more salt or cayenne as desired. (Flavor will intensify as you continue to cook, as Alex pointed out.)

Increase heat to medium. Stir in chickpeas, beans or cooked sweet potato or squash, if using, and cook about 5 to 7 minutes until they are warmed through.

Reduce heat to low. Use a large spoon to make well-spaced, individual depressions in the tomato mixture and crack eggs carefully into each hole. Season eggs with salt and more cayenne, as desired.

Cover pan and cook eggs until done to your liking, about 8 minutes for just set and more for harder cooked eggs. Immediately sprinkle with cheese and additional chopped herbs, if using.

Serve hot straight from the pan into shallow bowls with crusty bread on the side.

Got cooking questions? Feel free to email them to pasanen@sevendaysvt.com.