Melissa Pasanen ©️ Seven Days
Roast chicken with raddichio, shallot and delicata squash in process
My local garden vole is way ahead of the game when it comes to Vermont Chicory Week, which runs October 18 through 24. The epicurean rodent needed no convincing late last spring of the deliciousness of the purple-green leaves of the Leonardo radicchio seedlings I had bought from Hinesburg's Red Wagon Plants and planted in a fenced, raised bed.
Evident in my attempt to grow radicchio was the fact that I, too, was already a fan of the bitter-leafed vegetable and other chicories.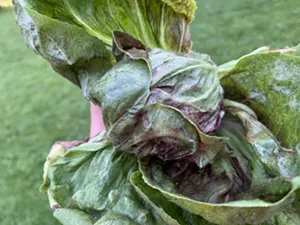 Melissa Pasanen ©️ Seven Days
Homegrown Leonardo radicchio
Events during the October week are designed to celebrate chicory's bitter beauty and educate Vermont farmers, gardeners, cooks and eaters about the greens.
As part of the programming, City Market, Onion River Co-op invited me to teach a chicory cooking class, which I will do (virtually) on the evening of October 20. Planning for that class sent me deep into my extensive cookbook collection for ideas and inspiration.
I found creamy vinaigrettes and sauces, briny anchovy dressings, tart citrus, toasted nuts, sharp mustard, sweet honey, and mellow and piquant cheeses. They all serve in different ways to heighten, complement and balance the characteristic bitterness of chicories.
Technique can also play a key role. Leaves are shredded into salads, slivered and tossed with hot pasta or warm beans, or wilted on pizzas. Whole or quartered heads are braised, grilled and roasted.
When I was ready to start cooking, I headed out to my garden to check on my own heads of radicchio. The extra protective enclosures of jagged stones and sprinkled deterrents, including hot peppers, must have worked because the heads had survived their early trimming-by-vole and grown to decent fist-size.
Red Wagon owner Julie Rubaud said that, ideally, they would have been larger by harvest time. Next year, I hope the vole develops a taste for only weeds.
Roast Chicken with Radicchio, Shallots and Delicata Squash
Serves 4 to 6
Melissa Pasanen ©️ Seven Days
Finished roast chicken with radicchio, shallots and delicata squash
Fall kicks off chicken-roasting season in my house. The rich chicken juices and sweet delicata squash pair perfectly with the roasted radicchio, whose bitterness is also tempered slightly by the softening heat of the oven. If you have it, a squeeze of sweet-tart concentrated balsamic vinegar pulls everything together, but the dish is delicious without it, too.
Ingredients
1 chicken, about 4 1/2 to 5 pounds

1 1/2 teaspoons coarse kosher salt, plus more to taste

Freshly ground black pepper

2 tablespoons olive oil, divided

2 medium delicata squash (about 1 1/2 pounds), halved lengthwise with seeds scooped out and squash sliced into 1/3-inch half-moons. No need to peel them. (Substitutions: other winter squash, peeled and cut into 3/4-inch cubes, or small potatoes, quartered. Note: these may need a little longer in the oven than the delicata squash.)

5 shallots, peeled and trimmed with the root end left intact, halved

2 small heads radicchio (about 1 pound), trimmed with the root end left intact, and each cut into six wedges. (Substitution: other varieties of compact chicories should work, too. Cut endives in half lengthwise.)

To finish: balsamic reduction, optional
Directions
Preheat the oven to 400º F with a rack in the lowest position. Put the chicken in a large roasting pan. Carefully slide your fingers under the chicken breast skin and gently separate the skin from the flesh. Rub the breast meat under the skin with 1 teaspoon of the salt. Rub the outer skin of the chicken all over with 1 tablespoon of the olive oil and season with the remaining 1/2 teaspoon salt and black pepper.




Set the roasting pan on the bottom rack. Roast the chicken for 30 minutes. Reduce the oven temperature to 375º F. Add the shallots and squash to the pan around the chicken. Sprinkle them with a good pinch of salt and some pepper and toss the vegetables in the chicken juices, adding a little olive oil if the pan seems too dry. Roast for another 20 minutes.




Turn the shallots and squash and nestle radicchio wedges among them. Drizzle the radicchio with a little olive oil and sprinkle with some salt and pepper. Roast for another 10 minutes and check whether the chicken is cooked: An instant-read thermometer inserted into the chicken thigh should register 175º F, or the juices at the drumstick joint should run clear, not red or pink.




Set the chicken on a carving board to rest at least 5 minutes before carving. Turn off the oven and leave the shallots, squash and radicchio in to stay warm.




Serve the chicken with shallots, squash and radicchio on the side, drizzled with optional balsamic reduction.