Melissa Pasanen ©️ Seven Days
Mushrooms and cheese on toast
Sometimes a day (year?) is so long and exhausting that there is no energy left for cooking supper.
Takeout
is always a good option
, of course, but it has no positive impact on the groceries filling the fridge that I bought during a fit of optimism.
Opening the fridge door at 6:30 p.m. on a recent evening, I came face to face with a carton of button mushrooms and a big bag of kale. It was late, my husband and I were hungry and I wanted to pull something together quickly.
There was half of a sourdough loaf in the bread box. (One of the best things I have done during 2020 is delegate custodianship of the sourdough starter to my husband, who has become quite an accomplished bread baker.) And I had treated myself to a round of
Weybridge
cheese made by Scholten Family Farm in, yes, Weybridge.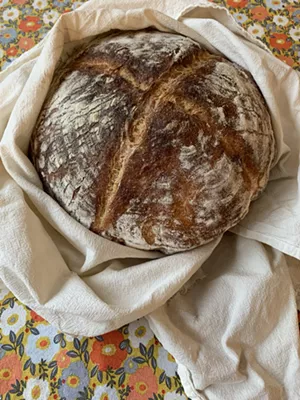 Melissa Pasanen ©️ Seven Days
Freshly baked sourdough loaf (for which I can take no credit)
I immediately thought of mushrooms on toast, a British classic of my childhood. Brits like to serve up lots of things on toast including baked beans and the ale-spiked cheese sauce that makes Welsh rarebit.
Thirty minutes later we sat down to watch some improv on TV with a bowl of wilted kale and a platter of crisp toasts topped with wedges of creamy, mushroomy cheese softened by generous scoops of thyme- and red wine-infused mahogany mushrooms spooned over them while hot.
It was the best kind of finger food: messy to eat, but delicious and deeply satisfying. I have since resolved to serve up at least one supper a week on toast. What would you put on it?
Mushrooms and Cheese on Toast
Serves 2 for supper
Ingredients
¾ pound mushrooms, such as button, cremini, oyster or beech

2-3 tablespoons olive oil

¾ teaspoon coarse salt, divided, plus more to taste

freshly ground black pepper, to taste

1 large shallot, minced

1 tablespoon fresh thyme leaves

splash of dry white wine or medium-bodied red wine (optional)

good crusty bread, sliced and toasted

1 wheel of bloomy rinded cheese, similar to Brie or Camembert, sliced while cool, then bring to room temperature
Directions
Clean the mushrooms with a damp cloth or soft brush and trim any tough stems (save for mushroom stock if desired). Quarter button or cremini mushrooms, tear oyster mushrooms into 1-inch pieces, leave beech mushrooms whole.




In a large sauté pan, set over medium heat, warm the first 2 tablespoons of olive oil. Add the mushrooms with ½ teaspoon of the salt and a few grinds of pepper. Cook, stirring occasionally, until the mushrooms start to give up their liquid.




Add the shallot plus the remaining

¼

teaspoon of salt. If the pan is dry, add another tablespoon of olive oil. Add a good splash of wine if desired.




Continue to cook, stirring, until the mushrooms are tender, about 8-12 minutes depending on kind of mushrooms. (Button and cremini will take the longest.)




Stir in the thyme leaves and cook another 30 seconds. Taste and add salt and pepper as desired.




While the mushrooms are cooking, lay toast slices on a platter and top each with a wedge of cheese. When the mushrooms are done, top each slice with a spoonful of hot mushrooms and serve immediately.



Got cooking questions? Email
pasanen@sevendaysvt.com
.