Melissa Pasanen
Lamb kofta kebabs with yogurt and cucumber sauce
Some of you might recall from my first
Home on the Range
column that I'm helping my brother-in-law, Conor, learn to become a better cook via FaceTime sessions. We figure out in advance what we want to cook, but each of us has different ingredients on hand and there's no running out to the store, so we adapt.
That seems to be the name of the game these days, in all things.
The rural supermarket where Conor goes for groceries every couple weeks does not offer the breadth of options that he and my little sister, Julia, are used to in New York City. And because she is pregnant, he is the designated (but less experienced) shopper. That can yield some mix-ups, such as when he brought home frozen collard greens instead of spinach. So we try to keep things simple.
To help out, I sent them a box of spices and other goodies, including a tagine blend I had in my overflow spice drawer. (Don't mention that drawer to my husband; it drives him crazy. It does come in handy in pandemic times, though.) The mix of eight warm spices incorporates cinnamon, ginger, cardamom and coriander. Along with a big package of ground turkey Conor had bought, and local lamb in my own fridge, it inspired these Middle Eastern-ish kofta kebabs.
Traditionally, kofta are made from ground beef or lamb shaped into long sausages on skewers and grilled. You can make them with pretty much any ground meat; skewers and grilling are optional. I simplified the spice mix in mine and used fresh parsley, which I happened to have on hand; Conor used dried parsley flakes. We roasted them in a hot oven, though you could definitely grill them if the weather ever gets warm enough.
We whisked together a simple yogurt sauce to go with them. I used grated cucumber and mixed in more parsley and some mint; Conor used grated radish, which made for a Pepto-Bismol hue but good flavor.
Julia Masnik
Turkey kofta kebabs with radish yogurt sauce
Serve the kofta with rice (as Conor did) or pita bread. I finally used a jar of cracked wheat I've had in the pantry for too long. It was so simple, I don't know what took me so long. I rinsed it and submerged it in boiling water. Twenty-five minutes later, I had the basis for a quick tabbouleh with the addition of lemon juice, a little olive oil, more chopped parsley and cucumber, olives, tomatoes, bell peppers and a sprinkle of feta for good measure.
For something so easy, the results were really very good. So good, in fact, that Julia even awarded her husband with his first A- cooking grade. We were all very proud.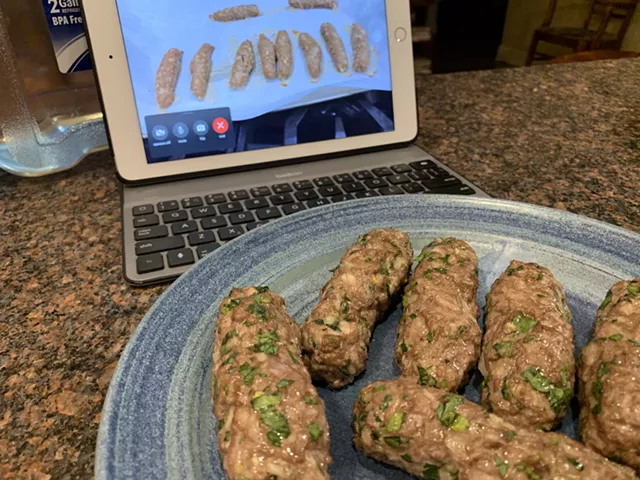 Melissa Pasanen
Cooking kofta kebabs two ways: with lamb in Vermont and turkey in Massachusetts
Kofta Kebabs with Yogurt Sauce
Makes 2-4 servings (depending if one of you is pregnant or just really hungry)
Ingredients
For kebabs:
Oil to grease pan if desired

1 teaspoon ground cumin

1 teaspoon ground coriander (sub: ½ teaspoon more cumin)

½ teaspoon cinnamon

½ teaspoon coarse salt

¼ teaspoon sweet, hot or smoked paprika (sub: pinch cayenne)

1 pound ground meat (I can't think of one that won't work; I first made these with goat and assume it would work with plant-based ground "meat")

1 small onion, grated or finely minced to yield about ⅓ cup

¼ cup finely chopped parsley (sub: 2 tablespoons minced scallion greens or chives; or 1 tablespoon dried parsley or chives)

For yogurt sauce:
1½ cups plain yogurt (if it is a loose yogurt, strain in a paper-towel-lined, fine mesh sieve while you prepare kebabs)

1 cup shredded cucumber (no need to peel), squeezed dry (sub: shredded radish or skip)

½ cup finely chopped green herbs, such as parsley, mint or cilantro (sub: 1 tablespoon dried parsley, mint or chives)

½ teaspoon coarse salt, plus more to taste

A good squeeze of lemon juice (sub: Julia's inspired idea to use caper juice, olive juice or even pepperoncini juice)

Directions
Heat oven to 375 degrees. Line a rimmed cookie sheet or shallow roasting pan with foil for easier cleanup if you like, or lightly oil unlined pan. (If straining yogurt for sauce, start that here.)

In a medium mixing bowl, whisk together cumin, coriander, cinnamon, salt and paprika.

Add ground meat, onion and parsley to bowl and mix together well. (Hands work well here and you'll use them to shape the kebabs, so they're going to get messy anyway.)

Divide meat mixture into 8 portions. (It helps to divide the whole lump in half first, then each of those halves into quarters.) Form each portion into a sausage shape about 4 inches long.

Arrange kebabs on prepared pan and cook 20-25 minutes until browned and cooked through.

While kebabs are cooking, in a small serving bowl, whisk together yogurt, cucumber, herbs and ½ teaspoon salt. Taste and add lemon juice and salt, as desired.

Serve kebabs with yogurt sauce over rice, or with pita breads or tabbouleh.

Got cooking questions? Feel free to email them to pasanen@sevendaysvt.com.