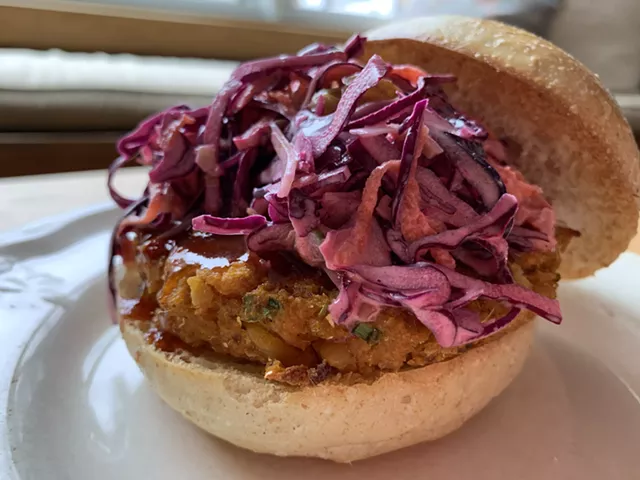 Melissa Pasanen ©️ Seven Days
Jr Iron Chef VT March Cooking Club recipe for sweet potato-chickpea burgers
Normally, the first two weeks of March would mark the final push for about 350 young cooks around Vermont gearing up for the mid-March
Jr Iron Chef VT annual competition
now in its 14th year.
From Whitingham to Coventry, teams would be putting the final touches to recipes and running through their paces a few more times before gathering at the Champlain Valley Exposition in Essex Junction to compete under pressure with an audience of 600 to 800 supportive fans.
In March 2020, the competition had to be canceled at the last minute by the competition organizer, Vermont FEED (Food Education Every Day), the farm-to-school partnership between Shelburne Farms and the Northeast Farming Association of Vermont.
When it became clear that the pandemic would result in another missed year, the Vermont FEED team came up with a fun way to keep kids cooking. They launched a monthly cooking challenge featuring winning recipes from past competitions.
Anyone can sign up
, cook the recipe and send in a photo to be entered in a culinary prize drawing.


I gave it a test run in my kitchen, and I have to say it is a prime example of the sum being greater than its individual parts. The soft, sweet burgers are complemented beautifully by tangy barbecue sauce and crunchy slaw.

The "Turnip the Beet" team from Chester won the Crowd Pleaser for its recipe. I could certainly taste why.

Sweet Potato-Chickpea Burgers with Caribbean Slaw and Vermont Maple Barbecue Sauce

Serves 4-6

Ingredients
For burgers:
1 medium (about 12-ounce) sweet potato

Olive oil

1 (15-ounce) can chickpeas, drained and rinsed

¼ cup coarsely ground cornmeal

¼ cup finely chopped scallions

1 ½-2 teaspoons chili powder, to taste

1 teaspoon coarse salt
For slaw:
⅓ cup shredded, sweetened coconut

¼ cup mayonnaise

2 tablespoons freshly squeezed lime juice (sub: cider vinegar)

⅛-¼ teaspoon allspice, to taste

½ teaspoon coarse salt, plus more to taste

6 to 8 ounces red or green cabbage, finely shredded to yield about 2 ½ cups

1 medium carrot, scrubbed and shredded, to yield about ⅓ cup

½ cup golden raisins

¼ cup finely chopped scallions

Freshly ground black pepper to taste
For maple barbecue sauce:
1 cup plain canned tomato sauce

¼ cup Vermont maple syrup

2 teaspoons cider vinegar

1 teaspoon Worcestershire sauce (sub: soy sauce to make dish vegetarian)

2 teaspoons garlic powder

Coarse salt, to taste
Directions
To make burgers:
Preheat the oven to 450 degrees. Line a medium baking sheet with parchment or a reusable baking mat. (Note: While the oven is preheating, use it to toast the coconut for the slaw per below.)




Cut the sweet potato in half lengthwise and run a little olive oil on the cut side. Place the two halves cut sides down on the baking sheet. Bake for 30 to 35 minutes until the sweet potato is very soft. While the sweet potato bakes, continue making the slaw per below.




When the sweet potatoes halves are done, cool just until you can handle them. Reserve your lined baking sheet. Scoop the flesh into a medium mixing bowl. You should have about 1 ½ cups of sweet potato.




Add the chickpeas, cornmeal, scallions, chili powder and 1 teaspoon coarse salt.




Use a potato masher or wooden spoon to mash and combine everything until fairly smooth with no large lumps.




Spread a little olive oil on the lined baking sheet. Using a 1/2 or 1/3 cup measure, divide the sweet potato mixture into 4 to 6 portions and shape each portion into a round flat patty with your hands.




Place the patties on the prepared baking sheet and bake for about 30 minutes, turning once halfway through, until set and browned. (Note: they will be fairly soft when you go to turn them. Do it carefully and pat them back into shape if needed.)



To make slaw:
While the oven is preheating to bake the sweet potato, spread the shredded coconut on the prepared baking sheet and put it in the oven for 4 to 7 minutes to toast it lightly. Watch it carefully so that it does not burn. When it's done, transfer it to a plate to cool and use that baking sheet for your sweet potato.




In a medium mixing bowl, whisk together the mayonnaise, lime juice, allspice and

½

teaspoon salt. Add the shredded cabbage and carrot, raisins, scallions and toasted coconut. Grind a little pepper over everything.




Toss to combine well. Refrigerate while you finish the burgers and sauce. Taste the slaw after refrigeration and add a little more salt and pepper if desired.
To make barbecue sauce:
In a small saucepan, whisk together the tomato sauce, maple syrup, cider vinegar, Worcestershire sauce, garlic powder and a good pinch of coarse salt.




Bring to a simmer over medium heat and simmer for about five minutes until thickened. If too thick for your liking, add a splash of water. Taste and add more salt if desired.
To serve:
Serve hot sweet potato-chickpea burgers on lightly toasted buns, drizzled liberally with warm barbecue sauce and topped with cool slaw.
Source:
adapted slightly from the 2019 Turnip the Beet middle school team from Green Mountain Union High School