Melissa Pasanen ©️ Seven Days
Vermont honey and maple granola
My granola game has evolved over the dozen-plus years since I realized how easy it was to make at home — and how toasty delicious it made my house smell for such little work.

I started with some tips graciously shared by the long-gone Village Cup in Jericho: use darker grade maple syrup for most assertive flavor; let cool completely on the baking sheet for optimal chunkiness. Then I moved forward with more insights from my friend, Tammy, who co-owned Green Mountain Granola: change up dried fruit with the seasons; granola freezes really well.


I always used cinnamon in my granola. Then Phil Merrick of August First Bakery shared his recipe with me and spoke compellingly about keeping the recipe spice-free to let the pure oaty, nutty, honeyed goodness shine.
The latest influence comes from much farther away: the 2017 cookbook by Oakland-based Samin Nosrat,
Salt, Fat, Acid, Heat: Mastering the Elements of Good Cooking
. Happily, it still has a solid Vermont connection.
The granola recipe comes from the founder of New York-based Early Bird Granola, which Nosrat credits with changing her opinion of granola forever.
It includes maple syrup along with brown sugar. The cookbook page even features a charming illustration of a Vermont syrup jug. As any Vermonter would advise, it appropriately suggests using dark, robust syrup.
Like Merrick's recipe, it eschews spices. But unlike any other recipe I'd ever seen, it employs extra-virgin olive oil in place of commonly used neutral oils like canola. It also calls for a relatively high amount of flaky sea salt.
I incorporated those two aspects into my ever-evolving granola recipe though I did stick with my standard equal parts maple and honey, which has superior chunk-forming potential in my experience. I like my granola chunky.
The result is a perfectly balanced sweet-salty granola with an unexpected, slightly savory accent from the olive oil.
It owes thanks to all the recipes that have come before. As I have done, I encourage you to take what you want from it and make it your own.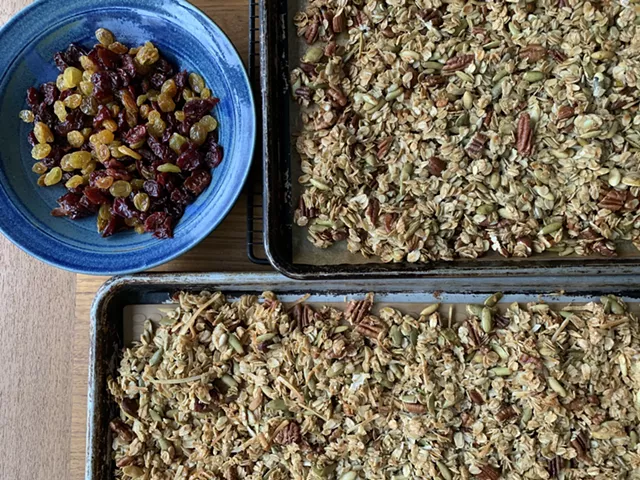 Melissa Pasanen ©️ Seven Days
Granola just out of the oven
Honey and Maple Granola
Makes about 8 cups; can be doubled on two baking sheets on two oven racks, switching the two halfway through each baking time
Ingredients

1/3 cup extra-virgin olive oil

1/3 cup dark maple syrup

1/3 cup honey

3 cups rolled oats

3 cups raw, unsalted nuts or seeds, such as almonds, cashews, pecans, pistachios, pumpkin seeds or sunflower seeds (I sometimes add a cup of unsweetened coconut flakes, too.)

¾ - 1 teaspoon kosher or coarse sea salt (the flakier the better but standard kosher works fine; start with the lower amount unless you have high salt tolerance)

2 cups dried fruit, such as sweetened, tart cherries or cranberries; golden raisins; or snipped dried apricots

Directions

Heat the oven to 325°F. Line a large rimmed baking sheet or shallow roasting pan with a nonstick baking liner or parchment.




In a small bowl, whisk together the olive oil, syrup and honey.




In a large bowl, mix together all the dry ingredients except the fruit. Sprinkle the salt over the mixture and toss to combine.




Pour the wet mixture over the dry mixture and toss with a rubber spatula until everything is evenly coated. Spread the granola mixture evenly in the prepared pan.




Bake for 15 minutes and stir to move any darker bits away from the edges of the pan. Bake until the granola is deep golden-brown, another 10 to 12 minutes.




Cool the granola on a rack and do not touch until it is completely cool. Break into desired size clumps and mix in the dried fruit. Store in an airtight container.