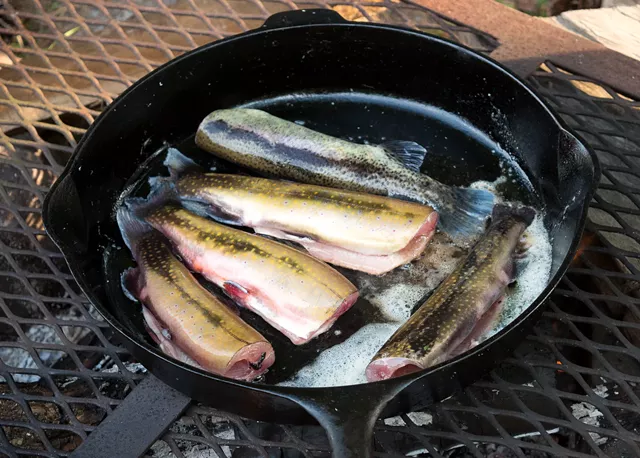 Courtesy of Vermont Department of Fish & Wildlife
Trout cooking in a cast-iron pan
Fishing has always been a social-distancing activity and, during a global pandemic, it's a great way to get outside. Cleaning and cooking what you catch, though, can be an intimidating task.
Vermont Wild Kitchen is here to help break that barrier. A partnership of the
Vermont Farm to Plate Network
's
Rooted in Vermont
program and the
Vermont Department of Fish & Wildlife
, the coronavirus-era series of
Facebook Live events
helps curious Vermonters identify, process and cook wild ingredients.
"With COVID-19 raging around us, we were brainstorming ways to engage folks in the local food movement while also making sure that they were staying safe and staying healthy," Shane Rogers explained.
Rogers is the Farm to Plate communications manager and an on-screen personality in Vermont Wild Kitchen — from his own home kitchen.
The videos cover everything from wild turkey with foraged and farm-fresh sides to fish tacos and nettles. They encourage people to spend time outside experiencing nature in ways they haven't before — sustainably, of course — while celebrating how people eat local food in their own unique ways.
"Wild food carries this connotation as sometimes being scary, or perhaps dangerous," Rogers said. "It
certainly can be
, if you're not smart about it, but what we wanted to do with Vermont Wild Kitchen was show that if you take the time and learn about the plants and animals that you're harvesting, it can be a really fun activity to do on your own or with your friends and family. And, it's also really delicious."
The isolation of the pandemic, as well as concerns about disruptions to food supply chains, got people thinking seriously about where their food comes from, Rogers noted.
"As they dove into that topic, they not only found that Vermont has an abundance of local food — and that our farmers are working so hard to feed our communities — but also that Vermont has an abundance of wild foods," he said. "With a question here or there and a little bit of research, the forest turns into something completely different from what they've experienced before."
There's plenty to forage in the woods, but if you find the water beckoning as the weather heats up, fishing can be just as approachable. Fish & Wildlife makes it easy to get a
fishing license online
, and the department's website is full of
great resources
for finding fishing holes around the state.
Want to cook what you catch? "We want to help people get over the hump of how easy it is to process a fish," Rogers said. "The actual cooking is as simple as salt, pepper and a hot cast-iron pan."
This video clip from
Vermont Wild Kitchen
, led by Fish & Wildlife's Corey Hart, demonstrates how simple it can be to process and cook trout.
It's as easy as that! Once you've processed your trout, there's a whole
school
of ways to cook it.
The cooking method detailed in the video calls for trout, onion salt, garlic salt and butter. To follow along, get your cast iron (or other pan) hot, and throw in a chunk of butter. Sprinkle the onion and garlic salts on both sides and inside the processed trout. Once the butter is bubbling, place the trout skin side down in the pan and cook on each side for 3 to 4 minutes, until the skin is nice and crispy.
This fish dish pairs well with the locally grown greens that are now popping up in farmstands, farmers markets, gardens and grocery stores. Add a
maple-balsamic dressing
, and you've got a full local, seasonal meal. As Rogers said, "Salad and fish, there's nothing that really beats that!"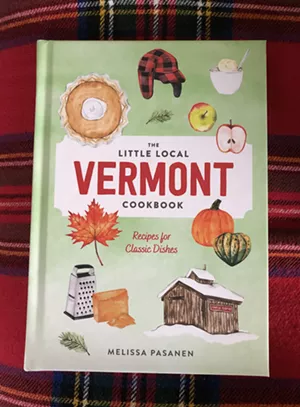 Jordan Barry
The Little Local Vermont Cookbook by Melissa Pasanen
If you've had a successful fishing trip (or trip to the grocery store's fish department) and are looking for another recipe,
Seven Days
writer
Melissa Pasanen
has your back.
In her recently released
The Little Local Vermont Cookbook: Recipes for Classic Dishes
, Pasanen heads to the state's "fresh, cold-running streams" for one of spring's "natural pairings": wild watercress and brook trout.
"There's nothing quite like the thrill of finding your own food in nature (just make sure you do so with knowledge and a fishing license!)," Pasanen writes.
If you're in a store rather than a stream, she suggests looking for small butterflied trout and purchasing them "gutted and boned, without the head, and with the two fillets still attached along the back." If you're in the stream, you'll have to take what you can catch.
Grilled Trout With Watercress Butter
Makes 4 servings


Ingredients:
1 1/2 tablespoons olive oil
4 whole butterflied brook or rainbow trout (6 to 9 ounces each)
2 teaspoons kosher salt
Freshly ground black pepper
2 cups watercress, coarsely chopped
8 tablespoons (1 stick) unsalted butter, at room temperature
2 tablespoons minced ramps or scallions, white and green parts
1 teaspoon freshly grated lemon zest
Garnish: fresh watercress sprigs and lemon slices
Directions:
Heat a grill to medium-high. Cut two pieces of foil about 12 by 18 inches and drizzle half the olive oil in the center of each. Pat dry the skin of each trout and season the outside of each with 1/4 teaspoon of the salt and generous grinds of the black pepper.
Open each trout like a book, flesh side up. Place two on each piece of foil.
In a medium bowl, mash together the watercress, butter, ramps, lemon zest, the remaining 1 teaspoon salt, and a few more grinds of black pepper. Divide the butter mixture roughly in fourths and, using your hands, shape each portion into a small log. Place one log in the center of each open trout and fold each trout closed.
Bring the sides of each foil packet together in the center around the two trout, lying side by side. Fold the foil over and seal each packet well.
Grill the trout in packets, turning once, about 5 minutes per side. The fish is done when it flakes easily with a fork. Remove from grill.
Serve on a bed of fresh watercress with the lemon slices.