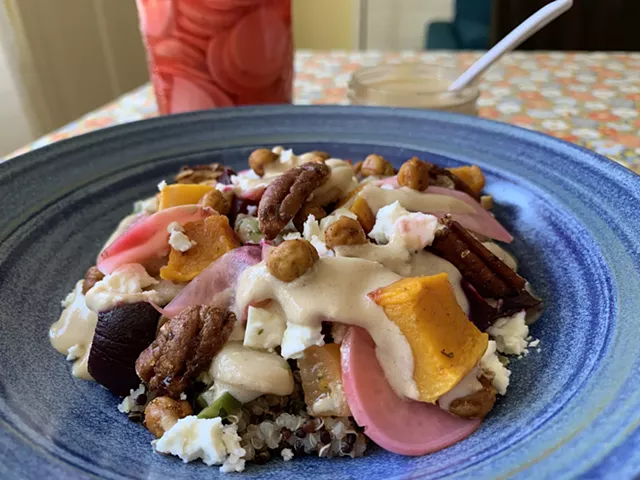 Melissa Pasanen ©️ Seven Days
A grain bowl with tahini dressing and quick pickled radishes
Long before they were a trend, grain bowls were a go-to, build-your-own, clean-out-the-fridge, use-up-the-CSA-veggies supper in our house.
We didn't call them grain bowls, though. We called them leftover bowls.
If I'm making basic steamed rice, barley or quinoa, I will often make extra to have on hand for another meal later in the week. Why dirty a pot twice when you can get a double batch out of one pot-washing?
Similarly, if I'm going to roast up a sheet pan of vegetables, I figure I might as well dice up as many beets, turnips, rutabagas, parsnips and winter squash as will fit on one sheet pan.
These, plus leftover sautéed or steamed green vegetables or fresh greens make a great base for the bowls. Add some crumbled or shredded cheese, canned beans or leftover chopped meat or tofu, toasted nuts or seeds and you're basically there.
There are two extra things I sometimes use to elevate my leftover hodgepodge into a grain bowl you might pay top dollar for in a restaurant. One is a simple but addictive tahini dressing borrowed from Williston cookbook author Molly Stevens. The other is a quick vegetable pickle, for which I especially recommend thinly sliced radishes or red onion for their pickling speed and color.
Both last for a while in the fridge, so often I can use them to gild other leftovers, as well. To my mind, that's the best kind of supper there is.
Tahini Dressing
Yields about ¾ cups; can be doubled
Ingredients
⅓ cup tahini

2 tablespoons olive oil

3 tablespoons freshly squeezed lemon juice

3 tablespoons warm water

½ teaspoon coarse salt, plus more to taste
Directions
Whisk all ingredients together in a bowl. Taste and add salt as desired.




Add a little more water or lemon juice if needed for balance or pour-ability.
Source
: Adapted from
All About Dinner
by Molly Stevens (W.W. Norton, 2019)
Easiest Quick Pickles
Yields about 1 pint
Ingredients
½ pound vegetables, such as radishes or red onions (sub: thinly sliced or match-sticked turnips, rutabagas and carrots work, too, but their density takes a little longer to absorb the brine)

1 cup vinegar, such as apple cider vinegar or unseasoned rice vinegar (sub: white vinegar works fine)

½ cup water

2 tablespoons sugar or honey

1 teaspoon coarse salt
Directions
Peel and trim vegetables if needed. Slice thinly into bite-size pieces or matchsticks. Place the vegetables in a heatproof bowl or canning jar.




In a small saucepan, bring the vinegar, water, sugar or honey and salt to a boil. Pour the brine over the vegetables to cover. (You may have a little extra brine

depending on the bulk of your vegetable pieces.)


Cool for at least 30 minutes before using. Cool completely before sealing and refrigerating. Can be kept in the fridge for about a month.