Melissas Pasanen ©️ Seven Days
Homemade version of Five Spice Café sesame peanut noodles
Spanning more than two decades starting in 1985, Five Spice Café on lower Church Street built a fiercely dedicated fan base for its pan-Asian menu.
Beyond iconic dishes like Evil Jungle Prince curry redolent of coconut and kaffir limes leaves, the restaurant was known for jazz memorabilia, dim sum brunch and the outsize personality of co-owner Jerry Weinberg.
Weinberg and his business partner (and ex-wife) Ginger Hobbs sold their restaurant in late 2006 to Samuel Palmisano. Shortly thereafter, Five Spice was gutted by a
devastating fire
and Palmisano decided to move on to start his own Italian restaurant, Pulcinella's in South Burlington.
Regular customers continued to dream of menu classics like cold sesame peanut noodles, Siu Mai dumplings and Five Spice fritters — described as "four fat little pancakes made out of scallions, onions, leeks, cilantro, eggs and bread."
Weinberg passed away in January 2019. For several years before that, Weinberg and Hobbs' daughter, Cheryl Herrick of Burlington, worked with her dad to occasionally stir up batches of some of the restaurant's signature sauces for sale under the label
Dragon and Daughter
.
Other than that, fans were out of luck — until now.
A new blog
Five Spice Café: Recipes from the Vault
, launched last month to help those who still crave their Five Spice favorites and are willing to tackle the recipes in their own kitchens.
John Canning, a longtime fan and friend of the Five Spice family, has been adding recipes gradually from a box of several hundred that survived the fire.
"The goal is to put the recipes into the public domain, so that people can enjoy them!" Canning wrote in an email.
(Canning spins a funny tale about winning the recipes from Palmisano in a game of strip poker. He admitted that was not exactly how it happened, but rather a nod to Weinberg's sense of humor.)
Like many restaurant recipes, the ingredients, quantities and professional kitchen shorthand do not always translate easily for home cooks.
With the assistance of Hobbs, Herrick, Palmisano and former Five Spice staff, Canning has been working his way through the recipes to make them accessible for all.
"It took quite a bit of trial and error to figure out how many cups of mushrooms were really in a 'bucket,'" Canning said, referring to the recipe for Siu Mai dumplings made with pork, shrimp and Chinese mushrooms and "secret spices," which turned out to be peanut butter.
Of those posted so far, Canning said, the Southeast Asian chicken curry and sesame peanut noodles have been the most popular. Five Spice fritters and Siu Mai are close behind.
"My mom and I are delighted, if quite nostalgic, about the recipes [being shared]," Herrick wrote in an email.
Many have quirky details , she said, like the fritters, which call for French rolls in the written recipe. For the restaurant, she divulged, "Mike Williams of Kountry Kart [Deli] gave us the bread ends from sandwich-making."
Herrick did concede that it feels a little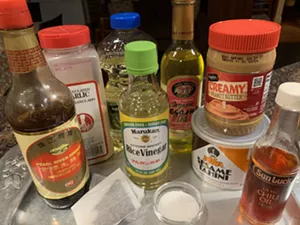 Melissa Pasanen ©️ Seven Days
Ingredients for Five Spice Cafe sesame peanut noodles
weird to see the recipes her father guarded so closely go out into the world. But, she said, she and Hobbs are "very glad to get more people more happy with access to delicious food."




Five Spice Café Sesame Peanut Sauce for Noodles
Makes about 4½ cups (can be halved)
Ingredients
¾ cup light soy sauce (not low sodium but traditional light soy sauce versus dark; standard supermarket soy will work)

½ cup unseasoned rice wine vinegar

¼ cup water

1 cup neutral vegetable oil (the recipe calls for soybean oil)

¼ cup sesame oil

2 tablespoons hot chili oil

3 tablespoons sugar

1 tablespoon granulated garlic (this is coarser than garlic powder, but you can sub the latter; use a little less and add more to taste)

1 cup peanut butter

1 cup tahini

¾ cup hot black tea

Directions
In a medium bowl, whisk together the soy sauce, rice wine vinegar, water and vegetable oil.




In another bowl, whisk together the sesame oil, hot chili oil, sugar and garlic until the latter two are dissolved.




In a food processor or stand mixer, blend the peanut butter and tahini. Add in the hot black tea and blend until smooth, scraping down the sides as needed.




With the machine running, add the sesame oil mixture until blended.




With the machine running, gradually add the soy mixture until fully incorporated.




To use for cold noodles, cook fresh or dried egg noodles, or pasta of choice. Drain and toss with a little sesame oil to prevent sticking and coat with some of the sesame peanut sauce. Once cooled, toss with more sauce to taste. (Extra sauce can be refrigerated or frozen

. You may need to re-blend to emulsify it.)



Note:
This is the version on the recipe card, though Ginger Hobbs notes that Jerry Weinberg used red wine vinegar rather than rice wine vinegar, and chopped fresh garlic instead of granulated garlic. Also, he omitted the chili oil, so that customers could add hot sauce to taste.