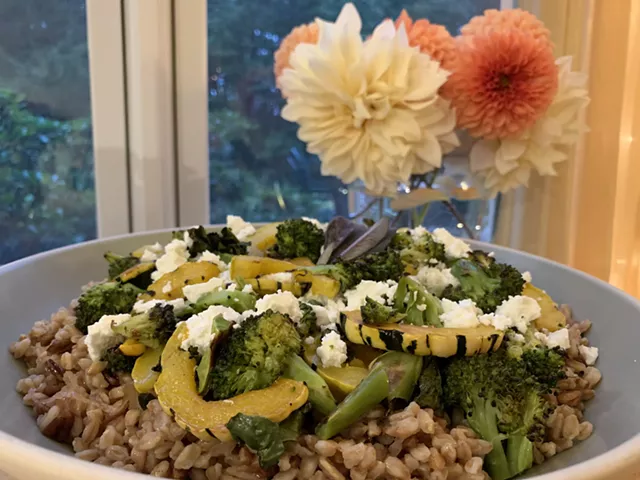 Melissa Pasanen ©️ Seven Days
Farro with roasted squash and broccoli and sage-brown butter dressing
Meal planning can be a creative challenge but it can also be a chore. Sometimes I'm lucky and the universe tells me what to make for dinner.
Most recently that occurred when the universe sent me several messages over the course of a few days.
First, I interviewed acclaimed author Jonathan Safran Foer about his most recent book,
We are the Weather: Saving the Planet Begins at Breakfast
, in advance of his
University of Vermont George D. Aiken Lecture
on October 8.
Among the things Foer and I discussed were what he had eaten for breakfast: nothing, because he doesn't eat breakfast, making his book subtitle a tad disingenuous.
Hmmm ... farro. I haven't made that lately
.
Scrolling through Instagram a few days later, my eye landed on a beautiful photo from
Farmhouse Pottery
in Woodstock of a farro salad with roasted butternut squash and sage-brown butter dressing.
Hmmm... farro. I haven't made that lately
, I mused again.
The recipe called for 2 cups of farro and it turned out that was exactly the amount I had left in my larder. I also happened to have delicata squash from my CSA share and plenty of sage in my garden.
We've been
trying to eat a few more plant-centric meals
each week. You can't really argue with eating more vegetables and whole grains. There's also the point Foer makes forcefully in his book: Americans in general eat too much meat, and industrial livestock farming has contributed significantly to the climate crisis.
But who am I kidding? It was all about the brown butter.
I built on the Farmhouse Pottery recipe by adding roasted broccoli along with the squash and also stirring some sherry vinegar into the brown butter, shallot, maple and sage dressing for acidity and balance.

The nutty, chewy farro cooked in about 30 minutes, about the time it took for the squash and broccoli to caramelize nicely in a hot oven. While those cooked, I sliced up shallots, picked the sage leaves and made the warm dressing on the stovetop. It all went in a big bowl with toasted pecans and a scattering of Vermont goat feta.

Thank you, Jonathan Safran Foer, Farmhouse Pottery and the universe.

Farro with Roasted Squash and Sage-Brown Butter Dressing
Serves 4-6 as a main course
Ingredients
2¼ teaspoons coarse salt, divided, plus more to taste

1 large delicata squash, seeded and sliced into half moons (sub: any winter squash, peeled, seeded and cubed)

2 tablespoons olive oil

Freshly ground black pepper

1 head broccoli, including leaves and stems, cut into bite size pieces (sub: cauliflower)

2 cups uncooked farro (sub: wheat berries, quinoa or brown rice; note wheat berries and brown rice will take longer to cook)

4 tablespoons unsalted butter

2 shallots, thinly sliced

About 10 medium sage leaves sliced or scissored into ribbons

2 tablespoons maple syrup

2 tablespoons sherry vinegar (sub: red wine vinegar or apple cider vinegar)

1 cup toasted, chopped pecans

½ cup crumbled goat cheese, such as feta
Directions
Preheat the oven to 425 degrees. Fill a large pot with water and add 1 teaspoon of salt. Set the pot over high heat and bring to a boil.




On a rimmed sheet pan, toss the squash with 1 tablespoon olive oil, ½ teaspoon salt and several grinds of freshly ground pepper.

On a second rimmed sheet pan,

toss the broccoli with the remaining tablespoon olive oil, ½ teaspoon salt and freshly ground pepper.




Roast the vegetables, turning once, for about 25-30 minutes until they are cooked and a little caramelized.




When the pot of water has come to a boil, add the farro and reduce heat to a simmer. Cook about 20-30 minutes until farro is tender to the bite but not mushy. (This will vary depending on age of farro.)




While everything is cooking, make the dressing. In a medium sauté or frying pan, melt the butter over medium heat. Add the shallot and increase heat to medium high. Cook, stirring occasionally, until shallots are softened and golden, about 5 minutes.




Stir in the sage leaves and cook another 2-3 minutes until the butter starts browning. Stir in the maple syrup and sherry vinegar and cook to reduce slightly, about 2 minutes. Add ¼ teaspoon salt.




Put the hot cooked farro in a big bowl and pour the sage-brown butter dressing over it. Add the pecans and toss to combine. Taste and add salt or pepper as desired. Top with roasted vegetables and crumbled feta.
Source: adapted from Farmhouse Pottery