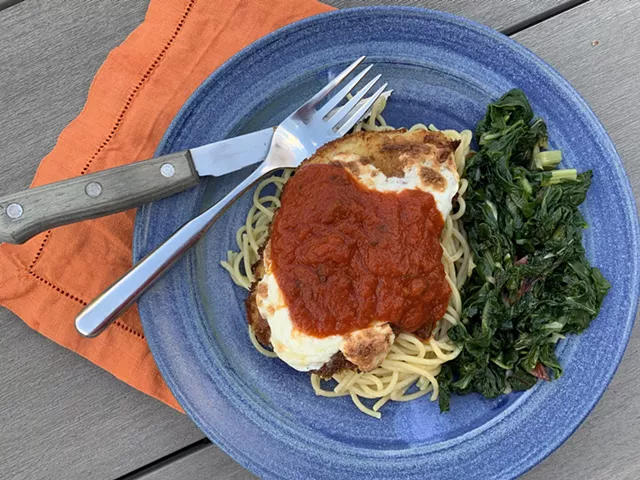 Melissa Pasanen
Crispy Chicken Parm
Chicken Parmesan is one of those recipes I kind of take for granted. I don't make it much, but when I do I remember how good it can be. And it reminds me to think more positively about boneless, skinless chicken breasts, which I tend to dismiss for being bland and boring.
Too often, it disappoints with soggy chicken smothered under layers of tomato sauce and cheese. I owe this crispier, lighter version to a combination of suggestions from an old standby in my (ridiculously huge) cookbook collection,
Italian Classics
from the editors of Cook's Illustrated (Boston Common Press, 2002) and a
recipe
from the website Food52.
The key is mostly to broil the cheese onto pan-fried cutlets and to wait until serving to spoon over some hot marinara. Other than that, it's pretty simple, though a bit messy.
I can assure you that it does not require great culinary expertise, because my dear brother-in-law, Conor, earned his first fully fledged A for this dinner when he made it with my long-distance coaching a couple weeks ago. (This says more about the forgiving nature of the recipe than
Conor's newly developed cooking skills
. We've had both ups and downs in our recent cooking sessions, though the teacher might need to take some responsibility.)
Chicken Parmesan is somewhat less flexible than some of the other recipes I've shared in this column. You could obviously make it with veal cutlets, or thin boneless pork cutlets (which tend to taste like chicken). It would also work with sliced eggplant, of course, making it eggplant Parm. I have a feeling it could even work well with thick "steaks" of cauliflower (cut 1-inch slices crown to stem from the widest center part of the cauliflower; keep the stem on to hold them intact) briefly steamed and patted dry, but have not yet tried that.
Conor actually made it with boneless, skinless chicken thighs instead of breasts, because that's what he had on hand. As proven by his grade, it was obviously delicious, if a little more raggedy looking.
You could make the tomato sauce from scratch if you want, but good store-bought sauce works perfectly well. Any pasta shape is fine, and mozzarella can be fresh or the pre-shredded kind.
As some readers might recall, Conor has embarked upon this effort to build cooking skills because he and my sister will be welcoming their first child next month. They recently completed a five-plus-hour online birthing preparation class, which left them exhausted and only somewhat less anxious than before.
How Conor will fulfill his assigned roles as breathing coach and chief hydration officer remains to be seen. I have full faith, however, that he will be able to feed the new mother a fine chicken Parmesan.
Melissa Pasanen
Broiled cheese-topped chicken thighs seen via FaceTime in Massachusetts and chicken breasts In Vermont
Crispy Chicken Parm
Makes 4 servings
Ingredients
4 (about 1½ pounds) boneless, skinless chicken breasts (sub: boneless, skinless thighs or other suggestions per above)

1½ teaspoons plus a pinch coarse salt, divided

⅓-½ cup all-purpose flour

Freshly ground pepper

1 large egg (maybe one more if needed)

1 cup panko Japanese-style breadcrumbs (sub: dry or fresh breadcrumbs or cracker crumbs)

3 tablespoons finely grated Parmesan

1 (24-ounce) jar marinara sauce

Pasta, your choice

4-5 tablespoons vegetable oil, divided

About 4 ounces fresh mozzarella, thinly sliced (sub: 1 cup shredded mozzarella)
Directions
If you don't have a large broiler-proof skillet, line a rimmed baking sheet or broiler pan with foil and set aside.




Trim any extra fat from chicken breasts. If they have smaller tenders attached, pull those off. Place your palm flat on the top of each breast and very carefully slice through

horizontally in half (with the knife blade parallel to your palm) to make two relatively even, thinner pieces of breast. Sprinkle one teaspoon of salt evenly over chicken and set aside on cutting board.




Arrange three wide, shallow soup bowls in a row. In the first, whisk together the remaining ½ teaspoon salt, ⅓ cup flour and several grinds of fresh pepper. In the second, beat egg with a drizzle of water and pinch of salt. In the third, stir together panko and Parmesan.




Set water to boil for pasta.




Using tongs or your hand (this gets messy), dip each piece of chicken (including any tenders), first in flour to coat lightly on both sides and then egg, before pressing each side into the breadcrumb mixture. Place on a clean cutting board or large platter as they are coated. (If you find you need more of any coating layer, just add a little more to the bowl; much better than wasting excess raw-chicken-contaminated ingredients.)




Start cooking pasta per package directions and pour marinara sauce into a saucepan set over medium to heat up.




Set a large (ideally broiler-proof) skillet over medium-high heat and heat 3 tablespoons of the oil until it shimmers. Add chicken pieces in batches to avoid crowding. Cook until dark golden brown and crisp, about 3 to 4 minutes each side. As chicken is done,

remove pieces to a

clean

plate or foil-lined rimmed baking sheet if using. Add remaining oil to skillet as needed to finish cooking chicken. If using broiler-proof skillet

, wipe out any extra oil and put chicken

back in skillet to go under broiler.




While frying chicken, turn on oven broiler with a rack in the highest spot. When pasta is cooked and drained and marinara is hot, sprinkle mozzarella evenly over fried chicken pieces and broil for 2 minutes until cheese is bubbly.




Serve chicken over pasta with marinara spooned over top.



Got cooking questions? Feel free to email them to pasanen@sevendaysvt.com.