Melissa Pasanen ©️ Seven Days
Chopped taco salad
It's been a minute, or several, since I wrote one of these columns about cooking with my brother-in-law, Conor. As a refresher, Con had been trying to learn how to cook for his expectant wife, Julia, my youngest sister, throughout lockdown.
I have been trying to help by cooking with him over video calls. Overall, I'd say we've made some progress, as judged by Julia's grades of the resulting meals.
Since the last episode of
Cooking with Conor,
as we call it, the very good news is that they have welcomed their daughter into the world. She is small but mighty and everyone is doing well, if a little tired.
Melissa Pasanen ©️ Seven Days
Corn, black bean and tomato mixture
As any parent will tell you, adding a newborn to your life leaves little room for other activities. Recalling my own experience years ago, I remember sometimes feeling like there was no time to eat, let alone cook.
We did, however, manage to squeak in a cooking session a few weeks ago. The recipe, a chopped taco salad, had been planned pre-birth but was bumped out a couple weeks when the baby decided to arrive a week or so early.
It was inspired by one of Julia's favorite food items — tacos — and by the desire for minimal heat in the kitchen during very hot weather.
The only effort? A fair bit of chopping, some frying of ground beef and whisking of dressing.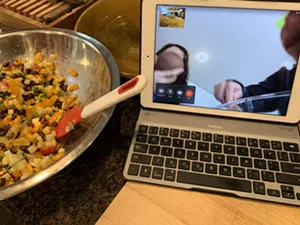 Melissa Pasanen ©️ Seven Days
Juggling new baby with cooking
The recipe from
thekitchn.com
, upon which I loosely based this taco salad, calls for frying strips of corn tortillas. That seemed completely unnecessary, what with babies and heat waves. Crumbled tortilla chips for Conor, and Fritos in my case, did just fine.
Obviously, you can make this with whatever mix of vegetables you have on hand. Cucumber, radishes and shredded red cabbage would be great. Leftover shredded chicken, sliced steak or even cooked diced shrimp tossed with a little taco seasoning could sub for the ground beef.
While not the prettiest dish I've ever served, it was fresh, crunchy and just-right spicy. My new niece, via her mama, gave it a B+. I can't wait to start cooking with her in a few years.
Chopped Taco Salad
Serves about 4
Ingredients

For the dressing:
1 cup plain whole milk yogurt (not Greek) plus olive oil to taste, or 1 cup sour cream plus freshly squeezed lime juice to taste

½ cup tomato salsa

1 teaspoon taco seasoning or for a homemade version: combine 2 tablespoons chili powder, 1 tablespoon ground cumin, 1½ teaspoons garlic powder, 1 teaspoon dried oregano, 1 teaspoon coarse salt, ½ teaspoon ground black pepper (you'll have more than you need for this recipe but use amounts as specified and save the rest for another use)

Salt to taste

For the salad:
6 medium scallions, thinly sliced, or 1 diced small red onion

1 ½ cups fresh corn kernels, or 1 (15-ounce) can corn kernels, drained

1 (15-ounce) can black beans, drained and rinsed

1 bell pepper, any color, cored and diced

1 pint halved cherry or grape tomatoes

1 small head romaine, chopped into thin ribbons

For the beef:
1 pound lean ground beef, or ground turkey

2 tablespoons taco seasoning, or use homemade version made from recipe above

¼ cup tomato salsa

For serving:
Crumbled tortilla chips

Crumbled feta or queso fresco, or shredded cheese, such as cheddar

½ cup chopped fresh cilantro leaves

Directions
Make the dressing:
In a medium bowl, whisk together the yogurt, olive oil, salsa and 1 teaspoon taco seasoning. Add salt to taste.




Set dressing aside.



Make the salad:
In a large bowl, combine the scallions, corn kernels, black beans, bell pepper and tomatoes. Add about half of the dressing and toss to coat.




In a serving bowl, place the ribboned romaine and top with the corn-bean mixture.



Make the beef:
In a large skillet set over medium-high heat, brown the ground beef with the taco seasoning, breaking up any clumps.




When beef is well cooked, about 8-10 minutes, stir in salsa and cook another minute or two.



Finish and serve:
Top greens and corn-bean mixture with warm ground beef and top with crumbled tortilla chips, cheese and cilantro.




Serve remaining dressing on the side.



Got cooking questions? Feel free to email them to pasanen@sevendaysvt.com.