Sally Pollak
Brighter Days Sangria
Last week, we asked Emily Morton, general manager of
Deli 126,
if she could whip up a cocktail recipe for a front porch or backyard hangout — something to drink at home with the arrival, at last, of warm weather.
Our request happened to coincide with a phone call that Morton got from her parents in Williston.
"Did you know you can get wine in a can?" they asked her. Her parents had discovered it at a convenience store and bought a 12-ounce can to share.
"Yes," their daughter replied. "I definitely knew."
(I neglected to tell Morton that wine in a can was news to me, too.)
Morton wanted to share a cocktail recipe that uses ingredients people are likely to have at home. She decided to build the drink around 12 ounces of wine — dry white or rosé, canned or bottled.
Her drink, called Brighter Days Sangria, calls for jam and fruit. I used clementines, frozen raspberries and strawberries. Morton gave a shout-out to rhubarb, which is growing in her garden.
We had no liqueur at our house, so I made a quick run to the packie, where I hit the 2 p.m. rush. I bought a big bottle of Aperol, bright red and sticky. It should last a lifetime.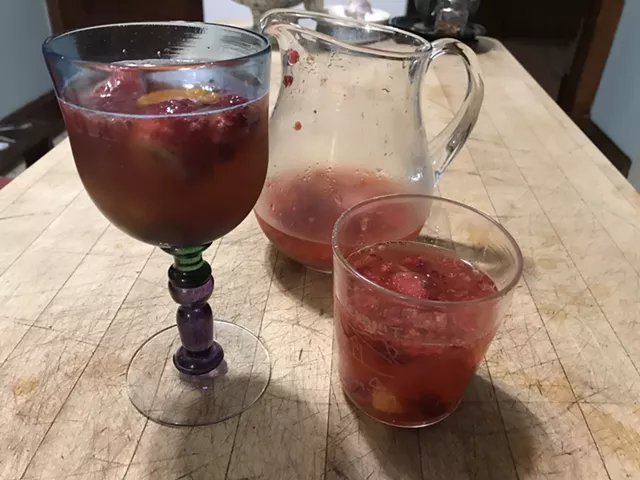 Sally Pollak
Brighter Days Sangria
Brighter Days Sangria is quick and easy to make and lives up to its name. Our only adaption, in a microwave-less house, was heating the jam in a pan on the stove. I even pulled a pitcher out of my sleeve — OK, down from a high shelf — a development that stunned my daughter.
"We have a pitcher?" she exclaimed.
If you want the pros to mix your drink, you can get a cocktail to go three nights a week at Deli 126. Morton and bar owner Jake Shane serve drinks in vacuum-sealed packages: grown-up juice boxes. Open and pour over ice.
Brighter Days Sangria
Serves 2
Ingredients
1 12-ounce can of dry white or rosé wine, or 12 ounces from a bottle
1 heaping tablespoon of berry jam, heated in the microwave until runny
2 tablespoons lemon juice
1/4 cup liqueur (Aperol, peach, apricot, Grand Marnier, etc.)
Berries, citrus slices, rhubarb ribbons from your fridge or garden
1/4 cup citrus seltzer (more if desired)
Directions
Whisk together the jam, lemon juice and liqueur in a pitcher.
Add fruits and wine.
Let the mixture sit for 30 minutes.
Add ice and seltzer, and serve!
Source: Emily Morton of Deli 126