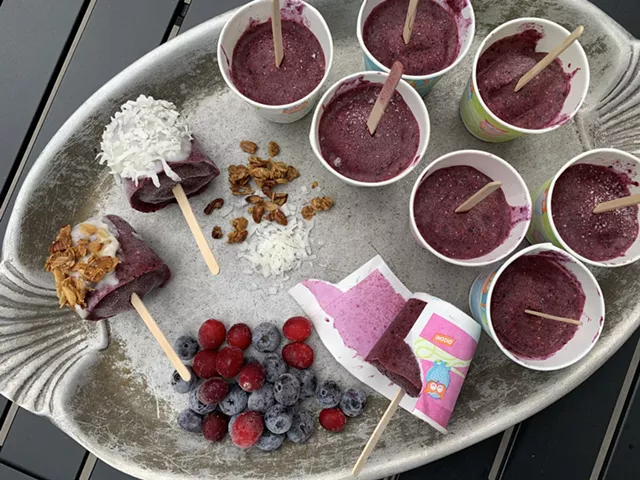 Melissa Pasanen ©️ Seven Days
Vermont berry breakfast popsicles
Yes, you can eat popsicles for breakfast. And yes, the recipe below for those breakfast popsicles might just be your wildest childhood dreams come true, as Shelburne-based food blogger Lee Corbett puts it.
Corbett's blog,
the Rogue Brussel Sprout
, aims to create a resource for healthy fruit and vegetable-centric recipes. When she read
Seven Days
'
story
about Arealles Ortiz of
Curly Girl Pops
in Montpelier, Corbett recognized a kindred culinary spirit with a similar mission to combine the delicious with the nutritious.
She reached out to Ortiz and the resulting collaboration is these super-flexible, maple-sweetened berry and banana popsicles made with whatever berries and plant-based milk you have on hand.
Melissa Pasanen ©️ Seven Days
Popsicles in process
The recipe does call for a high-power blender, and although mine is pretty strong, it definitely took some patience — and some extra coconut milk — to get it all blended smoothly together. If you don't have a really strong blender, I suggest trying the unfrozen banana option.
The pair's goal, Corbett said, was to come up with a recipe that is nutritious, easy and fun for all ages.
My current houseful of twentysomething "kids" helped a little in the making and a lot in the taste-testing. Needless to say, the popsicles earned a big thumbs up.
Berry-Banana Breakfast Popsicles
Makes 10 small popsicles
Ingredients
2 cups frozen berries (I used about ⅔ blueberries and ⅓ cranberries)

1 frozen banana, cut into pieces, or fresh banana if your blender is not very powerful

½ cup unsweetened plant-based milk (I used coconut milk and needed about another 3 tablespoons to get everything to blend together)

3 tablespoons maple syrup

Optional add-ins: ground cinnamon, fresh herbs, fresh grated ginger (I used about 1 tablespoon for mine), dollop of unsweetened yogurt, dollop of nut butter

Optional toppings: unsweetened yogurt plus granola, chopped nuts, seeds or drizzle of nut butter (I used maple yogurt with unsweetened coconut flakes and granola)
Directions
Combine berries, banana, plant-based milk, maple syrup and any optional add-ins in a high-power blender. Blend until the mixture is creamy and smooth, adding more plant-based milk as needed.




Pour the mixture into popsicle molds or paper cups. (I used 3-ounce paper cups and filled them about ⅔ full.)




Freeze the popsicles for about 60 to 90 minutes until you can insert the popsicle sticks about ⅔ way in and they stay centered and upright.




Freeze overnight until fully frozen. If using popsicle molds, run the molds under hot water for 30 seconds to loosen them. If using paper cups, snip or tear at the rim before pulling them

gently

off.




If desired, dip the frozen popsicles in yogurt and then dip or sprinkle them with optional toppings. Re-freeze for another hour.




Popsicles keep in a tightly sealed container in the freezer for about a week.
Source:
A
dapted from the Rogue Brussel Sprout and Curly Girl Pops.