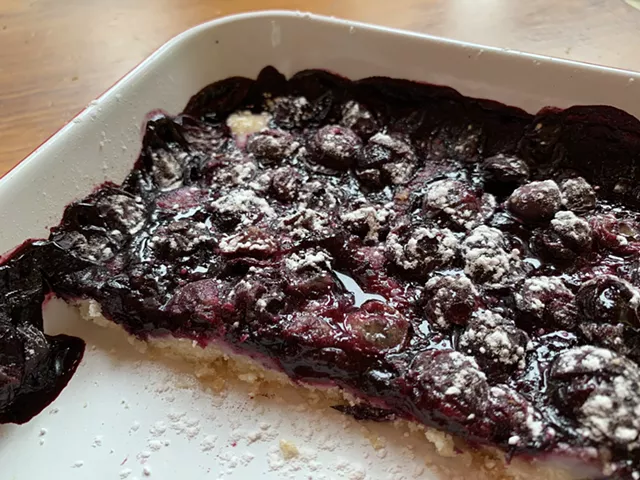 Melissa Pasanen ©️ Seven Days
Blueberry shortbread bars
Picking blueberries is high on my summer bucket list. That list also includes cooling myself off in as many Vermont rivers as I can.
A recent visit to
Covered Bridge Blueberry Farm
in Underhill checked off both so perfectly that I just might have to head back there before the end of blueberry season later this month.
This lovely, almost 3-acre berry patch is under its first year of ownership by friends of friends. They are transitioning to organic, so the berries are unsprayed but the farm is not yet certified.
After driving over the Browns River on, yes, a covered bridge, we found easy picking with a striking view of Mount Mansfield. (And after we'd picked, we found cool refreshment in the river under the bridge.)
The bushes were weighed down with four different varieties of berries, and I picked more than I could reasonably deal with given my schedule.
I did freeze some in a single layer on rimmed baking sheets before bagging them up. (This prevents them from turning into a single, solid frozen mass.) But space in both my freezer and fridge are at a premium this time of year, so I had to figure out something else stat.
Melissa Pasanen ©️ Seven Days
Freshly picked blueberries
Enter one of the simplest baked summer berry recipes in my arsenal.
The original recipe comes from a friend who I watched pull it together in about 10 minutes about a decade ago at her family's summer place. I've since tweaked it a tiny bit and renamed it; they called it sheet pie, but, while delicious, it's not even a remote cousin to pie, in my view.
The recipe remains quick to make and a sure hit topped with vanilla ice cream. Over the years, I've also made it with sliced peaches arranged overlapping like fish scales (that takes longer than 10 minutes). I'm sure it would work with other berries, such as raspberries and blackberries, as well.
Deep in Vermont winter, I will try to remember where I stashed those frozen blueberries to make it again and evoke sunny berry-picking, river-dipping days.
Blueberry Shortbread Bars
Makes about 35 roughly 2-inch-square bars

Ingredients
For the crust:
½ cup granulated sugar
1 cup (2 sticks) cold butter, preferably unsalted, cut into pieces
3 cups flour
generous pinch fine salt (omit if using salted butter)

For the filling:
2 ½ pints blueberries

2 teaspoons pure vanilla extract

½ cup granulated sugar

2 tablespoons flour

1 teaspoon ground cinnamon

To serve:
Confectioners' sugar

Vanilla ice cream

Directions
Preheat the oven to 350 degrees.




Make the crust: In the bowl of a food processor, combine the butter, flour, sugar and salt, if using. Pulse at least a dozen times until the mixture forms rough crumbles and a pinch holds together between your fingers. (Alternately, use a pastry fork or your hands to mix to the same

consistency.)


Tip the dough into a large rimmed cookie sheet (either 16 by 12 or 15 by 10 inches). With your hands, press the dough out evenly to cover the bottom of the pan.




Make the filling: In a large bowl, toss together the blueberries, vanilla, sugar, flour and cinnamon.




Spread the berry mixture evenly across the crust.




Bake for about 35 minutes until the berries are collapsed and jammy. (If you can see any crust, it should be light golden-brown.)




Cool the bars in the pan and dust them with confectioners' sugar right before serving with vanilla ice cream.



Source:
adapted from the Singer family