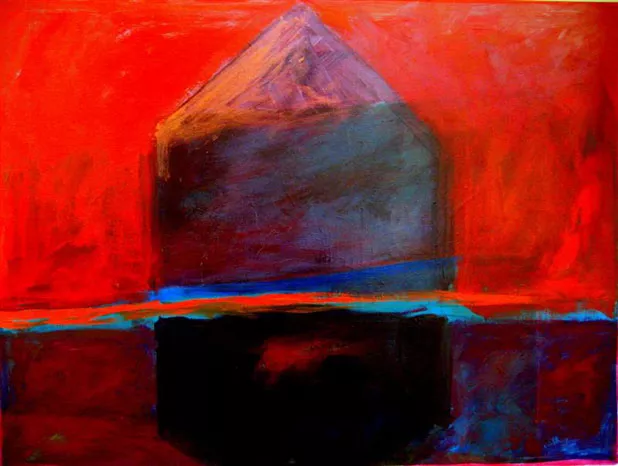 A current art exhibit at TruexCullins Architecture in Burlington — aptly titled "Shelter : Dwelling : House : Home" — doesn't look like much at the start. It's a plain set of paintings and sculptures depicting the archetypal house shape that children draw with crayons or build with blocks. Banal titles, recalling the names of Talking Heads songs, suggest this might be a dull affair. And yet, its very austerity proves to be the charm of an exhibit that grows in complexity as viewers make their way through it.
Alone and in pairings, Judith Rey's paintings and Denis Versweyveld's sculptures become progressively more intriguing in their explorations of geometric forms. By the end, the husband-and-wife team from Ferrisburgh has joined Talking Heads in demonstrating that minimalism can have maximum aesthetic impact.
In a statement posted at the outset, the artists say, "In addition to the functional use and need for manmade housing structures, there is a deep psychological and spiritual component that is served by the place we call Home." That's probably true, but visitors may not perceive any deep psychological or spiritual component in these works. They're more likely to be engaged on a purely visual level.
Rey's oil or acrylic paintings are mostly small in scale and pale of palette in the first section of the show, which is situated in the office's reception area. "Yellow Cottage," for instance, consists of six and a half horizontally arranged houses, each simply a rectangle topped by a triangle, with a shaded shape suggesting a window. Five and a half of the houses are white; the other one is yellow.
Rey hangs larger, lusher and more abstract works on the opposite wall and in a hallway and conference room. "Pink Door," for example, is not recognizable as such. Indeed, there's hardly a hint of pink in this painting, which resembles a reductionist landscape by California artist Richard Diebenkorn (1922-1993). Rey angles colorful geometric shapes against one another in a vaguely representational pattern.
A few of Rey's bigger canvases suggest the influence of another modernist master: Mark Rothko (1903-1970). "Three Houses" is composed with the same sort of rich but somber colors that Rothko sometimes used in painting stacked planes like those in this work.
Versweyveld aptly refers to his sculptures as still lifes, even though their subject is, yup, little houses rather than the flowers, food or table settings rendered in the classics of this genre. Versweyveld's shapes, simple as can be, actually look like the studies of vessels to which Italian still-life artist Giorgio Morandi (1890-1964) devoted almost his entire career. Morandi's paintings, the subject of a recent show at the Metropolitan Museum of Art in New York City, reveal the abstract nature of everyday objects, and Versweyveld achieves the same thing here.
His sculptures are made of wood, plaster or concrete, and are placed atop pedestals, tall or squat, solid or slatted. Some are painted (by Rey), and others are left uncolored. A few manage to be funny in a deadpan sort of way. In "Neighborhood," for example, four little house shapes are closely clustered on a concrete base, while "House/Pink Hill" consists solely of one of those child-style forms resting on a little cylinder.
And don't miss the "affordable housing" section of the show, where small monoprints can be purchased for $15 apiece.
The most satisfying moments of "Shelter : Dwelling : House : Home" come when a Versweyveld sculpture is juxtaposed with a Rey painting. The works then engage in a surprisingly complicated dialogue that enriches each of them. A red-on-red painting of Rey's, for instance, is accompanied by her husband's "DJS205," in which a reddish house is set against a mainly red, rectangular backdrop. Triangles on top echo the house's rooflines.
Putting this exhibit in an architects' office was a smart choice in one obvious respect. The layout, however, is not ideal. This is a workspace, not an art gallery, so visitors will need a receptionist to give directions.
One other element of this show makes a visit well worth the time and effort this holiday season. Rey and Versweyveld are donating at least 30 percent of each item's sale price to the Committee on Temporary Shelter, which gives fundamental meaning, every day of the year, to the concepts of "Shelter : Dwelling : House : Home."