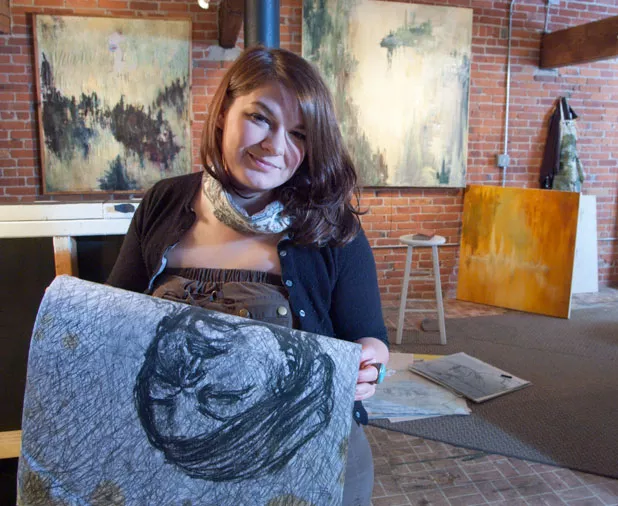 Matthew Thorsen
Shawna Cross
The Borough Gallery & Studio is not your average street-level art salon. For one thing, it's not anywhere near a street. Visitors to the South End gallery — take the first right after the tracks on Flynn Avenue — would most likely need a map and compass to find the place, so shielded is it from view behind the old SEABA office. But that's OK. Borough's clandestine quality adds to the gallery's mystique.
The venue also stands apart from most other Burlington-area art spaces in its commitment to showing emerging artists. Borough is an attempt to bridge the gap between, say, restaurant walls and larger showrooms such as the Firehouse Center for the Visual Arts, says director Shawna Cross.
So far, Borough has remained true to its mission. For nearly three years, the small gallery has hosted group shows featuring work by local contemporary artists as well as artists from New York City, Philadelphia and Santa Fe. For many of them, Borough was the first opportunity to break out of coffee-shop galleries and into a more "official" exhibition space.
Borough Gallery & Studio was born in early 2008 after Cross, who had been interning for visionary painter Cristine Cambrea in the space, suddenly found herself with an entire studio on her hands. Cambrea left Vermont "on a whim," Cross says, and the space was summarily handed down to the young artist.
The name "Borough" is a play on words, meant to evoke the animal feel of burrowing underground while also conjuring the notion of an independent municipality. Cross affectionately refers to the place as a "self-governed noise-making machine."
Since taking over the space, Cross, 26, has filled the studio — a part of Magic Hat Brewing Company's first home — with like-minded artists. "I knew I wanted to be around other people," she says. "I like the whole vibe of having a creative, supportive community."
By April 2009, the studio boasted four artists, including abstract painter Jodi Whalen, installation artist Emily Wilson and writer Stephen Orloske. In August of that year, after a successful open-studio show, Cross organized "Bright Young Things," a showcase of 10 local emerging artists.
"For most people, it was their first show ever," she says. "These are people who are working their nine-to-fives or their 12-to-eights just to support their artist habit. There was just all this amazing artistic energy with nowhere to go."
The show was an unequivocal success — 30 percent of the pieces sold at the opening. Buoyed by the enthusiasm that accompanied Borough's first show, Cross mounted another in December. This one, called "The Place You Hang Your Hat," featured work pegged to the theme of home — the artists' relationship to a home or lack of one. The prompt was appropriate, considering many of the artists, including Cross, were recent college graduates trying to find their home in the world.
Borough consists of a loft-like space above a room that has the feel of a subterranean bunker. The upper level, with its hulking exposed beams, warm brick walls and skylight, is part den, part studio. A raggedy couch, a well-worn futon and some jumble-sale chairs populate a section. Beside the couch is a stack of eclectic books — Benjamin Hoff's The Tao of Pooh, Herman Hesse's Steppenwolf, a copy of the Bhagavad Gita and a few drawing manuals.
Cross' work — large-scale abstract paintings — takes up one corner of the gallery. On the other side of a partition stands a table filled with studio mate Haley Bishop's two-dimensional illustration cutouts. In a small room separated from the main space by a curtain, Orloske plies his trade as a writer. Mixed-media artist Kate Ashman shares the first-floor dugout with the Burlington band PoolooP. Whalen and Wilson, two of Borough's original tenants, have left the studio.
Borough's most recent show, "Entropic Restructed," in March, helped catapult the gallery beyond the local art scene. Now, Cross says, artists from outside Vermont are getting in touch with her, asking to get into one of Borough's shows. Clearly, emerging artists are hungry to find a platform for their work.
Cross, whose nine-to-five is at Middlebury's Edgewater Gallery, is eager to help. Facilitating a showcase for young creative talent serves her own artistic interests, as well. The more art is happening around her, the more inspired she is. And there's plenty of art at Borough.
"This is an alternative space for anyone who has real artistic drive, for people who want to get their name out," Cross says. "We're serious about this. We put everything we have into this."