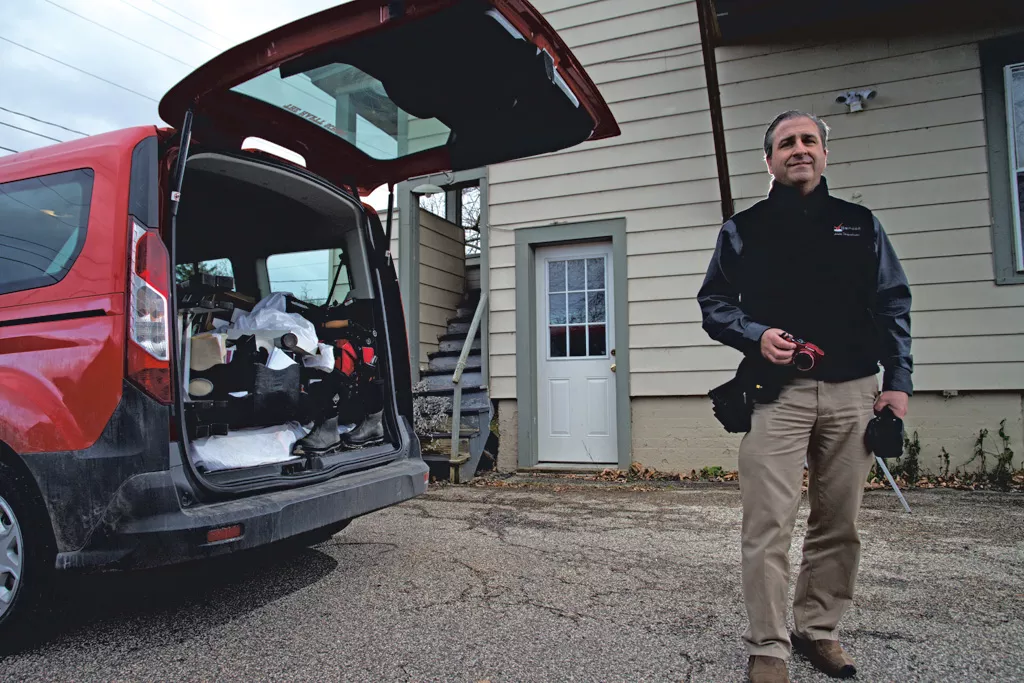 Matthew Thorsen
Jeff Belrose
Home inspector Jeff Belrose straddles the line between being thorough and being nitpicky. During an inspection, he looks closely at everything, but doesn't blow every flaw and blemish out of proportion.
"You're like a referee, calling it as you see it," he says. "If there are two parties involved, one person is going to like the call, and the other person may not."
Belrose launched Belrose Home Inspections in 2009 after years of restoring houses and businesses damaged by mold, water or fires; currently, he inspects 600 to 650 homes annually. Previously, Belrose, 47, worked in education and mental health services in St. Albans.
Having a mental health background still informs his work. It's not unusual, he says, for a buyer or homeowner to respond to a discovery of mold, termites or foundation problems the same way as someone in a mental health crisis. In those circumstances, Belrose says he tries to help people put the discoveries into perspective. As he puts it, "Unless it's really out of control, I look at everything as fixable."
Belrose took time out between jobs to speak with Nest.
NEST: What are the most common problems you encounter?
JEFF BELROSE: Everything from not having the right smoke detectors in place to basic plumbing leaks. Problems with roofs are tough because, unless it's raining, you're not necessarily going to see it if it's leaking. I had the good fortune this summer of inspecting a home during a heavy rainstorm, and I could literally see water dripping through the roof.
What are the most severe problems you've identified?
Foundations are some of the costliest. One day we looked at a bank-owned property, full of mold, and the buyer was planning to flip the house. We opened up some of the walls, which you generally don't get to do on a normal inspection. It turned out, all the concrete has to be replaced — a $30,000 repair. On septic systems, I've advised clients to [videotape what's underground in] an older field and, sure enough, the field had failed. That's a $20,000 to $25,000 fix. I had three of those last year.
What complaints do you hear from clients?
A lot of clients have this misconception that, because they got a home inspection, their house should be proclaimed new and free of issues. Then, a month later, their hot-water tank fails. There's no way I would know that. If I could know that in advance, we'd all be rich. But they always start their email with, "I want to know why that was missed." I never wake up in the morning and think, "I think I'll miss Mrs. Smith's defect on her water tanks today."
Any unusual situations you've encountered?
I've found live wild animals in homes: rabbits living in basements and raccoons living in attics. I've literally seen streams running through basements, and they've always been that way. I'm also fascinated by the way people build things, good and bad.
What's an example of the good?
One guy spray-foamed the home's entire interior in a cave-like fashion. He also built the main part of his house using tree trunks as the supports. It was amazing.
And the bad?
I've inspected homes that you wonder how anyone lives in them. But one of the things you can't do is judge a fellow human being for the choices they make — much like in my mental health days. People are people.
Is your job ever hazardous?
It can be. Some people do some creative things with wiring, and you're unlucky sometimes. A couple of weeks ago, I flipped a breaker and it flashed, made a loud bang right in front of my face, and shut the whole house down. Structurally, I've seen decks built improperly that won't hold weight very well. Sometimes, Yankee ingenuity goes a little too far.
Ever get bitten by dogs?
A couple of times a year. I love dogs and I respect their place, but I don't believe anybody when they say, "Oh, Fluffy's OK. He won't bite." He will. One time I had this little dog bite me three times. He just kept coming outta nowhere and biting me on the ankles.
What's the best part of your job?
The people. I have great customers: the first-time home buyers who are super-excited about buying their first house, the second-time buyers, the people buying their last home who are looking to downsize. I really enjoy the personal contact.
Any advice for homebuyers?
People should really consider a pre-inspection if they're selling a home. It takes a lot of uncertainties out of the negotiation because there aren't any surprises. You either know about the issues upfront or you've already addressed them, so you don't feel blindsided. Just make sure you're using someone who has the proper credentials, and not "Uncle Billy." We love Uncle Billy, and he's welcome to come along, but you've got to treat this like any other professional service.
Belrose Home Inspections: 309-2648, belrosehomeinspectionservices.com
The original print version of this article was headlined "Belrose's Place"