The cold winter days that turn all too quickly into night have arrived. I don't know about you, but in our house, that means one thing: soup!
My kids have two favorite foods: tortellini and linked sausage. When deciding what kind of soup I should make recently — on the coldest day of the year yet — I knew it needed to include those two ingredients, and it needed to come together quickly. I tossed in some veggies, including kale, for good measure.

Throw on a pot and warm up this chilly winter's day!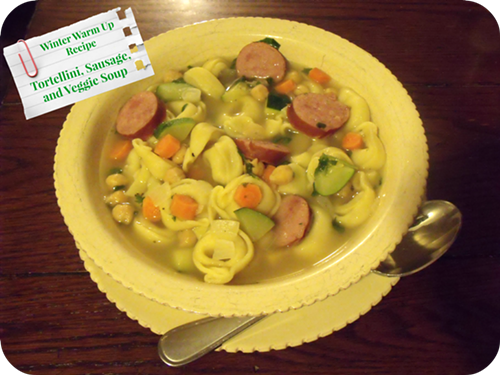 Ingredients:
2 large carrots, peeled and diced
1/2 onion, diced
1 zucchini, diced
1 cup fresh kale, chopped
2-3 cloves garlic, minced
2 32-ounce containers vegetable broth
2 cups cheese-filled tortellini, fresh or frozen
1 pound link sausage
1 can diced tomatoes
1 can garbanzo beans (chickpeas)
salt and pepper to taste
Parmesan cheese to taste
Directions:
In a large pot over medium-high heat, sauté carrots and onions together in a drizzle of olive oil, just until the onions are transparent. Add in the zucchini, kale and garlic for another quick sauté. Add in the broth and bring to a boil. Stir in the pasta and sausage; boil for five minutes. Reduce heat to medium and add the tomatoes and beans. Let simmer for a few minutes. Season with salt and pepper. We love serving this soup with a little sprinkle of fresh Parmesan cheese on top. Enjoy!


Tasha Lehman is a regular contributor to Kids VT. She lives in Vermont with her husband, Matt, and their three sons.