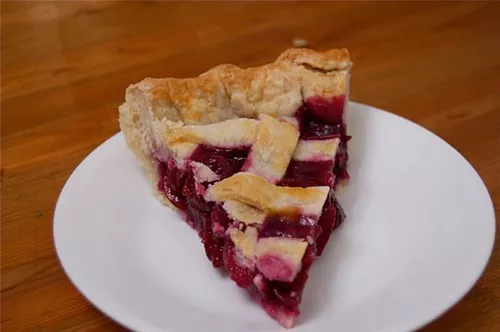 photo by Carolyn Fox
Sweet Cherry Pie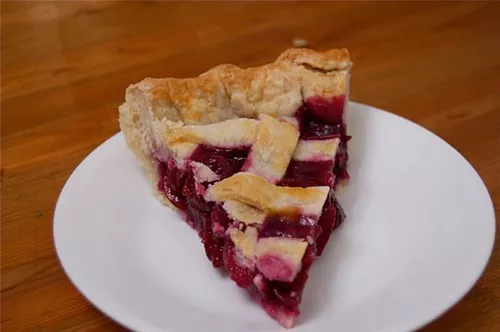 A friend recently clued me into the fact that
Champlain Orchards
in Shoreham has u-pick cherries, of the sweet
and
sour varieties. Like all good fruits in Vermont, cherries have a short, but sweet, picking season — so get 'em now, while you can. And when you do, may I suggest baking them into this glorious cherry pie?
Sweet Cherry Pie
For the crust:
2 and 1/2 cups flour
3/4 teaspoon salt
1 tablespoon sugar
2 sticks unsalted butter, frozen and cut into cubes
4-5 tablespoons cold water
extra flour, for rolling
egg wash (one beaten egg), for brushing
For the cherry filling:
3 cups sweet cherries, pitted and halved
1/2 cup water
2 tablespoons cornstarch
1/2 cup sugar
juice of 1/2 lemon
1. Make the dough.
Sift together the flour, salt and sugar in a large bowl. Use a pastry cutter or your fingers to work the butter into the mixture until you have large, coarse crumbs. Make a well in the middle of the dough and add 4 tablespoons cold water. Using your hands, work it all into a rough ball; you may need to add another tablespoon of water to make it come together. Cover the dough in wax paper and chill it in the fridge for at least one hour.
2. Make the cherry filling.
In the meantime, put the cherries and water in a large saucepan over medium heat for about 5 minutes. Mix the cornstarch into the sugar and add to the saucepan. Stir. Add the lemon juice. Cook until the mixture thickens, about 5 more minutes. Remove from heat and set aside.
3. Roll out the pie crust and add the filling.
Take the dough out of the fridge and divide it into two pieces, on a 2/3 to 1/3 ratio. Set the smaller piece aside. Using a rolling pin, roll the larger piece of dough out to a 14-inch round on a well-floured surface. Fit the round gently into your pie plate and trim the dough to a 1-inch overhang. Use a fork to poke a few holes in the bottom of the crust. Pour in the cooled cherry filling.
4. Make the lattice crust.
Roll out the smaller piece of dough and slice it into narrow, even strips for the lattice crust. Crisscross the strips over the pie in a lattice pattern. Crimp the edges of the dough together to make a crust, and use a pastry brush to lightly cover the dough with egg wash.
5. Bake.
Bake at 350 degrees for about 45 minutes, until golden brown.
This post was written by Kids VT managing editor Carolyn Fox.