Sam Simon
Strawberry shortcakes ready to eat
I try to make the most of the short strawberry season by incorporating the ruby-red jewels into my daily menu as much as possible. In June and early July, I toss berries into my morning bowl of cereal and serve shortcake for dinner at least once or twice.
In celebration of the fabulous strawberry, I offer my recipe for the best shortcake. This is a great one to make with kids after a long afternoon of picking your own berries. Flaky biscuits, strawberries with a twist and homemade whipped cream — what more could you ask for?
Strawberry Shortcake
Biscuits
(adapted from
Betty Crocker
)
Ingredients:
2 ½ cups all-purpose flour
1 teaspoon kosher salt
2 tablespoons plus 1 teaspoon sugar
¾ teaspoon baking soda
1 tablespoon baking powder
¾ cup buttermilk
9 tablespoons butter, cold and cut into ¼-inch slices
Directions:
Preheat oven to 400 degrees.
Line a baking sheet with parchment paper, or use a cast iron skillet.
Whisk the dry ingredients together in a large bowl.
Using a pastry cutter or two butter knives, blend the butter into the mixture until it resembles fine crumbs.
Add the buttermilk and mix with a spoon until it just comes together.
Turn dough out onto a lightly floured surface and knead gently a few times, then pat it into a round about 1-inch thick.
Using a jar or glass top about 2 ½ inches in diameter, cut out 8 or 9 rounds and arrange them on the baking sheet or in the cast iron pan.
Bake for 20 minutes or until the biscuits have puffed up somewhat and the tops are golden brown.

Honeyed Strawberries
Ingredients:
2 cups washed, stemmed and sliced strawberries
2 tablespoons honey
1 teaspoon lemon juice
Directions:
Gently mix all ingredients in a large bowl, set aside.
[jump]
Whipped Cream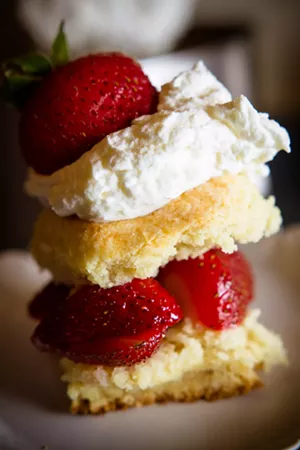 Sam Simon
Biscuits, strawberries and whipped cream
Ingredients:
2 cups heavy cream
2 teaspoons sugar
A few drops of pure vanilla extract
Directions:
Using a handheld or stand mixer with whisk attachments, or a wire whisk, whisk all ingredients vigorously until stiff peaks form. Don't over whip or you'll end up with sweet butter!
Assemble the shortcakes! Slice a slightly cooled biscuit in half lengthwise. Spoon ¼ cup of strawberries onto the bottom layer of biscuit, and top with the other half biscuit. Add a scoop of whipped cream to the top. Garnish with a slice of strawberry.