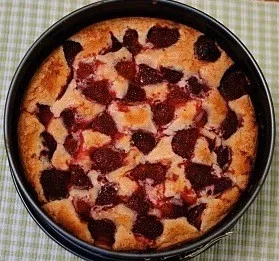 Strawberry season is here! And if you're anything like me, your weekend plans involve visiting your closest u-pick patch. (
Click here
to find a nearby spot to take your family.) While nothing beats eating the juicy, sun-warmed berries straight from the patch, sampling them in this simple strawberry cake ranks a close second.
Strawberry Cake
Adapted from The Kitchen Sink Recipes
6 tablespoons butter, softened
1 and 1/2 cups flour
1 and 1/2 teaspoons baking powder
1/4 teaspoon salt
1 cup sugar
1 egg
1/2 cup milk
1 teaspoon vanilla
roughly 2 and 1/2 cups strawberries, hulled and halved
2 tablespoons sugar (raw or sanding sugar if you have it), for sprinkling
Preheat the oven to 350 degrees.
Butter a nine-inch pie plate or cake pan.
Sift together the flour, baking powder and salt in a bowl.
In a separate bowl, use an electric mixer to beat the butter and 1 cup sugar. Mix until pale and fluffy, about three minutes. Add in egg, milk and vanilla, and mix. Gradually add in the flour mixture.
Transfer the mix to your pie plate or cake pan. Arrange the strawberries as closely as you can get them on the top, placing the cut sides down. Sprinkle evenly with 2 tablespoons sugar.
Bake 10 minutes, then reduce heat to 325 degrees and bake about an hour longer, until the cake is firm and golden.
This post was written by Kids VT managing editor Carolyn Fox.