I love baking muffins. I'm constantly trying to make a tasty muffin that I can also feel good about my kids eating for breakfast. This recipe came about when I had both bananas and strawberries about to go bad. The results were delicious. Bonus: The recipe is super easy; even my 8-year-old can make them!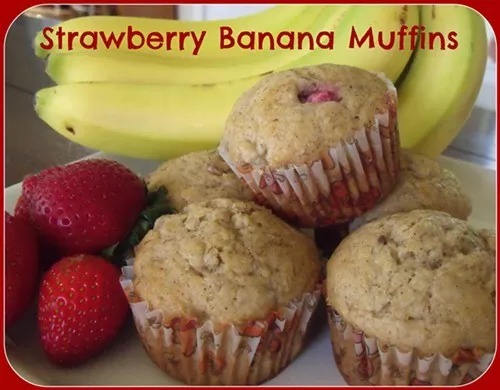 Strawberry-Banana Muffins
Makes 12 muffins
1 3/4 cup all-purpose flour
1/2 teaspoon baking soda
2 teaspoons baking powder
1 teaspoon cinnamon
1/4 teaspoon salt
1/3 cup coconut oil
2 eggs
1/2 cup honey
1 teaspoon vanilla extract
2 ripe bananas, mashed
1/4 cup strawberries, diced
Preheat oven to 350°F. Line a muffin pan with paper baking cups.
In a large bowl, mix together flour, baking soda, baking powder, cinnamon and salt.
Using two knives or a pastry blender, cut in the coconut oil until it's fully worked into the dough.
In a separate bowl, mix together the eggs, honey, vanilla and mashed bananas. Add to flour mixture, stirring well. Stir in the diced strawberries.
Pour the batter into baking cups until they are about three-quarters full. (We use a small measuring cup to keep each muffin the same size and make filling the muffin cups easier.)
Bake for about 12 minutes or until a toothpick poked into the middle of a muffin comes out clean.
Tasha Lehman is a regular contributor to Kids VT. She lives in Vermont with her husband, Matt, and their three sons.