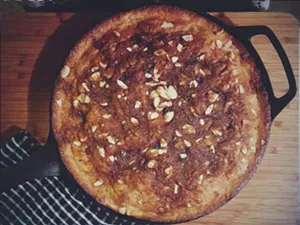 I grew up celebrating Christmas, but since marrying my Jewish husband, I've become grateful for Hannukah, too. It's such a beautiful celebration of light, and it really helps me embrace the darkest days of the year. Last year, I decided I wanted to start some traditions to integrate the two holidays and just generally celebrate the season. Being a baker, I came up with a cake, of course!
I made this dense, moist cake with apples and almonds on the Winter Solstice last year, and we all ate a piece after dinner that night. It was a simple and cozy way to mark the longest night of the year — and has become a new tradition. Enjoy!
[jump]
Apple Almond Solstice Cake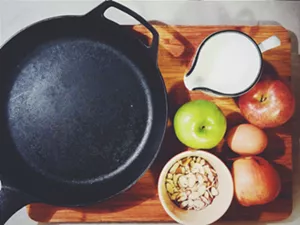 Ingredients:
For the cake:
2 cups all-purpose flour
2/3 cups granulated sugar
2 teaspoons baking powder
1 large egg, beaten
3/4 cup milk
1/3 cup canola oil
1/2 teaspoon salt
1 teaspoon cinnamon
a pinch nutmeg
5 medium Macintosh apples
4 tablespoons chopped almonds
For the topping:
1/4 cup flour
1/3 cup brown sugar
1 teaspoon cinnamon
4 tablespoons butter
1/2 cup chopped almonds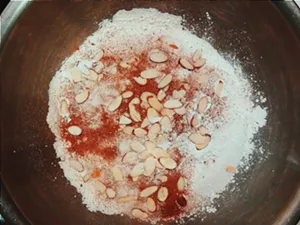 Directions:
Preheat oven to 375 degrees.
Peel, core and roughly chop the apples.
In a medium saucepan, combine the apples with about 3/4 cups of water and bring to a boil over medium heat. Reduce heat to low and simmer until apples are very soft.
Remove apples from the heat and mash them with a potato masher until you have very chunky applesauce. You should have about 1 1/2 cups. Set aside.
Combine the flour, baking soda and salt in a large bowl and whisk to combine. Add the sugar, milk, egg and oil to the dry mixture and mix well with a wooden spoon until well combined.
Add the applesauce, cinnamon, nutmeg and almonds and fold until just combined.
Pour into a buttered 9- or 10-inch pie plate, or a 13x9-inch baking dish lined with parchment paper, or a 10-inch cast-iron skillet (what I used).
Make the topping by combining all remaining ingredients in a small mixing bowl and toss with your hands until the mixture is crumbly. Sprinkle it over the cake batter and put the whole thing in the oven on the center rack.
Bake for 35-40 minutes, but check after 30 by inserting a toothpick into the center of the cake. It's done when the edges are golden and starting to pull away from the sides of the pan and the toothpick comes out almost clean.