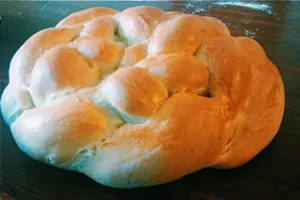 Erinn Simon
A fancy braided loaf
I love snow-day season because I'm one of the rare adults who's lucky enough to still get them! My workplace (the Burlington Children's Space) closes whenever the Burlington School District closes for bad weather, so my kids and I get to celebrate those magic winter moments together.
One of my favorite things to do on a snowy, surprise day off — after sledding, snow fort building and hot cocoa drinking of course — is baking. Snow days offer the perfect opportunity to bake bread, a project that can be hard to fit into routine-dependent weekdays and busy weekends. And it appeals to all ages. It's a big enough process to keep older kids interested, while younger kids are natural mixers and kneaders.
I learned to bake bread from Mollie Katzen's
The Enchanted Broccoli Forest
, a sequel to
The Moosewood Cookbook
. Katzen's simple recipe is easy to follow and her illustrations take the guesswork out of every stage. I've adapted this recipe many different ways — using all white or all wheat flour, adding cinnamon and raisins, even incorporating jalapeño and cheddar — but I always come back to the simple, original version. My family loves this bread, and a loaf rarely lasts more than a day in our house.
[jump]
Basic Bread Recipe
adapted from
The Enchanted Broccoli Forest

Ingredients:
Whole-wheat flour

Unbleached bread flour (Amounts vary but make sure you have at least 4 cups of each on hand if you're using a mix of flours, or 8 cups of a single type of flour. We especially like King Arthur Whole Wheat, Unbleached Bread Flour and White Whole Wheat Flour)

1 ½ cups warm water

1 package (2 ½ teaspoons) active dry yeas

2 tablespoons sugar

1 tablespoon kosher salt

4 tablespoons butter, melted

½ teaspoon of honey or molasses

Directions:

1. Start with 1 ½ cups lukewarm water in a large mixing bowl. Sprinkle the yeast on top, and add just a few drops of honey or molasses. Let this mixture sit for 5-10 minutes. It should start to look a little foamy or "active."
2. Next add 2 cups of unbleached bread flour and whisk it up until it's fairly smooth. It will be very wet. Cover this mixture with a clean kitchen towel and set it somewhere warm in your kitchen for about 30 minutes. In the meantime, melt your butter in a small saucepan over low heat, then remove from the heat and stir in the 2 tablespoons of sugar and the tablespoon of salt.
3. After 30 minutes or so the yeast and flour mixture should be very bubbly. Now it's time to add the butter mixture. Pour the melted butter, sugar and salt into the bowl and mix well with a wooden spoon until it's well combined. This is where the fun begins! Start adding flour, a cup at a time, and mixing until dough starts to form. I like to alternate whole wheat flour and bread flour, but feel free to use just white or just wheat. Use a wooden spoon at first, but once it starts to come together and stiffen up, use your hands to start forming it into a ball in the bowl. You will probably use about 5 cups of flour total during this stage, but don't worry if it's a little more or less.
4. When your dough is staying together in a ball, turn it out onto a well-floured surface. Your kitchen counter will do, but we often like to clear off the kitchen table for this part so there's room for everyone to get involved with kneading.
I once heard kneading described as easy to do, but hard to explain. This is the truth. Basically you want to roll the dough toward you, then push it away from you, while squeezing and pressing down. Kids are naturally good at this process! You should knead (taking turns of course!) — adding sprinkles of flour if things get sticky — until the dough is smooth, soft and springy when your touch it. You'll know it when you feel it!
5. Clean out your dough bowl, rub the inside with a little butter or olive oil, put your beautiful dough ball back in and cover it with your towel. Leave it in a warm place in your kitchen to rise until it's doubled in size. It will take about two hours. Go about your snow-day fun while you wait!
6. When the dough is ready, take off the towel and ...punch it back down! My kids love this part. It should deflate right away. Turn the deflated dough back out onto your floury surface and knead a little more. This is the time to shape the dough however you'd like it. You should have enough to divide it in half and fill two oiled 8-inch loaf pans. You could also roll it into a long tube, cut it into three long strips and braid them. Or roll it out like pizza dough and then roll it lengthwise into a long, oval loaf. We've been experimenting with fancy shapes at my house, making a braid and then coiling it into a round loaf.
7. This is when you should preheat your oven to 350 degrees, and set your shaped dough to rest in their pans or on a baking sheet. Cover it with the towel one more time and let it rise for another 30-40 minutes.
8. When it's risen once more, pop it into the oven and set the timer for 30 minutes. It's done when it's golden brown and starting to get crackly on top. You can check by pulling the bread out of the oven and, wearing oven mitts, turning it over onto one of your hands so you can "thump" the bottom of the loaf with your other hand. If you get a deep, hollow sound, it's ready.
9. Take it out of the oven and try your best to wait at least 20 minutes or so before cutting into it. Slather with butter and jelly for the best snow-day snack ever.