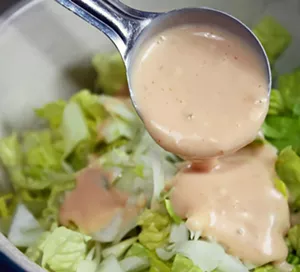 I love discovering new ingredients. When you can use them in different ways, all the better.
I had always passed by silken tofu in the aisles of the grocery store in favor of the extra firm stuff, which I toss in Asian marinade and sear in oil, then throw into salads. But while searching the web for a healthy Caesar dressing, I stumbled upon a yummy-sounding recipe that called for the silken stuff in place of mayo.
I whipped up a batch up in my
Nutribullet
and drizzled it over a salad that night. It was creamy and garlicky, and struck the perfect balance with the crisp salad greens. I wish I could say my kids liked the dressing, but it was too tangy for their tastes. They're not big salad fans, either, to be honest.
After making the dressing, I had a little less than half a container of tofu left that I didn't want to go to waste. So I went back to Google to see what else I could do with the mushy stuff. A recipe for chocolate pudding caught my eye.[jump]
It called for tofu, cocoa powder and a bit of maple syrup. After the kids went to sleep, I rounded up the ingredients and threw them into the Bullet for a nighttime snack. The resulting pudding tasted way more decadent than I imagined something that has tofu as the main ingredient would.
I had to share the discovery with my family, so I bought another package of tofu in order to make a proper batch of the dessert. After blending it up, I poured the pudding into four small bowls and let it sit in the fridge overnight. My original pudding had been pretty runny and this thickened it up a bit.
Sadly, my 7-year-old daughter, Mira — who's a picky eater even when it comes to dessert — didn't love the stuff. But my sweet-toothed 4-year-old son, Theo, took one taste and his eyes lit up. That night, he chose tofu over a chocolate-covered ice cream pop for dessert.
No Guilt Caesar Dressing
(Makes 1 cup)
Adapted from
Alton Brown

Ingredients:
2 cloves of garlic
2 tablespoons of Dijon mustard
1 1/2 teaspoons white wine vinegar
1 1/2 teaspoons Worcestershire sauce
Pinch of salt
Pinch of ground pepper
1 cup silken tofu
2 tablespoons extra-virgin olive oil
Blend all ingredients except olive oil in a blender until smooth. Drizzle in olive oil and blend until it reaches a creamy salad-dressing consistency.
Drizzle desired amount over salad, then toss until lettuce is coated.
Store the leftover dressing in the fridge up to several days. It makes a great dip for veggies.
Chocolate Tofu Pudding
(Makes 4 servings)
Adapted from
Rachael Ray
Ingredients:
1 lb. package silken tofu
1/4 cup unsweetened cocoa powder
1/4 cup maple syrup (or a little less if you want a not-so-sweet pudding)
Blend ingredients in a blender.
Pour mixture into individual-sized bowls and refrigerate overnight to thicken.
Serve plain or with fruit and nuts on top.